Nana Frimpong




Comment

|

Ghana




Follow on
Dear players,
Well, this is a brief message from one of your countrymen. One of your many countrymen whose taxes help ensure that the whole bunch of you are kept all warm and rosy in a suite in the United Arab Emirates.
As usual, one of your over 20 million compatriots expecting you to return home with at least the ultimate – the 2013 Africa Cup of Nations. It's not too much to ask, is it? Hardly can you complain about what is being demanded in return for us footing your gargantuan expenses and catering for your luxurious tastes, can you?
For instance, you think I wouldn't relish spending my next 'leave' period off the coasts of Abu Dhabi/Dubai, along with being served a mouth-watering, eye-popping, nose-wafting buffet each night, with a masseur ready at the touch of a button and enjoying, by day, the slightly boring sight of mustachioed Sheikhs and Emirs riding their little ponies around...and actually getting paid for it all? Of course, I would!
The only reason why you get to enjoy such luxuries and I don't is that you are actually blessed with a pair of fine footballing feet (the very definition of talent these days, I guess, thanks to that puny Argentine) while I have hands that are good for little else but writing. Yep, that's the only difference, believe it or not; that aside, there is precious little to pick between your-fortunate-selves and my-unfortunate-self. That's a fact. Mind you, this is a competition Ghana last won in early 1982 - months before Michael Essien, your senior [absent] colleague was born! Sure, it's been that long - too long, in fact. And that's why you're being counted on, to return to the people a joy that they're only too desperate to enjoy a fifth time, and, of course, several times more afterwards, if we can manage it.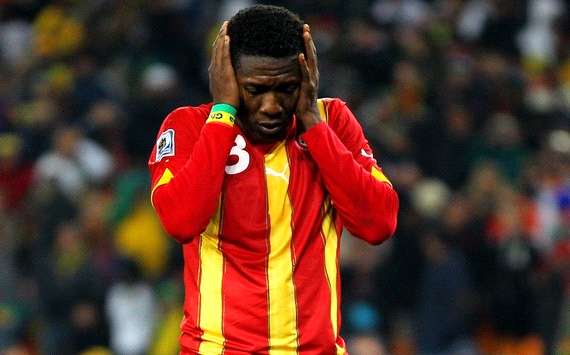 AGONY|
There ought to be none of those heart-wrenching rushed-and-missed penalty kicks
Somehow, though, it's got to be in South Africa, the scene of our greatest exploits in recent memory. As you go to represent the motherland, we wish for all the good memories of that last World Cup and those of the recent editions of the Nations' Cup. Only that this time, there ought to be none of those heart-wrenching rushed-and-missed penalty kicks (take special note, Asamoah Gyan!), faint-hearted and tame capitulations, near-misses, and unwanted doses of ill-fortune that have plagued most of our recent campaigns. Avoid all such regretfully familiar pitfalls and, hopefully, the stubborn duck would be broken this time, and you guys would be certain to return with the prize we've coveted for so long.
Really, that's the least you could reward our high expectations and unflinching commitment with. For, much as I hate to quote some of those pitifully exhausted clichés, I'd like to remind you that to whom more is given, more is certainly expected. Whatever your share of the budgeted $8 million or so is - that is, after your opportunistic chaperones split it up and take the bulk of the cash, which is almost guaranteed - could hardly be a concern of mine. All this writer requires is an appropriate, satisfactory reply to this letter. When it does arrive - and I expect it in my mail sometime before mid-February - I require that it be, not in paper and ink, but in GOLD.
Solid African gold. Hopefully, that wouldn't be too much to ask, for all my money's worth. And to prove just how generous and supportive I am of this cause, I give you - in addition to my fair share of the $7.999 m - my blessings, even as you strive to achieve a feat glorious squads of the past 31 years have found unattainable.
Yours truly,
One of the over 24 million overtaxed and demanding Ghanaians.
P.S: You're warned though, that this time no excuse - be they unpaid bonuses, unfavorable refereeing calls, or the sabotage of 'juju'- shall be accepted. And this time, much unlike before, we mean it. Every word. Every cedi.