Fiifi Anaman




Analysis

|

Ghana




Follow on
Ghana's representatives in the 2013 Caf Champions League
Asante Kotoko
have not really impressed in the Glo Premier League this season and are struggling to get a panacea for convincing wins.
The trend has made it quite easy for a fan to even predict the outcome of their games prior to the end of the 90-minute. It has been either frustrating draws or a defeat with the five wins so far hardly difficult to remember.
Asante Kotoko drew goalless in Cape Coast to Dwarfs on Matchday-10. Their inability to hit the back of the net at the Robert Mensah Stadium was not an occasional problem, it was the umpteenth installment of a goal scoring crisis that began on the very first day of the season.
HOT SEAT |
Coach Mas-Ud Didi Dramani is in the hot seat
They failed to find the back of the net against a newly-promoted Amidaus Professionals side at home when they kick off the season, thus beginning their title defense in an unconvincing manner.
For almost 75 minutes against Wa All Stars - who had patron and current GFA President Kwesi Nyantakyi in the stands - Kotoko were not only failing to score, but they were on the unfortunate path of losing their much-talked about unbeaten record. Wa All Stars had taken a first half penalty lead, and the Porcupine Warriors had not only failed to equalise, they had also failed to play well.
Nyantakyi left the stadium, presumably to attend to other issues on his busy schedule, perhaps convinced his club was almost certain of a rare maximum point against the defending champions. Not long after that though, the Fabulous club managed to find the equaliser. Interestingly, and rather quite expectedly, the home fans were not moved. They failed to celebrate. What ensued within the next five minutes after the equaliser though, changed the course of this ephemeral apathy. Kotoko scored two more goals, in spectacular quick-fire fashion. The hitherto poor performance was quickly forgotten.
The win, and yes, the goals, came as a sigh of relief for the Reds. Their lack of cutting edge has seen them draw seven times in 13 games this season. Last season by this time, they had won seven games. They have scored 14 goals in 13 games this season. Last season, they had reached 11 goals by the 6th week. So what exactly has been the problem?
Preparations
Well, last season, with Maxwell Konadu in their dug out, they had intensive pre-season preparations which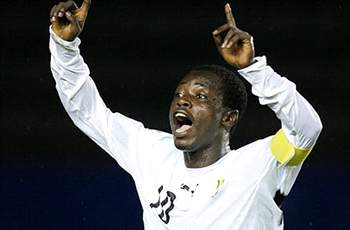 "Osei's lack of playing time prior to the switch was always going to mean he would need time to settle in."
reflected on how productive the team became afterwards. Kotoko prepared well before last season's title winning campaign, after they had finished the previous season 11 points behind champions Berekum Chelsea. Moreover, the players spent enough time with the manager. This meant they hit the ground running very early - first win by the 2nd week.
This season, not only were pre-season preparations not as intensive as last term's, they were without their equally, and perhaps even more brilliant substantive manager Mas-Ud Didi Dramani, who was away on national duty with the Under-17 women's team. This already unfortunate situation was made worse by the fact that Kotoko were radical when the transfer window opened, bringing in many players to replace the ones that left, which meant continuity was always going to be compromised. Last season, the development of team chemistry occurred very early on, thus translating into goals and wins.
Imminent exoduses
Two of their best performers last season, Ben 'Aguero' Acheampong and Daniel Nii Adjei (reigning Most Valuable Player of the league), constantly flirted with a move abroad throughout the start of the season. In fact, Nii Adjei ended up leaving for TP Mazembe; leaving with his invaluable influence (in goals - five last season - and assists), disrupting the progress of the team. Acheampong on the other hand left for Petro Atletico, after scoring only one goal this season. Perhaps, their imminent move abroad diluted their concentration, thus making them less productive as compared to last season.
Midfielders not helping out
Last season, when the going got tough in the first few games, midfielders stepped in and got goals that got the Porcupine Warriors vital wins as against Dwarfs in the 10th week when Nii Adjei's lone goal saw to a narrow win. In fact, midfielders Michael Anaba, Michael Akuffo, had all scored by the 11th week last term. So far this season, they have failed to come to the party. It is quite surprising how defenders Kwabena Adusei, Joseph Ochaya and Rashid Sumaila have rather scored goals.
Misfiring Strikers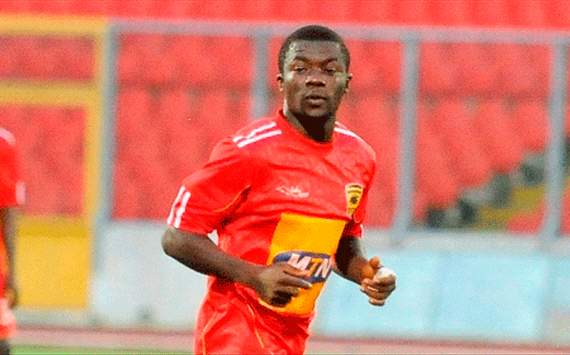 GONE BLANK |
Strikers including Nti Boakye have gone quiet recently
Ransford Osei, whose immense goal scoring talent displayed at various youth levels for Ghana has been threatened by various unsuccessful stints abroad - was signed up before the season started, after management had famously let Eric Bekoe slip through their hands. His lack of playing time prior to the switch was always going to mean he would need time to settle in, not to talk of overcoming his 'club football curse' - his failure to replicate his blistering form at national level at club stage has been well documented.
Kofi Nti Boakye, who scored two goals against New Edubiase in this season's curtain raiser – the Super Cup – has also conspicuously gone quiet, despite scoring three goals so far. His performance that day made pundits predict he was going to step into Ahmed Toure's (eight goals last season) shoes as Kotoko's main marksman, doing what the likes of Isaac Boakye and Eric Bekoe had done over the years, especially considering he had done enough goal scoring last season (three goals as a supplementary striker) to merit the projection.
Nafiu Iddrisu as well as Seidu Bansi (a goal scoring revelation at Dwarfs last season with seven goals) have both been blatantly below par, with just a goal apiece so far. Richard Mpong has also faded into obscurity. Perhaps they are still in the 'acclimatization' process – adjusting to a new team, new team-mates, different system, and different conditions among others.
That nonetheless, their collective impotence in front of goal has been one of the reasons why Kotoko have struggled to win games this season. If their woes persist, Kotoko will continue to churn out draws, or worse, defeats – case in point, the loss to Berekum Chelsea.