Nana Frimpong




Feature

|

Ghana




Follow on
With an incredible 20 goals in his last 11 games for Al-Ain in the current UAE Pro-League season, it is hard to refuse to be convinced that Ghana striker Asamoah Gyan is a man very much in-form.
That ratio is actually the best he has managed in his career thus far and really, there is little reason to argue the fact that the ex-Sunderland target man is indeed on fire and it seem it would not be extinguished anytime soon. Add to this, his 22 goals scored in the previous season that helped earn his club a League and Cup double and, on a personal level, the goal king title, and you have a man who truly appears to be coasting through his career with admirable ease.
Rewind to the very first paragraph of this write-up though, and one is reminded where all of this has been achieved; suddenly none of it seems nearly as impressive as before. Football in the UAE, in all fairness, is not really of the calibre to be found elsewhere like England or Spain and represents the proverbial small pond in which any fish of considerable size - considerable being a very relative term- can just splash and throw its weight about without necessarily having to be a very big one.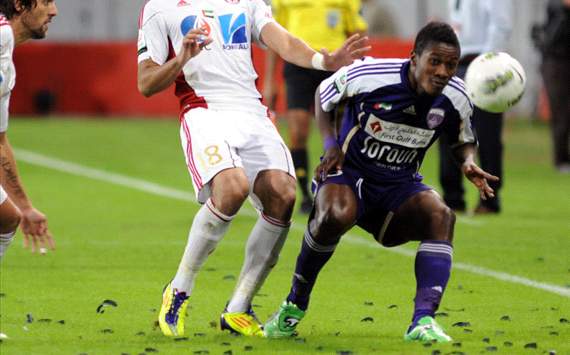 The goal poacher |
The Baby Jet has been scoring in almost every game in Asia
Thus, while Gyan might be a fine player and a brilliant poacher on his day, his performances, remarkable as they have proved in the UAE, would almost certainly pass unnoticed, or perhaps might not have been achieved at all. For this reason then, many initially critical of his switch from Sunderland in the infinitely more reputable English Premier League to his current environment remain adamant that the said move represented a significant drop in quality of surroundings that has only resulted in financial fulfillment than any genuine self-improvement. Thus, while Gyan might be scoring goals for fun for his club, many of his countrymen are yet unconvinced and skeptical of just how this might translate onto the country's fortunes at next January's Africa Cup of Nations.
The worries appear even more founded considering the fact that for much of his career with Al-Ain, the Baby Jet has been in self-imposed exile from the Black Stars and returned only recently, making it even harder to determine just how much he is actually improved - if he is improved at all - with respect to his often maligned displays for the Stars.
On the other hand, there might really be precious little to be anxious over. In fact, apologists for Gyan - and there are a great many of them, quite surprisingly- would argue that even if their man's brilliant performances in Asia make him merely deceptively strong, they make him strong nonetheless, and for a player whose mental fortitude has been questioned as a probable cause for his inability to step up to the plate when he is been required to do so for the national side in recent times, the psychological boost imparted by such an improvement could prove immense even as he heads into the coming Afcon.
Besides, it is not as if most of the other 15 countries that would be contesting Ghana at the tournament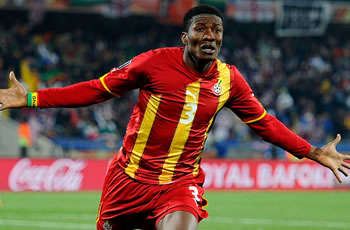 "The worries appear even more founded considering the fact that for much of his career with Al-Ain, the Baby Jet has been in self-imposed exile from the Black Stars "
would have strikers more proven or in generally better form than Gyan in their respective teams. In fact, one can cite Didier Drogba as the only forward who could really be spoken of in the same breath as Gyan, yet even the great Ivorian himself plays in the Chinese league, a competition boasting quality hardly any more advanced or sophisticated than that which Gyan is used to in the UAE.
What is more, the ex-Chelsea man's contributions to his new side Shanghai Shenhua have not been very notable. That, combined with the fact that Gyan would be leading the Stars into a major tournament for the first time since being granted substantial captaincy of the team by coach Kwasi Appiah, implies that, all things being equal, the recently bereaved [of his mother] 27-year-old forward could well be fired up for what could prove his finest outing yet in international competition for the Black Stars, potentially eclipsing his exploits at the 2010 Fifa World Cup.
For a player who is often - for good reasons or bad - proved the difference for the national team and whose fortunes have largely been reflective of the country's own in recent years, there is no telling what that could mean for Ghana.
Ghanaian fans are hoping it would turn out for the better.