COMMENT
By Kris Voakes | Italian Football Writer
Napoli may well have dominated possession for long spells, seen Lorenzo Insigne and Edinson Cavani put the frighteners up the Inter back line with impressive regularity, and made enough second-half chances to win the game with something to spare, but they lost again. And there was something so very Napoli about the circumstances.
Having started the last two seasons with notions of real intent, Walter Mazzarri's side are in danger of seeing all of their talent and purpose and attacking flair amount to nothing come the end of term. Having reached the Champions League in 2011, the Partenopei should be kicking on to the next step right now, but instead they are increasingly shuffling sideways.
Should they miss out on the top three for a second year in succession, then the penalties could be much graver than another stint in the Europa League, a tournament they could clearly do without. The bigger loss could be the enforced sale of their figurehead striker Cavani.
Once more, the Uruguayan was a true danger in opposition territory at San Siro, and his link play with Insigne was at times magnificent. But there are only so many times the 25-year-old will be willing to put in such a shift only to see his good work become futile thanks to depressingly poor defending by his team-mates.
Inter made just two chances in the first half on Sunday night, but were given the time and space necessary to capitalise on both occasions and leave their visitors chasing the game.
CAVANI'S INFLUENCE ON NAPOLI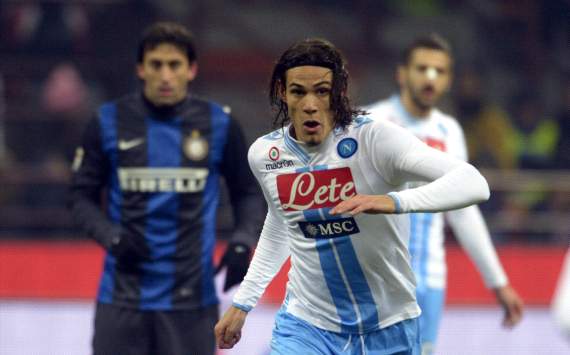 | | | | | | | |
| --- | --- | --- | --- | --- | --- | --- |
| Season | Serie A | Goals | Europe | Goals | Coppa | Goals |
| 2010-11 | 3rd | 26 of 59 (44%) | (EL) Last 16 | 7 of 12 (58%) | QF | 0 of 2 (0%) |
| 2011-12 | 5th | 23 of 66 (35%) | (CL) Last 16 | 5 of 14 (36%) | Winners | 5 of 9 (56%) |
| 2012-13 | 3rd | 11 of 29 (38%) | (EL) Last 16 | 7 of 12 (58%) | (Supercoppa) | 1 of 2 (50%) |
First, Antonio Cassano dummied and shimmied at a corner, and the Azzurri's response was to be drawn in. When the Italy forward eventually sent the ball arcing in to the far side of the penalty area, Fredy Guarin had somehow been left to make a free run to charge onto the ball and volley home.
Inter then doubled their lead when Christian Maggio was outstripped by Alvaro Pereira, who then sent in a cross which Miguel Britos made a hash of dealing with. As Napoli's defenders stood and watched the home side regain possession, the Nerazzurri were able to play in Diego Milito, whose low shot found the bottom corner via a soft hand from Morgan De Sanctis. The second-half fightback was always destined to fall short after that.
It really was the same old story for a club whose forward talent is increasingly being wasted thanks to the continued refusal to plump for anything more than journeymen in the defensive department. Hugo Campagnaro and Salvatore Aronica have been forced out of the first XI by Alessandro Gamberini and Miguel Britos, neither of whom are noticeable improvements on those they have replaced, while Paolo Cannavaro continues to be a committed but limited centre-half. Meanwhile, in front of them they have seen the dynamic Walter Gargano – now settling in well at Inter – replaced by the durable but debilitating Valon Behrami.
Maggio's drop in form of late has been alarming, but the Azzurri simply have nobody to replace him, while on the left Juan Zuniga is backed up by another limited player in Andrea Dossena. Gokhan Inler remains their most creative central midfielder, but his lack of real pace often leaves him well out of position at key times when he needs to do a job off the ball. Without a Gargano or Kwadwo Asamoah alongside him this season, he has looked half the player of old.
There is only so long Napoli can get away with not addressing any of these issues without losing talents such as Marek Hamsik, Insigne and Cavani. Games like Sunday's are a perfect snapshot as to why this side is not ready to challenge for a Scudetto. There is only so far that being so supreme in the attacking third will get you when such issues remain elsewhere on the pitch.
It was the same issue which saw them bundled out of the Champions League by Chelsea last season. For much of that last 16 tie, Napoli were easily the better side, but they eventually succumbed to a much more streetwise football side – who, of course, would go on to win the tournament. It was a great example of just what the Partenopei should be capable of, but also of what remains in terms of huge problems.
A failure to address those factors will leave them short of what is necessary to give Cavani et al the trophies they want. And that can only lead to their exits. Just as Ezequiel Lavezzi gave up waiting after five years and left for Paris Saint-Germain last summer, the Uruguayan will soon realise that at Napoli he is beginning to face a similar situation to the one he found himself in during his latter days at Palermo: a team built around him, but with little else going for it.
For as long as Mazzarri and Aurelio De Laurentiis continue to ignore the problems with their squad, Napoli will continue to be nearly men, and Cavani will move forever closer to a big money move away from Campania.
ELSEWHERE...
Nigel De Jong's difficult transition to life at AC Milan just got a whole lot harder with the news that he ruptured his Achilles' tendon in the 4-2 victory at Torino on Sunday, ruling him out of action for the rest of the season. For the second time inside three years, the Rossoneri lost a player to the same injury in innocuous circumstances. After David Beckham's Milan career ended with a simple step backwards against Chievo, the Dutchman miscontrolled a ball and then went to the turf having been struck by the same ankle injury. It really is back luck all round for Milan, for De Jong and for Manchester City too. While the player has struggled to adapt to the differing demands of the Rossoneri and of Serie A, the Citizens have arguably missed his input in the centre of midfield this season. Now the Diavolo will also have to make do without him for the rest of term, leaving Massimiliano Allegri, Silvio Berlusconi and Adriano Galliani with a decision to make in January.
Francesco Totti's renaissance under Zdenek Zeman continued with two goals in Roma's frantic 4-2 victory over Fiorentina at the Olimpico on Saturday. Er Pupone was in sumptuous form while many around him were losing their heads in what was a hugely entertaining fixture in the capital, leaving many to wonder just how long the 36-year-old can continue to deliver at the top level. While Il Capitano went through a rocky spell during the Luis Enrique regime last season, the wily old former Foggia and Lazio boss has got the best out of his ageing centrepiece, and it is now Totti's heir apparent Daniele De Rossi who looks more likely to be forced out. Granted, the old statesman will not always get the helping hand afforded him by Emiliano Viviano's poor goalkeeping, but his assist for Pablo Daniel Osvaldo's late clincher proved that Totti will remain irrepressible for as long as a football is at his feet. There's no keeping a good man down, whatever his age.
Normal service was resumed for Antonio Conte as his Juventus side marked their coach's return to the touchline with a narrow win away to Palermo. Conte may well have looked like an ageing trainspotter huddled in a big bench coach and donning a baseball cap to keep out the harsh Sicilian weather, but his players took everything in their stride as they delivered in strikingly similar circumstances to their midweek win against Shakhtar Donetsk. Stephan Lichtsteiner, who provided the last pass for Oleksandr Kucher's own goal on Wednesday, was the scorer this time as the Bianconeri stretched their lead at the top once more. The home side's positive performance in the first half may have been encouraging for boss Gian Piero Gasperini, but there was an inevitability about Juve's eventual win. And with two months of Champions League-free programming ahead, they are likely to take some overhauling as things stand.