COMMENT
By Peter Staunton
Jurgen Klopp
's comments throughout
Borussia Dortmund
's Champions League campaign thus far convey a sense of maturation. Alongside his own personal development comes that of his young team. The trainer has established his aptitude at the elite level following an initiation in last season's competition which amounted to a hazing. The Bundesliga holders were embarrassed on the continent's biggest stage, winning only one match out of six, but the hard knocks and the jolting experiences have stood Klopp and his players in good stead this time around.
"Our problems last season did not have much to do with our playing style but were rather a result of lacking experience. That's what we want to work on," he revealed before the tentative matchday one win over Ajax. The Champions League demands a more nuanced approach. Klopp learned that through the process of elimination. The difference in strategy has been subtle but the payoff astonishing.
"We have defined our way of playing successful football and we will not change things too much for the Champions League," he said. "We also learned that we need to make fewer mistakes to get results."
Both Manchester City and Dortmund experienced tribulations in the Champions League during 2011-12. City and their coach Roberto Mancini seem to have learned nothing, however, as they again stare down the barrel before Christmas while Dortmund top the group. At key times last term, Mancini was proven to be inept, short of ideas. This season has been worse, with the Italian altering the personnel in his team with alarming regularity. Their elimination last time did not confer on the manager and players an obduracy, or knowledge, that was bitterly accrued by Dortmund and Klopp.
Even so, Klopp has not changed an awful lot this season to transform a brittle, naive Borussia Dortmund from Champions League non-entities to toppers of a group containing the champions of Spain, England and the Netherlands. The personnel is largely the same albeit with one notable addition in the ranks.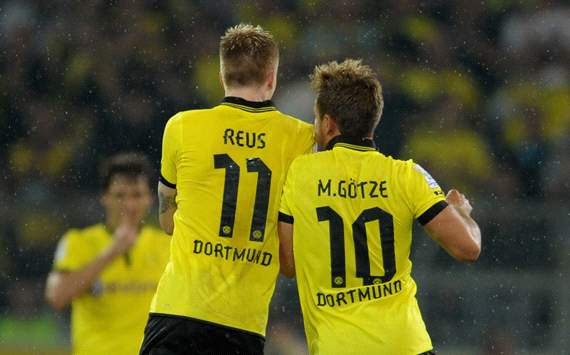 Dynamic Duo | Reus and Gotze have been in electric form at home and on the continent
Marco Reus was Dortmund's one big summer signing and he has fitted in seamlessly. His combinations, interaction and intuitive understanding with Mario Gotze give Dortmund a partnership which borders on the telepathic. For this piece of recruitment and strategic realignment, Klopp deserves immense credit.
A year prior, Dortmund's major departure was Nuri Sahin. It took them a while to become accustomed to life without him, such was his command of the team. Sahin's replacement was Ilkay Gundogan but his bedding-in period coincided with Dortmund's premature elimination from Europe. Over the past year, however, the Germany international has become the player Klopp thought he would.
Sebastian Kehl and Sven Bender are more defensive than Gundogan in the sense that they disrupt the rhythm of the opposition and can offer an insurance policy at centre-back when Mats Hummels steps out of the defensive line. Gundogan makes the play, positively, and his burgeoning success is a testament to Klopp's faith in the continuity of his, and the players', favoured system.
Unlike City, Klopp does not have a huge squad from which to draw players. He relies to a large extent on a core 14 or 15 and, beyond that, must improvise. Selecting from a restricted band of players has been an advantage in the Champions League as the group can mature together. This is in contrast with Manchester City who, under Mancini, have not settled on a definitive XI. That, in turn, has led to myriad tactical approaches and a lack of cohesion.
Last season it was not that the Dortmund players were inferior in the way that Dinamo Zagreb's have been at this level, it was more a case that the team's modus operandi was not wholly transmutable from the Bundesliga to the Champions League. That kind of football won two league titles but those occasions on which Dortmund were proven to be less than watertight defensively were their undoing on the continent. That, and, crucially, being unable to take chances when they arrived.
This season, Dortmund have been happy to cede more of the ball to their opponents but have been more efficient in front of goal, raiding with characteristic, rapid counterattacks. Klopp has learned lessons from his Champions League denuding. "During our good spells we failed to take advantage as we should have and during the bad spells we got punished immediately," he said last season and the team have responded eagerly.
DORTMUND CHAMPIONS LEAGUE COMPARISON
AFTER FIVE GAMES 2011-12

AFTER FIVE GAMES 2012-13

Pos



P

PTS

Pos



P

PTS

1
Arsenal
5
11
1
Borussia Dortmund
5
11
2
Marseille
5
7
2
Real Madrid
5
8
3
Olympiakos
5
6
3
Ajax
5
4
4
Borussia Dortmund
5
4
4
Manchester City
5
3
The next task for Klopp is to ensure that Champions League progress does not come at the expense of domestic domination. Dortmund's league campaign has been stuttering this time around, unlike City, who have been churning out the right results.
At the Etihad Satdium there remains a stubborn insistence on forcing the players around a system and City's regular conversions to three at the back have yielded few positive outcomes in the Champions League, despite methodical progress in the league programme. Ahead of the derby defeat to Schalke, Klopp, in a turn of fancy, opted to field a back three in the absence of left-back Marcel Schmelzer. It backfired and he admitted as much. It does not seem that he will be doing that any time again soon.
Mancini, it seems, seeks revolution in order to force progress whereas gradual evolution is required for Dortmund and Klopp.
He brings the type of clarity that is amiss for City.