COMMENT
By Kris Voakes | Italian Football Writer
For 35 minutes it appeared that the real winners of the Turin derby might be Shakhtar Donetsk. The biggest week of Juventus' season eventually got underway with a sizeable win on Saturday night, but Torino will be left wondering what might have been had Kamil Glik's red card not conditioned a game the home side started like a team with better things on their minds.
With their trip to Ukraine looming large, Juve needed simply to get the local showdown out of the way with minimal damage on both the energy resources and the league table. But they struggled to put their foot down as the Granata gave as good as they got in the early stages, and the idea that the Bianconeri might achieve neither of their aims for the evening began to creep into the mind with each grimace on Leonardo Bonucci's face and every yard Andrea Pirlo covered in midfield.
Antonio Conte and Angelo Alessio – along with Massimo Carrera, the latter's predecessor as matchday coach – have refused to make wholesale changes to their Serie A line-ups preceding Champions League fixtures this season, and that policy continued on Saturday despite the magnitude of Wednesday's appointment. And until Glik's costly decision to make a rash two-footed challenge on Emanuele Giaccherini it was looking like the wrong choice.
NOT BACKING UP | No back-to-back wins to start Champions League weeks

1

2

3

4

5

6

WEEKEND
Genoa
W 3-1
Roma
W 4-1
Napoli
W 2-0
Inter
L 1-3
Lazio
D 0-0
Torino
W 3-0
MIDWEEK
Chelsea
D 2-2

Shakhtar
D 1-1

Nor'lland
D 1-1

Nor'llan
W 4-0

Chelsea
W 3-0

Shakhtar

With Bonucci clearly struggling with the muscle strain he picked up in fouling Stephan El Shaarawy in the defeat to AC Milan six days earlier, Conte may have been better advised to leave the centre-back on the sidelines. So too might he have decided to rest Pirlo, who has yet to turn in convincingly back-to-back in a Champions League week this term. Instead, the coach and his right-hand man saw fit to send out eight men who are likely to be asked to start once more in Donetsk in midweek, while also bringing on a ninth in Kwadwo Asamoah in the second half. Only Giorgio Chiellini and Arturo Vidal of the likely starters were left on the bench throughout, and both of them have spent much of the last seven days racing to prove their fitness.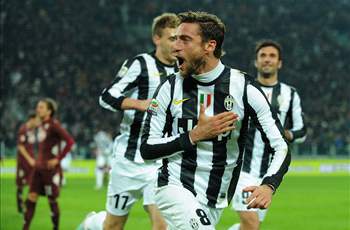 Conte got away with his gamble thanks in large part to Glik's 36th-minute red card, with the Bianconeri – playing in a 4-3-3 formation for the first time in over a year following Martin Caceres' under-par centre-back performance against Milan – being able to afford the luxury of a missed Pirlo penalty before coasting home in the second half. From having looked ready to cause a stir, suddenly Torino were left impotent and Juve were cantering in with energy to spare.
It became only a matter of time before they eventually broke through as they made almost a chance a minute for a period after the interval, and Sebastian Giovinco's great cross from the right was headed home by Claudio Marchisio, who misses the Donetsk trip due to suspension. With the pressure lifted and Torino's shoulders sinking to the floor, Giovinco drove home a second and Marchisio grabbed a late third. Had it not been for Jean-Francois Gillet there may have been a couple more to boot.
Juve turn their attentions to the big one knowing that they have yet to record successive victories in the Champions League and their preceding Serie A fixture at any point this term, but the scenario could have been much worse. The Old Lady would have undoubtedly expended more energy up against 11 men than 10 last night, but a bit of good fortune helped them eventually sidestep that particular landmine. Now they need to make the most of it by getting the result they crave so dearly on Wednesday. The next 90 minutes will define Juventus' season, and misjudgements on and off the field will be more readily punished.
This time, there will be no second chances.
ELSEWHERE...
AC Milan were also left thanking a sending-off for changing the course of their fixture at the Massimino on Friday as Pablo Barrientos' red card four minutes into the second half helped destroy Catania's momentum and set the
Rossoneri
on their way to a 3-1 win in Sicily.
The forward's foul on Antonio Nocerino was a stupid risk to take for a man already on a yellow card, and in a split-second he had undone all of the good work established by the
Etnei
's first-half performance and Nicola Legrottaglie's opening goal. Stephan El Shaarawy soon equalised, before Kevin-Prince Boateng sent a superb right-foot effort beyond a static Mariano Andujar to complete the turnaround. The Ghanaian's injury-time sending-off momentarily panicked Milan fans before El Shaarawy's second secured the win, but there remain several questions to be asked of the recovering
Rossoneri
.
Despite their recent upturn, they remain massively vulnerable at set-pieces, with Legrottaglie's header the umpteenth goal conceded from dead balls this term, while there was still a slow transition in certain parts of the pitch. While the three points were very welcome, Massimiliano Allegri has yet to show that he is making progress with his team in a technical and tactical respect on the training ground. The signs are good, but if their form is to continue, the coach needs to earn his corn away from the spotlight of matchdays.