COMMENT
By Ewan Roberts
Never go back, the old adage says. But that has not stopped
Arsenal
fans from salivating at the prospect of the potential return - for a third time - of
Thierry Henry
. The French striker will train with the Gunners at their London Colney base during the MLS off-season as
Arsene Wenger
weighs up a loan move for the
New York Red Bulls
forward.
With Gervinho off to South Africa in January to compete in the Africa Cup of Nations, and Marouane Chamakh likely to join him, Wenger's squad will be devoid of depth in the striking department and hugely reliant on Lukas Podolski and Olivier Giroud, but the Gunners boss would be wise to steer clear of the player he signed from Juventus 13 years ago.
Henry's name alone conjures memories of brilliance: his touch, turn and volley against Manchester United, the mesmeric dribbles, the nerveless, trademark finishes half-passed-half-caressed into the far corner,
that
back heel against Charlton.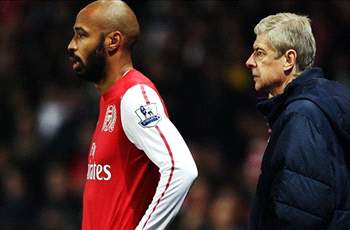 Henry's return would represent a failure to lure younger, brighter talents and underline a growing reluctance to spend big on talented youngsters

The echoes of his genius that linger are so great that it is easy to ignore the player he is now - a 35-year-old fading force earning a living in the graveyard of footballers, the MLS - and see only the player he once was. But Henry cannot have the same impact he made during his eight successful seasons with the Gunners between 1999 and 2007.
He is a very different player now, less explosive, preferring to drop deep and link play rather than hang on the shoulder of the last man. He has unequivocally lost the pace and acceleration that defined him and which became key attributes of the archetypal Premier League striker.
He is increasingly becoming a pure poacher, though there are still flashes of the genius that accompanied him during his first tenure in north London, for example his goal from a corner kick against Columbus Crew.
But comparing his movement, directness, speed or threat to those of the league's top marksmen - the likes of Sergio Aguero, Luis Suarez and Robin van Persie - is like comparing a Numatic Henry vacuum cleaner to a Dyson. That is entirely understandable though, given that he is 10 years older than the average age (25) of the Arsenal squad that faced Tottenham at the weekend.
The Premier League is as robust, physical and fast-paced as it ever was, and Henry, regardless of how sharp he may look in training, is no longer of the required level to play top-tier football in Europe - as was the case during his final year in Spain.
Were Wenger to loan Henry, it would represent a very real conflict of the ideologies which he extolls above all else. Not only would he be making use of, exploiting even, a loan system he has very vocally criticised in the past, but the 35-year-old's signing would merely be a short-term band-aid that disguises deeper problems.
The former Barcelona striker's return to north London would represent a failure to lure younger, brighter talents to the Emirates, highlight a lack of awareness with regard to squad building and underline a growing unwillingness to spend big on talented youngsters (especially in January's inflated market).
Wenger would also be recruiting a very visible sign of what Arsenal used to be: the Premier League winners, the Champions League finalists, 'the Invincibles' - everything Arsenal no longer are is embodied in Henry. Some fans will undoubtedly see him as a bridge to a more successful era, for others he would create a contrast that only exaggerates Arsenal's seven and a half year wait for a trophy.
Supporters of Henry's return will point to his MLS MVP nomination, or the two match-winning goals he scored against Leeds and Sunderland during a seven-game loan spell last season. It could be argued that the Frenchman galvanised the Gunners, triggered a return to form that saw them overhaul Tottenham's huge points advantage.
But that would be to give Henry too much credit. He scored goals against sides that finished 14th and 13th in their respective divisions but was otherwise abject, off the pace and a shadow of the player that he once was.
His performances in America should be treated with caution due to the level of the opposition he faces. Robbie Keane is statistically the MLS's top player according to the Castrol Index, yet the Irishman, three years younger than Henry, scored just five goals in 22 appearances in the Premier League in the last two seasons.
Last year Henry was deputising for the league's top striker, Van Persie, but this year he would be the back-up to the inconsistent, often timid Giroud, who has looked clammy of palm in front of goal this year. Furthermore, Henry's presence - with a particular nod to Theo Walcott - starves younger, long-term options of a place in the side.
What Henry does undoubtedly bring is experience, hordes of team titles, a long list of individual accolades and leadership (all largely absent from the Arsenal squad). But his knowledge and presence simply in and around the training ground would be of far greater benefit than his current playing ability would be on the pitch.
Any move for Henry would undoubtedly be a fan pleaser, but also a smokescreen designed to hide the flaws of Wenger's leadership and conceal a lack of ambition and unwillingness to spend big; while the French striker, immortalised in bronze outside the stadium, is paraded on the pitch, the gold remains in the bank.
Follow Ewan Roberts on