Fiifi Anaman




Comment

|

Ghana




Follow on
Finally, the 97th Super Clash happened at the Garden City. The game ended barren, a score line which at first glance would interpret the encounter as boring, but that was not the case.
It is an understatement to describe it as lively. It was a game that saw a thrilling end-to-end action that had the over 40 000 present at the Baba Yara Stadium at the edge of their seats, to the fluidity with which both teams at times stringed their passes together, through to the sheer desire and commitment that both sets of players employed. In between these was a red card, an assured performance from an unlikely source – Hearts of Oak's third goalkeeper Luggard Tetteh - and a virtuoso performance from a certain Laryea Kingston.
The veteran midfielder was by a mile the calmest soul on the pitch. Even though he was at some point yellow carded, he was a completely different player from what he was in the corresponding fixture last season, where he was infamously given orders to take an early shower in a 2-1 loss against the same team. "I was a fool not to have listened to the numerous advices I received before the game about a ploy to get me out at the least provocation," he told the club's website. It must have been heartwarming for Hearts fans seeing him so relaxed, even at times smiling amidst possible provocation and amicably hugging and patting his opponents during stoppages.
"I'm wiser now," he was quoted as saying before the game.
The sheer maturity with which the 32-year-old used the ball anytime he had it by those experienced feet was a sight so pleasant, even Kotoko fans could not help but admire in awe. He was at the heart of everything good for the Rainbow boys who were evidently outplayed by their counterparts. In a game that naturally had players gripped with the anxiety and nervousness that its high profile nature sparks, Kingston was a beautiful exception.
Standout performance
He stood out as the singular man amongst boys, distinguishing himself with rich flair finesse and grace –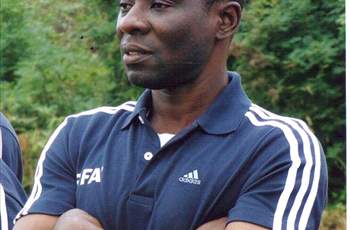 "Once Duncan finally settles into his tactical elements and Kingston suppresses his constant urges to revolt, the pair could strike up a pivotal partnership."
reminiscent of a veteran Zinedine Zidane at the 2006 World Cup quarter-final stage vs Brazil. Every pass, stint of control (expertly with his foot and chest) and free kick reflected how much he has grown as a player over the years – from his peak years as a winger through to redefining himself later as a genius playmaker. "To be honest, there is no player in the current Black Stars set-up that can match up to the play making prowess of Laryea," Hearts of Oak coach David Duncan told Accra-based Happy FM after the game.
It could have been different, though. Until a few days ago, Kingston would have had to make do with watching the game in the comfort of his cozy sofa somewhere in Accra. Former coach CK Akonnor – who suspended him indefinitely owing to gross insubordination - would have been in the away dugout at the Baba Yara Stadium. Hearts would have probably (judging by their prior form) gone on to lose to a slightly more clinical Kotoko, and would have had very little positives to dwell on. But Akonnor (with whom Kingston fell out), after a third consecutive loss, was shown the exit door by the Hearts board. Kingston at this point saw an opportunity to redeem himself and to get his career back on track, thus rejoining the squad after rendering an apology. By the time former Ashgold boss Duncan was ushered in, it was always going to be about whether Kingston would not only fit in or get over his disciplinary issues, but also how quickly he would hit the ground running.
On Sunday, he left his feet to do the talking.
But for an uncharacteristically quiet Mahatma Otoo and later on, an injury to a hitherto threatening James Abban, Kingston's memorable display - in that free role as part of Duncan's brave choice of a 4-3-3 – would have yielded a devastating impact. That notwithstanding, the veteran's current form and Duncan's faith in him will prove vital to Hearts in the transitional situation that they find themselves in, that is, a new coach, a new philosophy and a new team outlook.
Before the game, Kingston talked about "a smooth harmony that is growing in camp." That gives a genuine sense of a sort of renaissance going on, at least, within the playing body, which Hearts could benefit from. Once Duncan finally settles into his tactical elements and Kingston suppresses his constant urges to revolt, the pair could strike up a pivotal partnership that could return Hearts to where they have strived to be since 2009 – at the summit of Ghana's top flight.