COMMENT
By Liam Twomey
After 99 caps of an
England
career
Steven Gerrard
himself admits has been no more than "a seven out of 10", it was depressing and yet also fitting that his 100th went some way less than according to plan.
For much of the evening Roy Hodgson's men looked set to record a solid if unspectacular win over Sweden in Stockholm, thanks to some pinpoint crossing and clinical finishing from Danny Welbeck and debutant Steven Caulker. All the while, Gerrard sought desperately to mark his century with a goal to remember before the substitution he knew was coming.
ZLAT'LL DO NICELY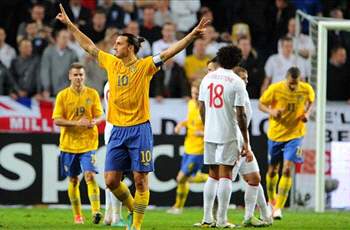 PLAYER RATING VS ENGLAND







Absolutely stunning performance from the PSG striker, grabbing the first goal in the new national stadium with a superb striker's finish. Drifted out of the game early in the second half as the hosts struggled to get back into the match, but took his second goal with real authority and capped his hat-trick with a long-range free-kick before scoring an absolutely breathtaking acrobatic fourth.
FROM OUR LIVE! COMMENTARY

"GOAL!! WOW. Wow. I cannot quite believe I've just seen that. A long ball forward is headed clear by Hart outside of his area. Ibrahimovic, who is tracking the goalkeeper, follows the flight of the clearance, swivels and hits an overhead kick from 25 yards that loops high into the area and drops over the line. That was stunning."
It was not to be and, prior to his withdrawal in favour of Tom Huddlestone with just over 15 minutes left, the Liverpool man failed to provide any compelling evidence to disprove the notion that for all his enduring qualities, his rampaging, inspirational best is some way behind him.
For Sweden, too, this was a special night: the opening of a new national stadium, and a chance of revenge against a side which has beaten them twice in the last 12 months – including the reverse which all but put them out of Euro 2012. They would have been pleased that Gerrard proved unable to light up the stage, and delighted that their own talisman instead stepped up to the task.
Zlatan Ibrahimovic's genius has been widely accepted around Europe for many years of a truly illustrious career. League titles in the Netherlands, Italy and Spain have all been achieved with the unique style of a great showman, as well as a fantastically consistent goalscorer.
But the Swede has had to work harder for credibility on these shores than anywhere else. His undisguised arrogance, perceived laziness and penchant for the outlandish does not sit well with the great English footballing 'traditions' of humility, no-frills decision-making and hard work.
After Wednesday night, however, there can be no doubting that his is an outrageously special talent. Ibrahimovic's four goals were scored with such assurance, athleticism and grace that even Hodgson could not have felt anything less than privileged to watch his first clear defeat as England boss.
Of course, he was helped at almost every turn by some exceptionally shoddy defending from the makeshift visitors. Caulker and fellow debutant Ryan Shawcross showed poor judgment for the Paris Saint-Germain striker's first two goals, and Joe Hart capped the worst performance of his burgeoning international career with some woeful goalkeeping for the third and fourth.
But the fact that brilliance is often made possible by incompetence should not detract from Ibrahimovic's achievement. His four-goal haul took him past Henrik Larsson as Sweden's all-time top goalscorer, and his wondrous 35-yard bicycle kick will be watched, analysed and admired the world over for many years to come.
Ultimately, the biggest negative England took from Ibrahimovic's one-man show was that it provided a further reminder of what they are missing.
It is surely only a matter of time before Wayne Rooney takes his place at the top of the England scoring charts, and yet not since he was a fearless teenager in 2004 has his influence been felt so positively as that of Ibrahimovic. He possesses a similar amount of ability, if not audacity or flair, but his place in the Three Lions record books looks destined to be secured through longevity – rather than quality – of service.
Aside from Rooney, only Welbeck looks to possess game-changing ability in the final third. The Manchester United youngster has now scored with all five of his shots on target for England, and his blistering pace and dazzling skills hint at a star in the making.
Yet Wednesday evening also showed that he remains very much a rough diamond, not yet ready to assume the level of responsibility Ibrahimovic shouldered so effortlessly. Moreover, the longer he spends on the Old Trafford bench, the longer he will take to mature into the man England may need him to become.
England's inexperienced team showed enough in Stockholm to suggest a measure of optimism in the future is not misplaced. But when it comes to individual ability, as Ibrahimovic so spectacularly demonstrated, they remain emphatically second best.
Follow Liam Twomey on