COMMENT
By Kris Voakes in Rome
According to legend, it was 2,765 years ago that Romulus and Remus founded the city of Rome. The twins had been found at a young age by a she-wolf who suckled them after they had been left for dead by a servant of their great-uncle. While reigning as the King of Alba, he had realised that the pair were above human and saw them as a threat, but with his task of drowning the twins not properly carried out, they would eventually grow into strong men and depose him before setting out to find a suitable site for a new city.
When the brothers could not agree on where their settlement should be, their bickering would have deathly consequences, with Romulus killing Remus, setting up Rome by himself and deriving the city's name from his own.
Almost three millennia on, long after the eras of gladiators and of emperors, the Italian capital remains one of the most iconic and historic sites on the globe, and on Sunday afternoon it will be the centre of the footballing world as a modern day Romulus and Remus fight for the right to claim the city as their own.
Francesco Totti and Miroslav Klose stand on opposite sides of Rome's sporting divide, but they have both continued to defy the wisdom which had suggested that the passing years would weaken them as players. While the Roma skipper continues to lead his side forward with actions as well as words at the age of 36, the 34-year-old Lazio striker is still proving to be one of the world's finest goalscorers.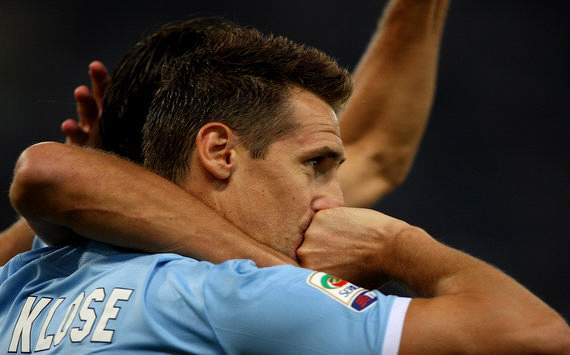 Miroslav Klose | Twice a king of Rome last season, and continues to score regularly at 34


Alongside Anderson Hernanes, Klose has been one of the two consistent standouts in the Lazio side since arriving from Bayern Munich in the summer of 2011, with last season's second successive near miss in the Champions League race largely coming as a result of the performances of the Biancocelesti's two key men. The German's eye for goal shows no sign of depreciating, with another six strikes having been registered already this campaign.

His continued form in and around the six-yard area for his country as well as his club could see him surpass Gerd Muller's national goalscoring record in midweek when the Nationalmannschaft take on the Netherlands. Der Bomber's once seemingly untouchable total of 68 goals is now just one advanced of Klose's haul, and the ex-Werder Bremen man could yet go to the next World Cup for a tilt at Ronaldo's finals record of 15, which he also stands just one strike shy of.

On the other side of the city, Totti's excellent form has been perhaps the most pleasant surprise of the Serie A season so far, with his ability on the ball remaining one of the features of Roma's play. The Giallorossi may have struggled to maintain fast starts this season, resulting in several dropped points which have undermined Zdenek Zeman's desire for his side to become a leading player in Italy once more, but 'Er Pupone's poise, grace and inimitable style have been amongst the high points of the club's campaign to this point. Like his team-mates, he has tired before the end of games, but at 36 he is still outperforming his colleagues.

He practically won their game against Inter in September single-handedly, running rings around the Nerazzurri defence as Roma triumphed 3-1, and turned in another starring show against Palermo last week. As symbols go, Totti remains the Lupi's centrepiece in a way that no one else can quite claim to be elsewhere.

But last season Totti had no bragging rights to speak of. His side finished below Lazio in Serie A and lost both derbies, with Klose netting a last-minute winner in the first. As the two old gladiators face off again, a new episode will be written in the long history of the city of Rome, but only one of them will be left standing after 90 minutes. Which one will be Romulus and which will be Remus?

Follow Kris Voakes on