FEATURE
By Fiifi Anaman
One of the most interesting transfers during the
Ghana
transfer window this year was that of former Petrojet striker Eric Bekoe.
The forward, who had apparently passed a medical for Kumasi Asante Kotoko days earlier, joined Berekum Chelsea on a two-year deal for an undisclosed fee. Reports suggested Bekoe's deal with Kotoko was almost done, until negotiations over his personal terms hit a snag, causing the move to fall apart. So close was he to joining the Porcupine Warriors that he joined their pre-season camp and even took part in some friendlies.
Berekum Chelsea were quick to swoop in and snatch up Bekoe. With star striker Emmanuel Clottey departing the Berekum-based club in a deal worth $1.5 million to Esperance Tunis, the move was seen as a sort of replacement measure.
Clottey scored 12 of Berekum Chelsea's 21 goals (57%) in their Caf Champions League adventure recently - an indication of just how vital he was to the team. His departure therefore left a vast void, which needed to be filled. Clottey's efficiency in relation to goal returns meant the replacement had to have a solid and impressive scoring track record. Bekoe, 25, offered that.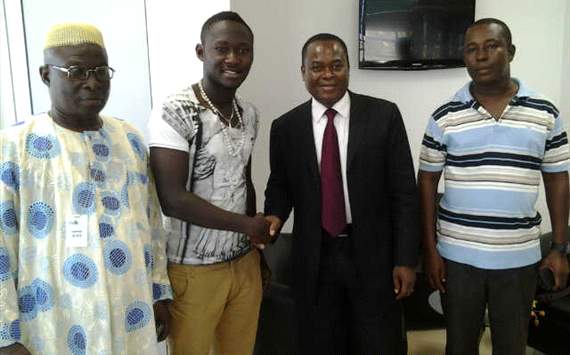 "I believe he will love the club," Chelsea president Emmanuel Kyeremeh.
At the peak of his powers in 2008, Bekoe was the top scorer of the Ghana Premier League with an overly impressive 17 goals in 21 appearances. In a title winning season for Kotoko, Bekoe was in the mix of everything good for the Porcupine Warriors - scoring vital goals. He also recorded nine strikes in Kotoko's Caf Confederation Cup campaign. After that landmark season, he left Ghana, in a deal that took him to Egyptian top flight side Petrojet (who beat giants Zamalek to his signature). There, his blazing scoring form experienced a continuation, finding the back of the net for fun.
However, the blatant disregard of his prowess by the senior national team really affected his psyche. His performance was perhaps not enough to convince the selectors that he was probably Ghana's answer to its chronic goal scoring problems. He only went on to play a minor role in four World Cup qualifiers in 2010. Back in Egypt, his form dipped, after 22 goals in as many games. For some reason, he began missing out on games, forcing him into temporal inactivity. At that juncture, he was bound to come back home, at some point, to resuscitate his once promising career.
Now, at Berekum Chelsea, he has the chance to re-launch his career and prove his critics wrong. The Bekoe story, though clearly unfinished, has been written off by most journalists. There is a general belief that he is past his prime, and will never be as good as he was. But at 25, there is every possibility of him reinventing himself and getting back to the top. And what better club to do it than Berekum Chelsea, a young club with enormous ambitions. "We have confidence in him and I believe he will love the club," Club President Emmanuel Kyeremeh said at Bekoe's arrival. ''He will be a great inclusion to our side and we can rely on him in the league next season."
There are huge expectations on the shoulders of Bekoe. While many are skeptical of his abilities as it is now, there are others who cannot wait to see how he does. It's always exciting when a player who was once a phenomenon try to replicate his form of the past. It is yet to be known whether it is Kotoko's loss or not. The manner in which the deal fell through sparked discontentment amongst the Fabulous faithfuls. Bekoe's arrival had been anticipated heavily in Kumasi, reminiscent of the return of the prodigal son. Despite missing out nonetheless, they have been quick to snap up more than worthy replacements in Richard Mpong and Seidu Bancey.
There is every reason to suggest that Bekoe can get back to his best. He is already familiar with the local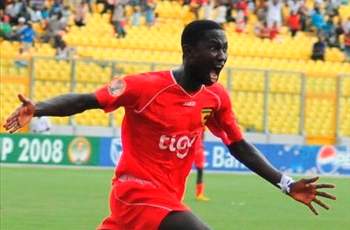 "In a title winning season for Kotoko, Bekoe was in the mix of everything good for the Porcupine Warriors - scoring vital goals"
league and its requirements. He has been there, seen it, and done it before. All that he needs is fitness, focus and hard work. Besides, the current Berekum Chelsea style of play is similar to what Kotoko played during his top scoring years. The structures are in place.
With Berekum Chelsea expected to tap into the rich experience they gained from the continent's flagship competition, they will surely be looking to launch a bid for the title next season. "It is our plan and vision to become champions again and play in Africa in 2014," Kyeremeh told the official club website.
To do that, they will need all the experience they can get up front. They have already received a boost via the return of their star striker from the league winning campaign in 2010, Bismark Aidan. To Chelsea's credit, a third promising striker, Saddick Adams was added to the ranks a day after Bekoe signed. That is Bekoe's support frame upfront sorted - something Clottey was not lucky to have. The 23-year-old Aidan and 22-year-old Adams are expected to link up well with Bekoe, and give the team some depth and added dimension. Bekoe will thrive from the support.
Bekoe, on his day, is the man. The man who has the art of sticking the ball into the goal entrenched in his genes. His familiarity with the back of the net is something that, despite his recent dip in form, will always be a part of him. Those lethal instincts are buried in there somewhere.
Form they say is temporary, but class is permanent.
Follow Fiifi Anaman on