Goal.com Ghana's guest writer Umid Dey argues that the Bison is just 29 and still has the time to get back to his best at the Bernabeu
SPECIAL FEATURE
By Umid Dey

Michael Essien
- the name that used to strike fear in opposition players, the name that used to give headaches to opposition managers and the name that every manager wanted to have on his squad list.
Born in Accra, the capital of Ghana, Essien started his professional football career at local team Liberty Professionals. His energetic performance in the 1999 Under-17 World Cup caught the eye of many clubs with Manchester United even offering him a trial.
In 2000, however, the Bison joined French club Bastia and made a name for himself in the three years he played there. Soon, Lyon came knocking and the Ghanaian midfielder joined them in 2003.
Here is where Essien was turned into an all-action box-to-box midfielder from a holding midfielder by then Lyon manager Paul Le Guen. Playing as a box-to-box midfielder in a 4-3-1-2 formation, Essien gave some of the finest performances which saw his 'daddy' Jose Mourinho, sign him for Chelsea for a then club record of £24.4m.
This is where the World saw him play at his full potential.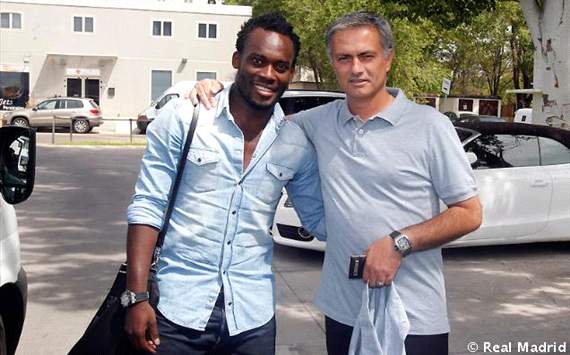 Two paddies |
Essien and Mourinho's relationship dates back to 2005
Mourinho's Chelsea were known for their defensive astuteness, no hold barred type approach and quick counter-attacks – Essien was a perfect fit for a team like this. It was his ruthless approach that took a lot of burden from Carvalho and John Terry's shoulders.
He was the one who would win the ball and initiate the attack for Chelsea and then make those quick box-runs to distract opposition defenders for his team-mates, or himself, to score. His right-footed shots were like bullets coming out from a gun; unstoppable for the 'keeper – he scored a lot of long range beauties this way.
For five years, he terrorised the English Premier League, but then in 2010 Africa Cup of Nations, the terrible thing happened - the beast fell. It took him two years to recover from his knee injury.
TRANSFER DEADLINE DAY
It was August 31, 2012. With just 20 minutes left for the transfer window to close. Suddenly, there were rumours flying all around of Essien joining Real Madrid and Lass leaving for Anzhi. Most discarded it as false rumour, but just five minutes after the window officially closed, it was announced at the Stamford Bridge that Los Blancos have signed the Ghanaian on a season-long loan deal.
Almost everyone was in shock; no-one saw that coming. Some Madridistas were even worried about his capture since he is not even the shadow of the player he once was. However, this deal is not as bad as some might think. In fact, it could be the complete opposite.
It was under Mourinho that Essien played his best football, now he unites with him again. The 'Only One' is well known to bring the best out of his players – just ask Benzema. The French hitman was struggling to find his feet at Real, but once Mou came in, Benzema's true capabilities were revealed.
The same could happen with Essien. The cases of Essien and Benzema aren't so different, with only difference being that Benzema had a psychological problem and Essien has both psychological and fitness problem, but Mou would want the outcome to be same as it was with Benzema – to get Essien back at his best.
Essien himself claimed that he is ready to compete and he would not have signed for Real if he was not. If Essien's words are to be believed, we have a player who is not injured, but is just lacking match fitness.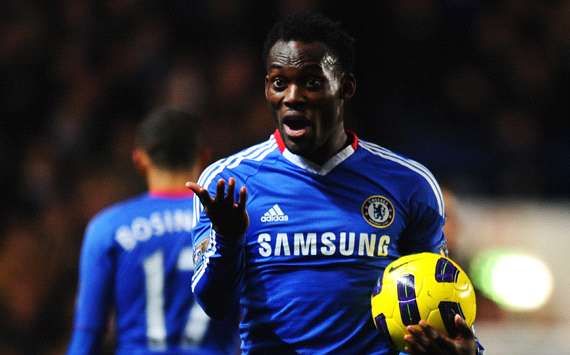 More Playing Time Needed |
Essien will need to fight for a place to make a mark
With playing time, match fitness will eventually return and the psychological problem will be dealt by Mou – just like he did with Benzema. Some might think that if Mou was such a good psychologist, why couldn't he remove Sahin's psychological problem. As Mou indirectly indicated Sahin wasn't strong enough mentally.
The same is not the case with Essien, however, as he has already shown us what a determined character he is. He has the never-give-up-until-the-very-end attitude. Don't forget, Essien is just 29 and would have been at his peak now if it weren't for injuries.
If Mourinho can get Essien back to his best, then we will have a player who is a dedicated and a hard-worker.
As players, Granero and Essien are incomparable; both are totally different players. However, as professionals, they are both very similar. When Real Madrid sold Granero to QPR, they did not only sell a good player, but they also sold a player who was, as Mourinho said, the hardest worker at the training ground. Such dedication made him a favourite amongst Madridistas.
In Essien, we are getting a similar professional – a hard-working player whose dedication will motivate his team-mates to work hard as well.
Whether being a starter ahead of Khedira or playing in a trivote with Khedira and Xabi/Modric, a fully fit Essien gives the Portuguese coach a lot of tactical ploys to use.
Away from home against stronger teams, where we need to defend a lead, Mou can play Sami, Essien and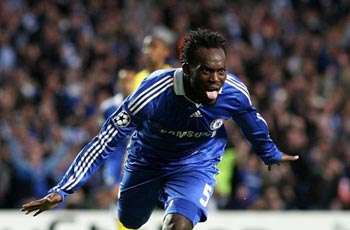 Xabi in the midfield and let Essien and Sami take turns to go forward. We have all seen what Khedira and Essien can do going forward – I don't need to elaborate on that.
This trivote will not only contain the pressure against teams who press a lot, but will also quickly initiate counter-attack due to the presence of two box-to-box midfielders – with one of them making a quick run forward – and a playmaker in it to initiate the counter-attack.
Real have a lot of leaders in the team – Cristiano, Xabi Alonso, Casillas and Ramos - and adding one more to that list just makes it better. With more characters like these, the mental strength of the team increases as a whole and it becomes a lot harder to beat a mentally strong team.
Essien is Essien. Even though he has not been even half as good as he once was, expect him to flourish once again under his 'daddy' Mourinho. Again, Essien is 29 and still has the time to get back to his best. If he doesn't, we have Pepe & Varane to save the day; but if he does – which I believe he will – then only God Himself can stop Real from winning titles this season.