COMMENT
By Bren O'Brien
Harry Kewell is undoubtedly Australia's most popular Socceroo, but that does not make him our greatest footballer.
On Thursday night, Kewell was named the Greatest Australian Football Player at a gala ceremony in Sydney and it will not surprise his most strident critics that it was an award decided by popular vote.
Kewell's 'special' qualities on the field and image off it have earned him a unique spot in the hearts and minds of the Australian public and he has been able to use that to enrich his standing as a footballer.
But the reality is, while he has rightful claims to be the most talented player Australia has produced, he should not be stamped with the tag of greatness. Not now, not ever.
Why? Because greatness is a quality bestowed upon sportsmen who achieve something more than just realising their considerable talent. And there is a question mark over whether he even achieved that.
Mark Schwarzer is not the sort of person to concern himself with such honours, but he surely has to be considered a 'greater' player than Kewell.
Winning almost 100 caps, he has played a major role in two World Cups, plus the qualification campaigns, while maintaining a career in the toughest league in the world for 15 years, playing 502 games for Middlesbrough and Fulham.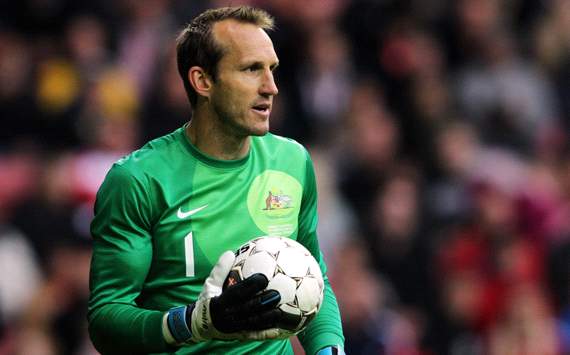 Steady hands| Was Mark Schwarzer more deserving than Kewell?
He is rightly rated as one of the best goalkeepers in the English Premier League era, and has been nothing but a brilliant ambassador for club and country.
In comparison across the same period, Kewell has played considerably fewer games. After a spectacular start to his career at Leeds, where he built a reputation as one of the most talented left-sided players in the world, he featured just 154 times in nine seasons at Liverpool and Galatasaray.
He also 'engineered' his appearances for the Socceroos, playing just 56 matches.
Some of those absences were because of injury, but there was always a sense of trepidation where Kewell's allegiances really lay when it came to the club-versus-country debate.
People are quick to remember his crucial equaliser in the 2006 World Cup against Croatia in Stuttgart, but they forget that Kewell missed the more important match against Italy, apparently suffering gout.
He got himself sent off in the vital second match of the World Cup in 2010, albeit in unlucky circumstances against Ghana, and then underwent a painful courtship with Melbourne Victory over a three-month period before eventually signing on and bringing with him, as he has all of his career, equal parts brilliance and circus.
Kewell's relationship with Australia's football's stakeholders as well as the football media has always been a demanding one. Some of his arguments with members of the media have made him look more spoilt brat than wunderkind.
Yet Harry has this hold over the Australian public, which many find alluring but some find frustrating.
It is an image which has carried him through a career which has had plenty of style, but nowhere near as much substance as that of someone like Schwarzer.