EXCLUSIVE
By Kent Mensah
From cradle she knew she will grow up to become a footballer. The beautiful game is her passion. Her hobby. And eventually it ended up being her source of livelihood.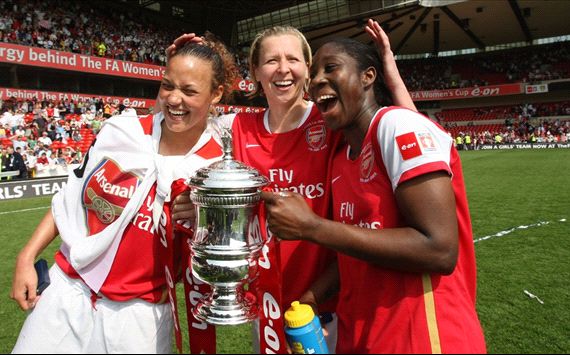 GLORY DAYS | Anita celebrates The FA Women's Cup with Arsenal Ladies
Anita Amma Ankyewah Asante is well-known to followers of women's football on the global stage. Her name alone gives her up as a Ghanaian. Her parents are, but she is not. Born and bred in London, 'Neetz' as she is warmly called by her close buddies, had been in Ghana just thrice - when she was younger – and has spent the larger part of her almost three decades on planet earth in Europe and America.
Asante is a gifted footballer. She can play as a centre back or defensive midfielder. She is one of the most decorated female players at club level after winning 12 titles with Arsenal Ladies including the Uefa Women's Cup. The former England Under-17 and 19 teams captain, who has BA in Politics and English and MPhil in Sports Politics, was a member of the Team GB 2012 Olympics and is looking forward to making the cut for the 2015 Women's World Cup. She loves music and Beyonce, Rihanna, Angel Haze, Vince Kidd and Miguel are her favourite artists.
Goal caught up with the genial and striking 28-year-old, who grew up in North West London, to share with us how she managed to transform her hobby into a career, but most importantly never played for Ghana.
How did you develop into a professional?
Anita: I have worked really hard to play at the highest level and began my development with Arsenal Ladies FC at the age of 14. By the age of 22 I had an amazing opportunity to become a fully professional football player and played in the Women's Pro Soccer league, (WPS) with New Jersey Sky Blue, USA. I spent three years in total in America playing throughout the country. It was an experience that changed my life and I will always remember fondly. Unfortunately, the league folded at the end of 2011so I decided to go and play in Sweden with Kopparberg/Göteborg FC only recently signing for LdB Malmö in Damallsvenskan.
Who is/are your role model?
Anita: My role models in life are my parents! They have both been tough and supportive of me in my studies and football. I consider them to be progressive thinkers as they have never made me feel like my pursuit to play football as a career was not right as a woman, or because of historic views that still exist here, but also in Ghana. The footballer I idolise most, however, is Zinedine Zidane.
What motivates you?
Anita: I think I am motivated by the small successes that are there to be achieved daily in life and also in football. By that I mean pushing and watching myself grow and develop all the time, gives me a great sense of achievement and the fun I have playing as well as the joy it gives to others to watch me play and I hope to inspire young people to participate in sport in general.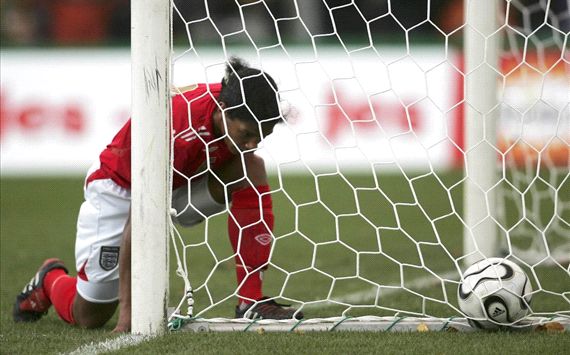 DEJECTED | Anita couldn't control her emotions after losing to Germany 2-1
Why are you interested in football?
Anita: It's hard to say why I am interested in football, because I feel like rather football chose me. I had a natural affinity for the game from a very young age. My family were hyper aware of my ability with a football and I was forever juggling in the house, playing football all the time. It was a sport that all the local kids played at the time and when I would watch it on TV, so my passion for the game was spurred on.
What do you think about women's football in Ghana and Africa in general?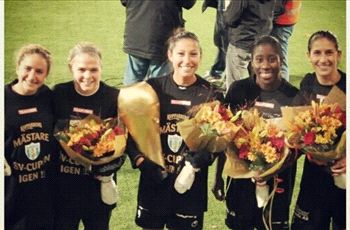 "It's hard to say why I am interested in football, because I feel like rather football chose me"
Anita: I think it is good that women's football exists in Africa and that both, the 'Black Queens' of Ghana and notably the 'Falcons' of Nigeria have led for the most part the women's game in Africa. They have qualified for major competitions and that is very impressive. It shows there is a great amount of talent there, considering the lack of support in resources and financial backing. I think the participation of women in football in Africa, is a sign of great strength in the women of Africa that they continue to assert confidence and self-esteem by their participation, in culture's that are still developing its thinking in relation to the position of women.
What kind of player are you?
Anita: I think if I was to describe myself as a football player I would say; I am quietly confident, technical and composed on the ball, experienced and assured defender and midfielder, good reader of the game.
What are your goals?
Anita: At the moment, I am focusing on short term goals as I have a few hurdles to jump right now. I guess my first goal is to complete my rehab successfully from my metatarsal injury and get back to fully playing and confidently. My second goal, is to fully integrate into my new club LdB Malmö (lot's of goals within that! ha) and my final goal is to make the squad for the World Cup in Canada 2015.
How do you hope to achieve those goals?
Anita: I hope to achieve my goals by putting my best foot forward, always looking ahead, giving 100% effort to how I apply myself to a task. I know the only way I will achieve tangible outcomes is to work hard for it and I am proactive.
Any persons you want to acknowledge?
Anita: Honestly, there are not enough pages to acknowledge all the people that have had a positive influence in my life. But, I guess first and foremost I would like to acknowledge my family, who have shaped me into the human I am today. All the coaches/technical staff I have had over the years, too many to list but they have all played a vital role in shaping me as a footballer, supporting me through injuries, and also how I approach things on and off the field. My agent David Ross-Williamson has been there at every stage of my professional playing career, supported my choices and improved my knowledge and understanding of this business. Last and not least, my good life-long friends (they all know who they are) I have shared many great playing experiences with, some of whom are my sounding boards and the others who are just wonderful people that make my life better just for knowing them.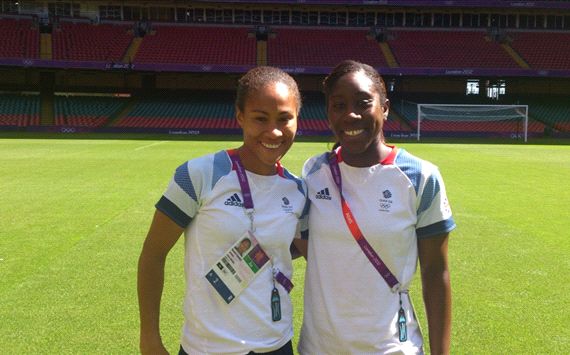 Looking back did you make a right choice to pick England over Ghana?
Anita: I do not currently have eligibility to play for the Ghana Queens as I am already fully capped for England. But, I suppose if in fact that question had been posed to me at a time where I would have had to choose, that would have been a very tough and interesting dilemma for me.
Where will your fans see you in the next 5-10 years?
Anita: Well, I know I can't play this sport forever (sigh! ha) But, I know in five to 10 years I will be happy and chill as ever, giving back to the game in some capacity, and trying to utilise my masters productively!


Goal Ghana has its own

and

account, so for all the latest news and features on Ghana football follow us by clicking on the above links