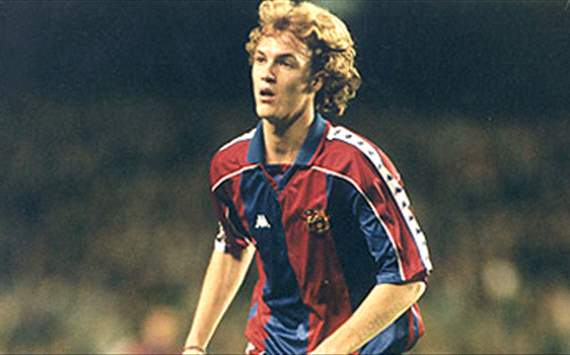 EXCLUSIVE
By Alberto Pinero
Former Barcelona and Manchester United midfielder Jordi Cruyff believes Lionel Messi and Cristiano Ronaldo are way out in front when it comes to the world's finest footballers - but admits it is difficult to choose between them.
Jordi, son of Netherlands and Barcelona legend Johan, is well qualified to judge a good player, having featured alongside such stars as Romario, Hristo Stoichkov, David Beckham and Roy Keane in his spells at Camp Nou and Old Trafford.
And in an exlcusive interview with
Goal.com
, he claimed Messi and Ronaldo are 'light years' ahead of their competition.
"It's very difficult [to choose between them]," he said. They are two players who are far above the rest, especially in terms of goals, so it's hard to pick one over the other. The football world is waiting to see if anybody else comes through, but this debate is set to go on for three or four more years because they are light years ahead of the rest."
Jordi, named after Catalunya's patron saint, has seen Tito Vilanova take over from another of his former team-mates, Pep Guardiola, but believes little has changed.
"I don't see a big difference [between the two]," he admitted. "A new coach coming in is not going to change Xavi, and he is the one who moves the team. The intuition and intelligence of each player gives Barcelona the style they have preserved for many years, regardless of the coach."
"I don't see a big difference [between Pep Guardiola's Barcelona and Tito's team]. The intuition and intelligence of each player gives Barcelona the style they have preserved for many years"





- Former Barcelona midfielder Jordi Cruyff

Nevertheless, the 38-year-old has been impressed with Barca's start under Tito.
"It's hard to question them in the end because in La Liga and the Champions League, they have won eight out of eight. It's true that they have suffered in some games - against Granada they deserved to win but suffered and at Sevilla they had it hard - but football in general isn't easy - teams are well-organised and it's hard to open them up."
Madrid will hope to open up Barca on Sunday, in order to avoid slipping 11 points adrift of the Catalans in La Liga after just seven rounds of matches. And despite all the negative press emanating from the Bernabeu lately, Cruyff believes Mourinho remains in complete control at Real.
"He knows what he is doing," the Dutchman added. "He uses his arms and has had a lot of success in his coaching career, with his personality and [wherever he has been] the players have helped him a lot.
"It's normal that pressure increases when things aren't going well. Nobody likes being reproached in public, but that's his working method and he has already achieved results, so there is no reason to think he won't do as he has before - Mourinho always gets his way in the end."
And even if Barca win on Sunday, Jordi claims La Liga will not be over just yet.
"I have never seen a team become champions in October," he stated. "This finishes in May, although things will become uncomfortable for Madrid if they lose."