Uefa has unveiled a Wembley-inspired ball for the
Champions League final
, with the iconic London landmark set to host the showpiece once more.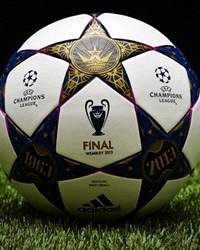 The 2010-11 final between Barcelona and Manchester United was held at the ground, but to celebrate the Football Association's 150th anniversary this year, Uefa chose to decide the competition there once again.
The final is on May 25, and the ball itself is being used throughout the remainder of the Champions League campaign.
The European tournament has reached the knockout stage, and February and March will see the last 16 of the competition battle for a place at Wembley in a few months' time.
Uefa marketing director Guy-Laurent Epstein gushed over Adidas' latest design, saying in a press release that: "The ball is bold, iconic and almost regal in appearance which, for us, brilliantly reflects the Champions League values and the fact that this year's final will be held in London.
"This season will see the ball used on-pitch for all knock-out stage matches along the road to Wembley where the kings of Europe will be crowned on what promises to be another historic night of European club football."