Whether it was
Kyle Walker
meeting the Royal Family,
Gareth Bale
announcing an award as voted for by the Welsh fans or
Titus Bramble
congratulating
Sunderland
striker
Steven Fletcher
on his Player of the Month award, football players were all over Twitter as usual.
Elsewhere, Stuart Holden and Rio Ferdinand discuss all things football, while others choose to talk about goings-on off the field.
It can only be
Goal.com's
latest instalment of
Word on the Tweet
.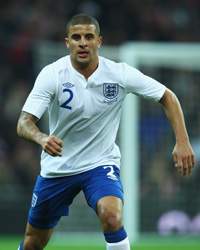 "Honoured to win @FAWales fans player of the yr. Thx all the fans who voted for me! Now to a massive game v scotland on fri #timetodeliver"
Tottenham
winger
Gareth Bale
expresses his delight at securing the most coveted award Wales has to offer.
"Was great to meet the royal family today never though I would be able to say that :) anyone got any decent films that I can download?"
Kyle Walker
fulfils a lifetime ambition, but no sooner has he reflected on his proud moment than he is asking for this evening's entertainment.
"I could beat every single one of my followers at round the world darts #Fact"
Ashley
Williams
challenges his followers to the latest craze seemingly sweeping its way around the
Swansea City
training ground.
"Want 2 wish Owen Coyle the best of luck in the future and thank him for believing in me. Forever grateful 4 the opportunity he gave me #bwfc"
Stuart Holden
expresses his sadness at the departure of the now former-
Bolton Wanderers
manager
Owen Coyle
, who was relieved of his duties earlier in the day.
"Good training session this morning. Back home now to play a bit of FIFA and maybe go and watch taken 2 later #HappyDays"
James Vaughan
offers an insight into the work-hard, play-hard life of a footballer once training has finished for the day.
"Congratulations @stevenfletch10 on being named player of the month. "
Sunderland
defender
Titus Bramble
applauds team-mate
Steven Fletcher
for his award and so he might, with the Scotsman netting every goal the Mackems have scored so far this season.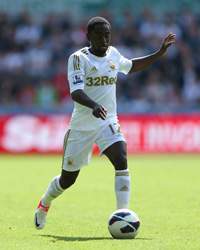 "Neil taylor making me laugh today! He believes in ghosts and spirits! Any1 else believe? All nonsense to me!"
Swansea
winger
Nathan Dyer
allows his followers to see just what ankle injury victim
Neil Taylor
is getting up to during his time on the sidelines.
"It is treeeezing out there today but as its sunny+dry I'm loving it! Running + body weight gym session for me now! 200push ups for starters!"
Rio Ferdinand
offers us another of his generic weather tweets for the day, but is soon down to the hard work as training begins with an intense workout.
"

And in other news 12 weeks jail for a Facebook troll. Shock he was unemployed, sad and lonely. Seems to be a reoccurring theme.

"
Joey Barton
voices his views on the man arrested for posting abusive messages on the social network site about the missing April Jones.
"

Showwwwer time!!! Love it ;)

"
Crystal Palace
striker
David Goodwillie
needs something to pass the time right now, and having left
Blackburn
, where he disappointed, on-loan, it seems he is enjoying the finer things in life....