SPECIAL
By Sammie Frimpong
There has been much conjecture about just how far Africa - represented by Ghana, Nigeria, Cameroon, Cote d'Ivoire and Algeria - can go at this year's Fifa World Cup.

Some have predicted, and wildly so, that at least one among that quintet can go all the way to the finale, hopefully picking up the trophy itself. For the more modest, however, a place in the semi-finals - uncharted territory for African nations thus far - would be just as huge.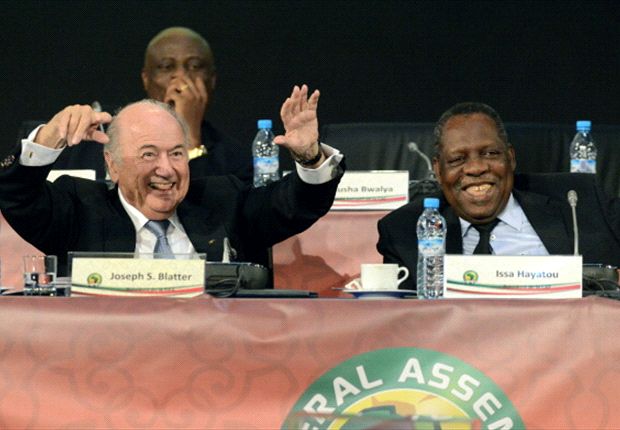 Number Six | Can Hayatou convince Blatter to make it happen?
And while either of those remains a very possible objective, there is a prize even more realistic and necessary to reach for: a sixth Fifa World Cup slot*. Agree or not, that is what Africa needs. Even more crucially, that is what Africa can get.
It has been some two decades since Fifa decided to hand Africa a fifth ticket to the World Cup. That was under former Fifa boss Joao Havelange, a decision taken at a Fifa Congress hosted in Chicago just prior to USA '94, and by the time the next edition of international football's biggest event kicked off in France, Africa had begun to savour that reward. It is interesting to note, though, that ticket No.5 had come just 24 years after Africa had been awarded its first fully-owned berth, itself a response to a 15-nation boycott of the qualifiers to the 1966 World Cup triggered by the fact that, until then, Africa had been forced to contest a single qualification spot with sides from Asia and Oceania.
Yet that is where the disparity strikes.
Five tickets in 24 years during which Africa had only reached the knockout phase of the World Cup just twice. Twenty-four years in the course of which an African team had been awful enough to lose a World Cup game 9-0 and suffered elimination after being beaten in all three group games having conceded as many as 14 goals and scored none.
Essentially, two dozen years of, well, crap.
Since then, Africa's lot at the World Cup has improved significantly. And for the better, too, as the relevant statistics reveal. Counting from 1994 (when the original decision was made, as already indicated), every edition of the tournament has had one African team go past the group stages. While at it, two of those - Senegal in 2002, and Ghana's team at South Africa 2010 - came within a whisker of reaching the last four, juxtaposed to only Cameroon achieving that feat prior. And in a manner that equals - or probably surpasses - the positively upsetting results chalked by Algeria (1982), Morocco (1986), and Cameroon (1990) against West Germany, Portugal, and Argentina respectively, sides like Nigeria, Senegal, and Ghana have since held their own admirably against some of football's perceived superpowers.
Suffice to say, then, that these have been 20 years certainly worth celebrating.
In view of the above, Danny Jordaan, head of the South Africa Football Association, echoes the question(s) that weighs on the mind of many a discerning African football fan:
"When that [fifth] allocation was made 20 years ago, was African football still at the same place? And if not, what progress has been made – and is there a case for an argument of increasing the number of slots for the African continent?"
Seemingly not, Danny.
Africa still hasn't done enough to merit another ticket; in Fifa's opinion, at least, that appears the case.
Improving standards imply consistently having just one representative feature in the knockout rounds isn't really an accurate indication of the African game's development. Even Asia - no disrespect to that region - manages to outdo that these days, no? Then again, going no further than the quarter-finals (and actually being elated about it) is no definite sign of maturity either.
There have been recent calls for Fifa to hand Africa an extra invitation to the party - and indeed the issue is set to be considered at the Fifa Congress to be held in Brazil a day before the 20th Fifa World Cup kicks off - but there just hasn't been sufficient evidence to support that argument. Now is as good a time as any for Africa to present its case convincingly.
The advancement of two or more of Africa's five participants beyond the group stages, and the progress of as many of those as possible into the competition's latter rounds, could make Sepp Blatter throw us a deserved glance; perhaps, on the basis of a quality collective display, the 78-year-old Fifa president would be inclined to help grant a continent he has already described as being 'woefully under-represented at the World Cup' one more act of mercy.
Forget winning the World Cup, then, folks; Africa would be better off playing for sixth.
*Africa enjoyed a sixth World Cup berth at the last World Cup, albeit only temporarily, with hosts South Africa joining the five 'qualified' nations.


Goal Ghana has its own

and

account, so for all the latest news and features on Ghana football follow us by clicking on the above links