COMMENT
By Sammie Frimpong

Africa, for a fact, has always been a hotbed for good footballing talent.
Good, I said? No, scratch that; great, I meant.
Decades have passed - close to a full century, even - since Africa began delivering classy footballers across the Atlantic who have redefined soccer and altered its course mostly for good.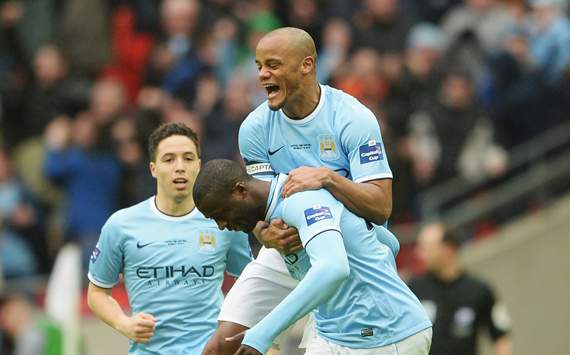 Nasri joins Kompany to celebrate with Toure
From Eusebio - arguably the first truly stellar property to emerge out of Africa - who enjoyed plenty of success with Benfica and the Portuguese national team, to modern greats like Didier Drogba and Samuel Eto'o (as well as every other African footballer who has made a name for himself in the intervening period), the stream of quality players emerging from the Dark Continent never seems to dry up.
The past 20-odd years have seen major European clubs write entire success stories that have had Africans star among the chief protagonists; for Barcelona (and later Inter Milan) read Samuel Eto'o, Yaya Toure for Manchester City, Kolo Toure for Arsenal, Samuel Osei Kuffour for Bayern Munich, Didier Drogba and Michael Essien for Chelsea, et al. The examples abound, really.
Irrespective of his priceless contribution to the development of the game, however, it seems the African football superstar has never felt quite appreciated enough and is still considered a few notches below his peers from elsewhere, a fact that French star Samir Nasri painfully brought to the fore after [Manchester] City's 3-1 Capital One Cup final victory against Sunderland at Wembley over the weekend. Citing his team-mate Yaya Toure (who struck a stunning 30-yarder that took his goal tally at English football's most revered venue to three) as an archetypal example, Nasri - himself born to Algerian immigrants in France before subsequently choosing to devote his allegiance to Les Bleus - said to reporters: "I'm tired [of talking] about Yaya. You should know now [how good he is]. If he wasn't African everyone will say he's the best midfielder in the world.
"Of course it counts against him being from Ivory Coast. If he was Argentine or Brazilian everyone will talk about him, everyone. You have some Brazilians or Argentinians, I don't want to say anything wrong, but just because they are from this country you pay them £40 million or £50m," the 26-year-old was quoted as saying, before adding: "A guy like Yaya, he [has] won every trophy, he is always there. Tell me one defensive midfielder who can go forward like him who can score 16 or 17 goals in a season. Tell me one and then we can talk."
And with that, Nasri, notoriously outspoken as he is, drew out one of football's oldest skeletons in the cupboard, only not in a way that would provoke scandal and have jaws drop in awe. Instead, this bitter truth should move the world to bow its head in shame for its sheer undervaluation of African footballers.
Granted, a handful of Africans have earned significant recognition for their performances in the West, yet this only masks the reality. Even with that, such rewards, wholly merited as they have been, could be considered as little more than a token when closely scrutinized. George Weah, the only African to have received the European Footballer of the Year and World Best Player awards (in the days when the two hadn't yet been merged), often only remains something of an afterthought when past winners of these prizes are being celebrated. The former AC Milan star's one Ballon d'Or equates to, say, Italian Roberto Baggio's, yet in the eyes of many, the two legends would neither measure up nor ever be mentioned in the same breath; Weah, for some inexplicable reason, would always come up a little short when any comparisons are made between the pair.
| | |
| --- | --- |
| Make no mistake, though: these are no effects of racism. Far from that. Instead, it is an issue of stereotype, a somewhat milder malaise the African footballer has to contend with | |
It remains hardly surprising, then, that in spite of just how much he has added to the global sport and the rate at which his stock has soared, the African is yet to break through the £25m barrier in terms of transfer fees, while his fellow footballers of equal or inferior quality from other parts of the planet - Europe and South America, mainly - are valued at ridiculously bloated prices, as was so plainly highlighted by Nasri.
The deal that saw Eto'o and Swedish striker Zlatan Ibrahimovic switch clubs in summer of 2009 is a classical illustration of this perceived marginalisation. Eto'o, who had enjoyed a phenomenal season that had seen him rack up some 36 goals in all competitions and claim an unprecedented treble with Spanish outfit Barcelona, was shipped off from the Camp Nou to Italy's Inter, with Ibrahimovic - no shrink himself but hardly on the Cameroonian's level at the time - moving the other way. Ibra's price tag?
€46 million in cash, plus the then €20 million-rated Eto'o!
Wage-wise, the African footballer has had even more reason to consider himself hard done by. When, in July 2010, Toure joined City from Barca on a contract that entitled him to a then British-record pay packet of £250000-a-week, there were quite a few dissenting voices, although these simply lacked the guts to cry out loud enough, undeniably gifted as the Asec Mimosas product was. Months later, England striker Wayne Rooney was offered a deal worth an identical sum by the other Manchester giant and, lo, there were much fewer qualms. Stack up the quantity and quality of success either player has inspired his club to in the four seasons during which they have co-existed and competed on Mancunian territory, though, and it is quite obvious which player has provided less value for money: why, Rooney, the very one who has only recently received a £50000 increment in weekly earnings! Instead, as the years have rolled along, Toure has had his basic wage at City slashed to a figure that - per the dictates of his current terms - could rise to 'just' around £220000, given the Ivorian is able to trigger enough success-related incentives.
Go through football's annals and further evidence backing Nasri's claim is readily available.
Make no mistake, though: these are no effects of racism. Far from that. Instead, it is an issue of stereotype, a somewhat milder malaise the African footballer has to contend with whenever he steps into the cold of Europe to train or play, as well as when the end-of-year assessments [and due acknowledgement] of excelling footballers are made.
In a sport in which petty prejudices still do matter very much in drawing conclusions - see pages 24 and 25 of Simon Kuper and Stefan Szymanski's Soccernomics, an eye-opening volume for any ardent student of the game - talent, for the African, would never seem enough to make his case.
Sad, but very true.


Goal Ghana has its own

and

account, so for all the latest news and features on Ghana football follow us by clicking on the above links