Goal.com
readers will remember last month we ran an exclusive competition with Western Union offering the opportunity to meet Radamel Falcao and see the Colombia striker in action.
The lucky recipient of the prize was Chris Bell from the UK, who flew out to Madrid with his father to see the Atletico striker fire an incredible five goals past Deportivo at the Vicente Calderon, in a 6-0 thrashing for Diego Simeone's men.
"It was pretty unbelievable really to see Falcao score five goals. My dad and I were talking before the game saying it would be amazing to see him score a hat-trick," said Chris.
"We both said it would be great to see him score any goal, even if he shinned it in. It's not even like they were five tap-ins, the second goal was one of the best strikes I've been lucky enough to see live."
Chris was also keen to speak about his personal encounter with the striker just after the match, with the pair sharing common grounds.
"We chatted in Spanish about his performance, then about Colombia," he added.
"I spent last Christmas in his home town so he was interested in where I had been, what I liked about Colombia and whether I had a local girlfriend!
"Living in Manchester I have met a couple of footballers before but he was far and away the most down to earth and friendly."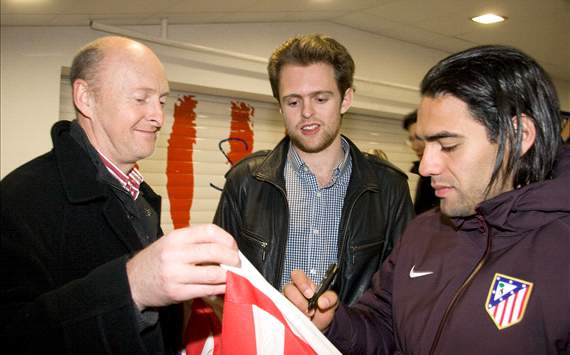 Collector's Item l Chris and his father also received a signed shirt from the Colombian star
The competition was in conjunction with Western Union's PASS campaign, an initiative which turns every pass in the Europa League into funding for a day of school. The scheme intends to create one million school days over the next three years and builds on the work the company has already done to support education globally.
Asked for his thoughts on the campaign, Chris continued: "It seems like a very positive initiative and gives a bit of added depth and meaning to the competition and football matches in general. Games are great on their own but it just adds a charitable element which is nice."
Chris concluded by giving special thanks to Goal.com and Western Union for the opportunity to meet Falcao and to see history being made by watching the striker score an incredible five times from five shots.
"We were treated absolutely brilliantly by everyone who met us and took us to the games, everything went so smoothly which is important when you just have a weekend. It was an unbelievable prize, the kind you think nobody ever wins. I couldn't be more grateful to Goal.com and Western Union."
Radamel Falcao is an ambassador of Western Union's PASS scheme which will run for three years with a goal of raising a million school days for children whose schooling has otherwise been compromised.