TACTICAL ANALYSIS
By Jonathan Wilson
There is a contradiction at the heart of Roman Abramovich's
Chelsea
. We are told he fell in love with football watching
Manchester United
beat
Real Madrid
4-3 (in a losing cause) in the 2002-03 Champions League quarter-final. We are told that he reveres the way
Barcelona
play and it appears he has a crush on Pep Guardiola. We do not *know*, of course, for Abramovich is as enigmatic as Garbo.
But let us assume that the hints and inferences are correct and that Abramovich does want to recreate Barcelona in west London. For a man with his resources it is a worthy ambition; why should he not set the side that has dominated European football over the past five years as his benchmark?
But for all Abramovich's wealth, he is short of one vital resource: patience.
Barcelona did not become the side they are by appointing a coach and giving him six months. Tito Vilanova's team is the result of a consistent philosophy introduced by Vic Buckingham and then Rinus Michels in the early seventies, propagated by the La Masia academy founded in 1979, reinforced by Louis van Gaal in the late nineties and then developed and reinterpreted by Frank Rijkaard and Pep Guardiola.
It is the result of a remarkable fusion of Dutch and local philosophies and four decades of evolution.
Abramovich has invested in his academy but each coach – nine now in nine years, only two of whom have lasted more than a season - is under such pressure that they dare not gamble on youth. The last player to come through Chelsea's youth system to become a first-team regular is John Terry, who made his debut in 1998.
The constant changing of coaches, of course, precludes the establishment of any philosophy. Last season, Andre Villas-Boas was charged with overseeing the development of a more fluid approach based on close passing. He struggled, in part because he probably tried to do things too quickly, in part because players were resistant (for which he perhaps bore some responsibility; diplomacy does not appear to be a strength) and in part because the defenders available to him were unsuited to his preference for a high offside line.
So Roberto Di Matteo came in and returned to old virtues. Somehow, that brought the Champions League but this season he too was tasked with finding a more attractive style. The interaction between Eden Hazard, Juan Mata and Oscar was at times stunning, but Hazard's tendency to drift in off the left flank and reluctance to track back meant the left-back was often exposed.
Arsenal, Atletico Madrid, Shakhtar and Reading all caused Chelsea problems on that flank while the Juventus right-wing-back Stephan Lichtsteiner twice destroyed Chelsea. The second time cost Di Matteo his job and so Abramovich has flipped back to a more cautious approach with the appointment of Rafael Benitez, the 'interim' in his job title suggesting how, even as Abramovich approaches a decade in charge, his project still feels like a series of short-term fixes.
PLUGGING THE GAPS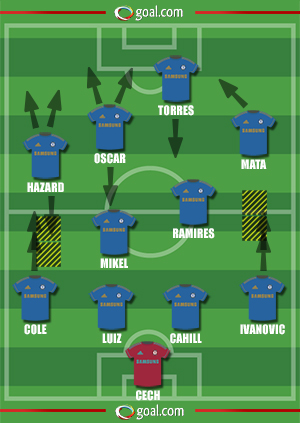 Chelsea's attacking quartet were asked to drop and assist the defence far more than under Di Matteo

Di Matteo got the attack right but not the defence; on Sunday Benitez got the defence right but his side demonstrated little attacking threat. Chelsea kept their first clean sheet in 11 games but failed to score at home for the first time this season and had only one shot on target. He kept the same 4-2-3-1 shape Di Matteo had employed – and that he used with success at Valencia and Liverpool – but with minor modifications.
Benitez is a great touchline gesticulator and most of his actions seemed aimed to two ends: firstly to keep the team compact, to which end Fernando Torres often dropped back when Chelsea were out of possession to play alongside the central player in the line of three; and secondly to encourage the wide players in the line of three to track the opposing full-back.
It was presumably to that end that he switched Hazard and Oscar, reasoning the Brazilian would be more diligent in checking Pablo Zabaleta's forward runs. That Zabaleta offered far less of an attacking threat in the second half than the first suggested the move was successful.
The holding two in midfield, John Obi Mikel and Ramires, also played much more conservatively than has been the case, doing little but sit in front of the two centre-backs which in turn meant more longer balls forward. That Benitez brought Oriol Romeu on in the second half for just his fourth appearance of the season perhaps suggested he would like more of a passer in the position – as he had with Xabi Alonso at Liverpool – rather than a runner like Ramires.
Essentially Benitez's selection was a safe one and understandably so. He is not popular with Chelsea fans and an opening defeat would only have made his efforts at reaching rapprochement more difficult.
If he can find the balance that eluded Di Matteo, there is no reason he cannot be successful, Chelsea are only five points behind the league leaders Manchester United. Whether that will take Chelsea any closer to being a west London Barcelona, though, is another issue.
Follow Jonathan Wilson on