Eden Hazard has assured Chelsea fans that he will not be put off by tough tackles after a physical introduction to the Premier League against Wigan, indicating he was fouled just as much for Lille in Ligue 1.

The Belgium international was the most fouled player in his side's 2-0 victory over the Latics on Sunday, finding himself on the wrong end of a number of hefty challenges from Roberto Martinez's men.

However, Hazard shone throughout the game, providing the assist for Branislav Ivanovic's opening goal and winning the penalty for the second, and he revealed that he is used to tough treatment.
HAZARD ANSWERS POSTER-BOY CALL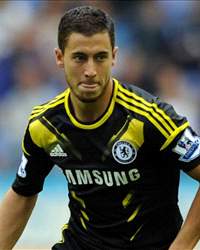 COMMENT: James Goldman welcomes the Belgian's impressive showing against Wigan as proof that the Premier League has a new star


"I already had a taste of these kind of tackles in the Community Shield," he told reporters. "I was kicked quite a bit in the first half against Wigan but, in France, it was already like that for me.

"I wasn't aware I was the most fouled player in the match, I wasn't counting them. At the start of the game, you could see the way I play and the most important thing is I'm not injured."

The 21-year-old is one of a number of players already brought in by Roberto Di Matteo this summer as the Blues boss looks to put the club back among the title contenders.

And Hazard, who was eventually substituted for fellow new recruit Oscar, admitted that some of the new arrivals are still gelling but expects them to hit top form soon.

"I started as the No.10 and then afterwards with Mata, we tried to interchange positions rather than stay in the same place and I think we worked rather well," he enthused.
"Oscar has just arrived and we haven't had the time to work together. We have only had one training session so far but, little by little, we should get things to where they should be.

"There are loads of possibilities. Ryan Bertrand was on the left against Wigan and Daniel Sturridge can play there as well and the coach won't hesitate.

"He [Di Matteo] will just put the best players on the pitch. Our preparation was very good. Physically speaking, I feel impeccable."

Victor Moses, who featured against Chelsea on Sunday, has long been linked with a move to Stamford Bridge throughout the summer, however the Blues' first goalscorer, Ivanovic, believes that the club have now made all the signings that they need.

The Serbian defender declared: "We have enough players and quality to cope with all competitions. With hard work, we can make it.

"The new players are great. During the pre-season, they have shown they have fantastic quality and we have changed a lot as a team because all of them are so creative. They have given us the pace we needed."