The Super Eagles must have all the players needed to get a desired victory over Liberia this weekend




LIBERIA
Sherman
Grimes, Gebro, Dixon, Gerhardt
T. Weeks, Keita, Laffor, Krangar, Oliseh
Wilson




NIGERIA
Enyeama
Oboabona, Oshaniwa, Yobo, Ambrose
Obiorah, Gabriel, Uzoenyi
Ideye, I. Uche, Moses

The Eagles are better rated, have the better players but all that will be consigned to the dustbin as Liberia welcomes the Nigerian team to Monrovia on Saturday for a very crucial Nations Cup qualifier. In 12 matches played between the two countries, Liberia have only ever won one with the Super Eagles having eight triumphs. They have shared three draws.
In February, the Super Eagles made up of home-based players defeated a predominantly home-based Lone Stars 2-0 in Monrovia. But Saturday's match has a different dimension as there is more at stake. But the Eagles can take encouragement from that February win and use it to get another one on Saturday. The teams will be engaging themselves this time around will be much changed but the Eagles should take this one on paper.
Tactics
The Nigerian coach, Stephen Keshi, has largely used the 4-3-3 formation and this should still be applicable to face Liberia. The Eagles squad has fleet-footed wide-men in Ahmed Musa, Victor Moses and Ejike Uzoenyi, who can help stretch the Liberians.
However, the Stars will be buoyed by Wednesday's victory over the Flames of Malawi by a lone goal. Before that victory, they had not won under new coach Joseph Kaetu Smith but the win will have boosted the confidence of the players that they can perform a similar feat against the better rated Super Eagles team, who drew 1-1 with the Flames in June in a 2014 World Cup qualifying group game.
The Eagles will have their captain Joseph Yobo back and fully fit in the centre of defence. Goals should come from Brown Ideye and Ikechukwu Uche with Ideye in a rich goal scoring vein. Goalkeeper Vincent Enyeama is also back in Israel, playing regularly and that will have boosted his confidence and reflexes that were called into question in the 1-1 draw away to Malawi in June.
The Liberians' game plan will be all about disturbing the Eagles from getting into a good rhythm and will almost employ a mass attack and mass defensive tactic with hopes of hitting the Eagles on the break with the bumpy pitch of the Samuel Kanyon Doe Stadium playing its part.
They also have Sekou Oliseh, Ahmed Musa's team mate at CSKA Moscow and Anthony Laffor to play wide and try and provide crosses for target man, Edward Wilson to score.
But it will do the Eagles good to take the words of Liberian coach, Joseph Kaetu Smith very seriously.
"Nigeria isn't like before. They are living in the past, if Guinea could qualify at their expense in the last Afcon qualifier, Liberia can do same too," he said in August but captain Yobo has promised that the Eagles will not lose in Monrovia.
"[If] we don't lose this game it is good and if we draw it it's not bad because we have them at home to play," Yobo told
Goal.com
. "But the most important thing is whatever happens we cannot lose this game," he added.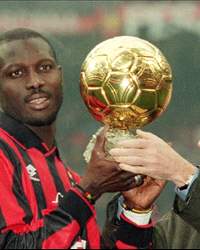 The Lone Stars of Liberia have just one victory over the Super Eagles in 12 matches.
Joseph Yobo will win his 88th cap against Liberia.
Nigeria is ranked 58th in the world by Fifa compared to Liberia's 111th place ranking.
Liberia is the only country to have produced the African, European and World player of the Year award winner in George Opong Weah (pictured) and he scored 22 goals in 60 appearances for Liberia.
Liberia have qualified twice for the Africa Cup of Nations; in 1996 and 2002.
Brown Ideye will be hoping to score his first goal in four matches for the Super Eagles.
None of the current Lone Stars strikers has scored more than two goals for the national side.