Prev
World Cup 2014 in Statistics
1. Germany vs. Argentina - Thomas Muller vs. Lionel Messi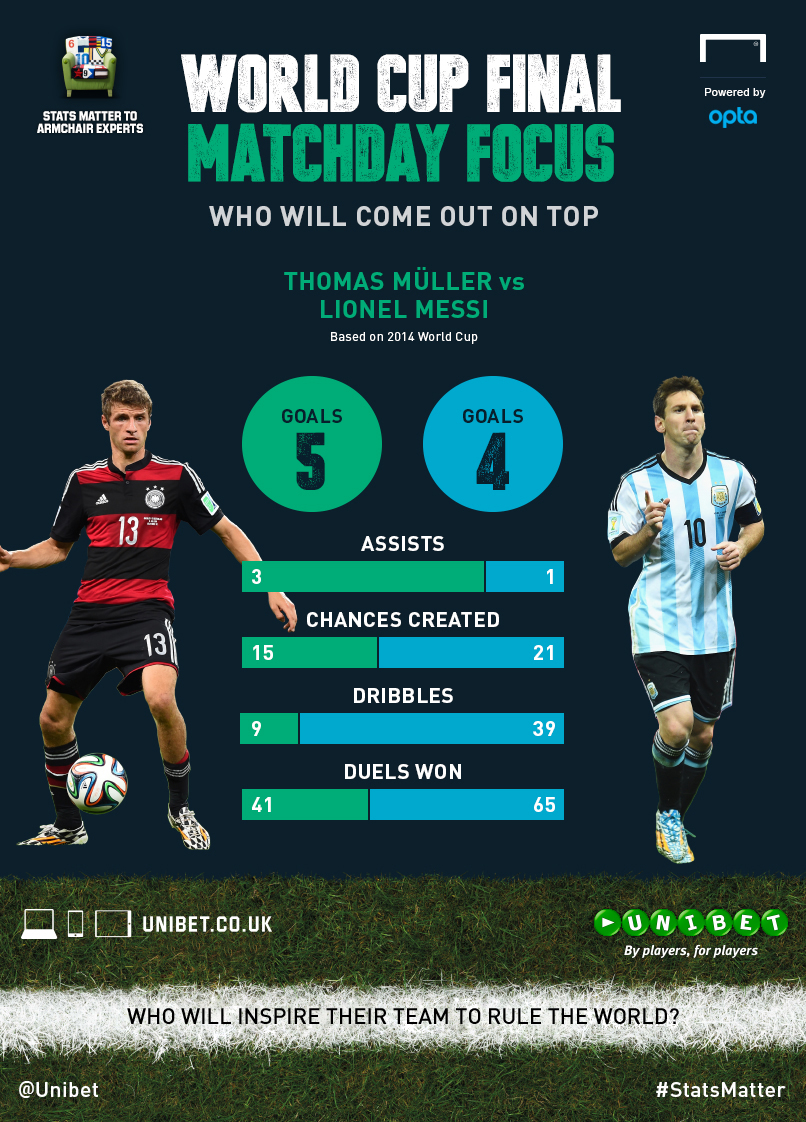 The race for the Golden Boot comes to a head in the World Cup final as two of the main contenders clash in the final. Can either Thomas Muller or Lionel Messi better Colombia's James Rodriguez, who has scored six goals in the tournament?
Sunday, 13 July 2014 11:54
Prev
World Cup 2014 in Statistics
World Cup 2014 in Statistics
Goal have teamed up with Unibet to bring you a full statistical lowdown throughout this summer's World Cup in Brazil. Gain insight into the England stars set to shine, how the best players of rival opponents compare and much more - who will come out on top?

To find the latest odds, go to www.unibet.co.uk.
1. Germany vs. Argentina - Thomas Muller vs. Lionel Messi

2. Germany vs. Argentina - The Penalty Shootout

3. Brazil vs. Germany - Oscar vs. Mesut Ozil

4. Argentina vs. Belgium - Angel Di Maria vs. Kevin De Bruyne

5. Brazil vs. Colombia - Neymar vs. James

6. Argentina vs. Switzerland - Lionel Messi vs. Xherdan Shaqiri

7. France vs. Nigeria - Blaise Matuidi vs. John Obi Mikel

8. Netherlands vs. Mexico - Arjen Robben vs. Giovani Dos Santos

9. Brazil vs. Chile - David Luiz vs. Gary Medel

10. Head to Head: Portugal vs. Ghana

11. Head to Head: Ecuador vs. France

12. Head to Head: Italy vs. Uruguay

13. Head to Head: Chile vs. Netherlands

14. Head to Head: Germany vs. Portugal

15. Head to Head: Argentina vs. Bosnia & Herzegovina

16. Head to Head: England vs. Italy

17. Head to Head: Spain vs. Netherlands

18. Head to Head: Brazil vs. Croatia

19. The Penalty Kings at the World Cup

20. The Forwards - Wayne Rooney vs. Cristiano Ronaldo

21. The Midfielders - Steven Gerrard vs. Mesut Ozil

22. The Defenders - Phil Jones vs. David Luiz

23. The Goalkeepers - Joe Hart vs. Hugo Lloris

24. The Premier League at the World Cup

25. England at the World Cup
Copyright © 2018 Goal.com All rights reserved. The information contained in Goal.com may not be published, broadcast, rewritten, or redistributed without the prior written authority of Goal.com