The Dossier: How will British clubs approach the Champions League?
Arsenal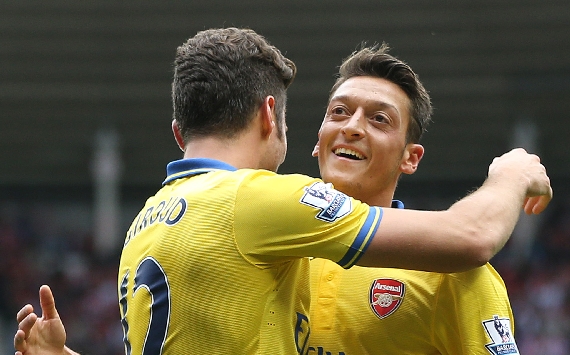 Usually in the habit of drawing modest opponents in the Champions League group stage, Arsenal were hit with a nightmare trio in Borussia Dortmund, Napoli and Marseille.

The £40 million splash on signing Mesut Ozil from Real Madrid clearly does not address the defensive frailities that have cost the Gunners before – brought into focus most clearly by a 3-1 roasting at home by Bayern Munich last spring, when the back line constantly offered gaps to exploit.

It does, however, enable the Gunners to better employ the tactic to which they may well have been forced anyway – have a real go at outscoring their opponents. Having created 24 clear-cut goalscoring opportunities last season, the most of any player in Europe's top five leagues, Ozil will be given total freedom to slice defences apart, particularly with Santi Cazorla sidelined until at least October.



Arsenal's matches could be more frenetic than your average Champions League game. With not only Ozil excellently suited to counterattacking football but the raw pace of Theo Walcott as well, the Gunners will want to bomb forward quickly. However, that is exactly how others will aim to target them as well.

The group's most fearsome opponents, last season's beaten finalists, Borussia Dortmund, are near-unparalleled in swift attacks. The north Londoners' most efficient centre-back over the past year has been Per Mertesacker but the German offers near-glacial pace while Mathieu Flamini, who will have to pitch in more heavily than predicted as the most defensive of midfielders on Wenger's books, is both slowing and rusty. Marco Reus and livewire new BVB signing Pierre-Emerick Aubameyang could cause havoc.

Napoli, too, offer bursts of pace in a fine attacking quarter spearheaded by Gonzalo Higuain while Marseille, challenging at the top of Ligue 1, risk being underappreciated despite taking on the status of a vitally important six points for Arsenal if they are to progress.

Judging their results against Europe's best teams – usually coming in the knockout stages rather than the groups – it is around this point that Arsenal would normally be eliminated but, if a necessitated gung-ho approach can score more quickly than they concede, the Gunners would progress having already eliminated at least one major competitor. Ozil is their trump card but their fragility at the back surely heralds an exit before the tournament whittles the numbers down too greatly.
The Dossier: How will British clubs approach the Champions League?