Negredo, Dzeko & the questions you want Pellegrini to answer
Is Alvaro Negredo a target for Manchester City?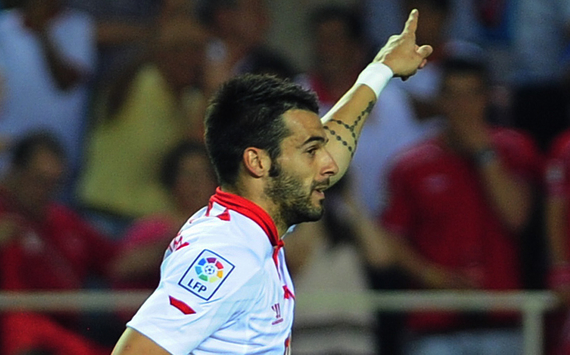 @Mobs1998
asks: "Is Alvaro Negredo a target for Man City?"
Manchester City have wasted little time in making attacking signings this summer, and have already recruited Fernandinho from Shakhtar Donetsk and Spain international Jesus Navas from Sevilla.
But with Carlos Tevez having departed for Juventus, Navas' former team-mate Alvaro Negredo is reported to be on the shortlist of forward reinforecements.
Pellegrini's side were rumoured to have bid for the striker shortly after the Chilean's official appointment at the Etihad Stadium.
Tottenham were also understood to be interested in Negredo, though Sevilla president Jose Maria Del Nido
has denied receiving offers from either club
.
Pellegrini is sure to be quizzed on transfer targets on Wednesday, with Negredo's name likely to be at the top of the list.
Negredo, Dzeko & the questions you want Pellegrini to answer