The five things that will determine Arsenal v Wigan
1. Can Arsenal withstand the pressure?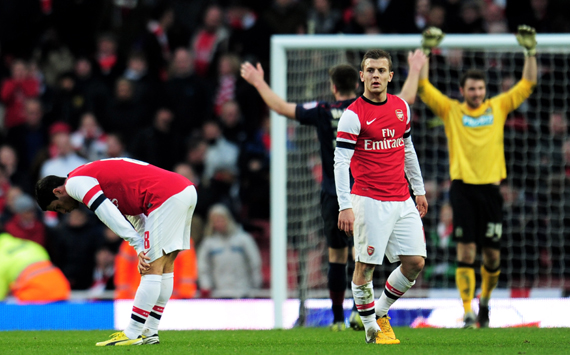 The ball is back in Arsene Wenger's court after top rivals Tottenham narrowly defeated Stoke on Sunday. Their 2-1 win saw Spurs leapfrog the Gunners into fourth, ensuring the race for Champions League qualification will be decided on the final day of the season.

Arsenal host Wigan on Tuesday - a fixture they lost 2-1 last season. On paper, this should be a home win, yet the Latics are fresh from a morale-boosting FA Cup win and know anything but a win all but consigns them to relegation to the Championship.

Scour the results from this campaign and the current league table and there is plenty hope for Roberto Martinez and his charges. Arsenal are no longer a fearsome proposition at the Emirates Stadium - three league losses (Chelsea, Swansea and Manchester City), a cup exit to Blackburn and Champions League defeats to Schalke and Bayern Munich give cause for optimism.

The Blackburn game was particularly noteworthy. After the visitors repelled the initial period of pressure, the home fans grew despondent, frustrated and nervous and the atmosphere changed markedly over the course of 90 minutes, visibly affecting Wenger's players.

If Wigan can hold firm and keep the score 0-0 for a time in a game the Gunners simply must win, the home fans could become a hindrance rather than a help - that is what Martinez will be aiming to do. For Wenger, an early goal such as the strike against QPR will be the perfect tonic and should settle his side.

A word of caution though: Arsenal have conceded 22 goals at home in 18 matches - Swansea excluded, that is more than every club in the top half. For a side that have won more games on the road (5 v 4) than at home, this will be a source of encouragement for the Latics.
The five things that will determine Arsenal v Wigan