Sir Alex Ferguson: then & now
1. Sir Alex Ferguson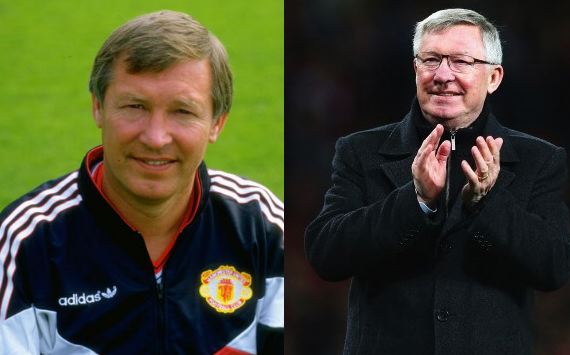 Three years into Sir Alex Ferguson's tenure at Manchester United, the mood at Old Trafford was summed up by a banner which read: "Three years of excuses and it's still crap ... Ta-ra Fergie."

Even United's former chairman, Martin Edwards, has since admitted that the club's FA Cup triumph in 1990, which was Sir Alex's first trophy following his arrival at Old Trafford, saved the Scot from losing his job.

That cup final victory was a catalyst for the manager and what followed is unlikely to be replicated in football. In his 26-year reign, the 71-year-old has won 28 major trophies with United which include 13 Premier League titles, two Champions Leagues, five FA Cup wins and one Club World Cup.

When Ferguson retires, he will have taken charge of 1500 games for United and left various title challengers including Arsenal, Chelsea, Liverpool and Manchester City in his wake.

In his final match at Old Trafford on Sunday, the man who created the original banner in 1989, Pete Molyneux, will reveal a new message which will read: "Twenty-three years of silver and we're still top, ta-ra Fergie."
Sir Alex Ferguson: then & now