The 10 most iconic Sir Alex Ferguson moments
2. The Cantona years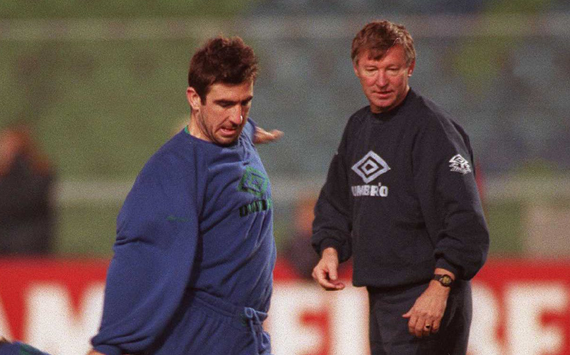 Controversial, highly strung, temperamental - it seemed Eric Cantona was an accident waiting to happen, even under the watchful eyes of the strict disciplinarian Sir Alex.

Yet Cantona emerged as one of Manchester United's most important signings, a true great who lit up Old Trafford and helped define Ferguson's first era at the club.

And Sir Alex eulogised about the Frenchman years later, explaining: "If ever there was one player, anywhere in the world, that was made for Manchester United, it was Cantona.

"He swaggered in, stuck his chest out, raised his head and surveyed everything as though he were asking: 'I'm Cantona. How big are you? Are you big enough for me?'"

Depending on your allegience, his defining moment in a Manchester United shirt will either be the glorious chip against Sunderland and the collar up celebration or the karate kick aimed at an abusive Crystal Palace fan.

He was a man who played on the edge but frequently delivered at telling times, helping United to four Premier League titles and two FA Cups in his five years at Old Trafford.
The 10 most iconic Sir Alex Ferguson moments