Revealed: Liverpool's 2013-14 home kit
3. Mirrored sleeve detailing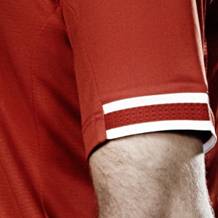 Up next is the sleeve detailing, with both arms of the jersey having two white stripes, split by a red one, going round half of the circumference of the sleeve.

This design marks a big difference to this season's shirt, with the sleeves remaining plain and bare, with red being the only colour on them in material consistent to the rest of the jersey.

However, club captain Steven Gerrard says the comfort is the most important thing from the players' perspectives, and he is delighted with it.

He said: "To me comfort is the most important thing. You want to be comfortable out on the pitch; the work we are going to be doing is tough.

"We're going to be sweating a lot in different weather conditions so it is important the kit is right. We're really happy with it."
Revealed: Liverpool's 2013-14 home kit