The Yellow Wall's finest moments
We are the champions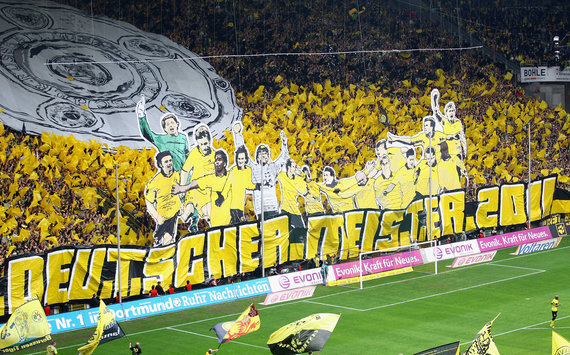 The 2010-11 Bundesliga campaign was something of a miracle for Dortmund. Having lost their first game (at home) to Bayer Leverkusen, they produced an extraordinary run of form, eventually finishing seven points above the Werkself with the strongest defence in the division and the second best attack.

On the last day of the season, relegation-fighting Eintracht Frankfurt were in town, and to celebrate their title BVB fans produced this banner with the caption Deutsche Meister, depicting the first team, coach Jurgen Klopp and the Bundesliga shield.

And with a party atmosphere inside the stadium, Dortmund came from behind to win 3-1 and consign Frankfurt to a season in the 2. Bundesliga.
The Yellow Wall's finest moments