Tottenham v Manchester City - Joe Royle's key battles
1. Title-chasing City 'slight favourites'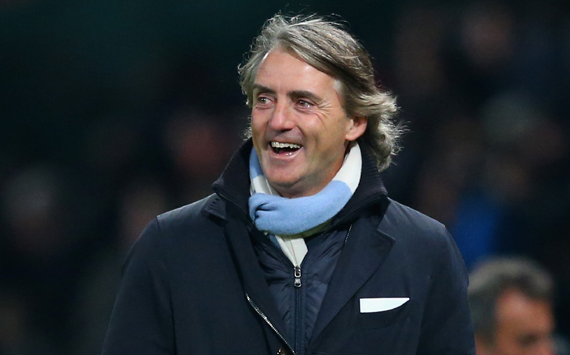 Manchester City
manager
Roberto Mancini
will rally the troops for the trip to
Tottenham
on Sunday, still clinging on to the faint hope that champions-elect
Manchester United
will suffer a title meltdown.
That is the opinion of former City striker and boss Joe Royle, who believes that a ninth win in 10 outings for the visitors would inflict massive damage on the north London club's top-four aspirations.
Mancini's men are 13 points behind the leaders with a game in hand, while fifth-place Spurs trail Chelsea and Arsenal in the battle for Champions League places.
Royle told
Goal.com
: "Mancini will be telling his players that they can't be seen to be giving up on their title just in case United mess things up.
"Of course, the City coach knows there is no chance his side will catch United but he will want the league table to look more respectable. Yes, they will finish second, but he won't want the points gap with United to be double figures at the finish."
Tottenham are keeping their fingers crossed that talisman Gareth Bale has recovered sufficiently from a twisted ankle but boss Andre Villas-Boas knows he would be taking a gamble should he rush the Welshman back to action so soon.
"Bale is their best chance of unsettling City and if, somehow, they can get him fit enough to play then they have a chance," added Royle. "At the very least, having him on the bench could put some doubt in City minds.
"I make City slight favourites but I don't expect it to be easy. The performance against Wigan [on Wednesday] must have jolted them.
"A lot depends on what City turns up. If it is the team that went to Old Trafford and outplayed their hosts, then they should win, but if it is the team that was far from their best against Wigan then Spurs will fancy their chances.
"Whatever the outcome, these are two free-flowing sides with exciting players. You could choose a tasty combination from both sides that would give any team a game. I'm looking forward to this one."
Tottenham v Manchester City - Joe Royle's key battles