The Premier League managerial targets: Frank de Boer
Performance this season, character and background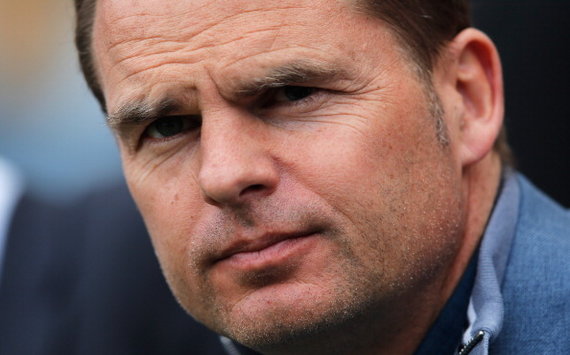 The former Netherlands international began his managerial career in 2007 when he was put in charge of Ajax's famed youth academy. Alongside his role at the Amsterdam ArenA, he was assistant to Bert van Marwijk with the Dutch national team and helped Oranje progress to the final of World Cup 2010 in South Africa.

At the end of that year he was handed the job of managing the Ajax first team after the departure of Martin Jol following the sale of star player Luis Suarez to Liverpool. His first match as coach of Ajax was in the Champions League against AC Milan at the San Siro. His side won that game 2-0 and we saw the team play like De Boer wanted: with guts, an attacking style and with natural wingers.

De Boer's football philosophy harks back to the Dutch total football style born in the 70s during the Johan Cruyff era. He wanted Ajax to return to its traditional 4-3-3 setup and was successful by doing just that. In his first six months in the job he guided Ajax to the Eredivisie title, despite selling their star goalscorer Suarez.

He managed to create a team that were able to build-up their play from defence. When you go to watch Ajax play you'll rarely see the goalkeeper Kenneth Vermeer ever look to play directly to the strikers. They always try to play football. With that idea they have become champions in 2011, 2012 and look set to retain their crown this year.

There is a distinct pattern to each season for Ajax under De Boer. His teams are usually still finding their feet in the first half of the season as he typically has to integrate new personnel but by the second half of the campaign his side's tend to have grasped his style.

The first half of both of the last two campaigns were poor by Ajax's standards, but a run of 14 straight wins in the latter part of last season shows what De Boer is capable of once he has stamped his mark on a team.

At Ajax, the board has a lot of trust in De Boer because he is one of their own. That's why he is afforded time every season when the results aren't great. This luxury may not be given to him elsewhere, though.
The Premier League managerial targets: Frank de Boer