The Premier League managerial targets: Diego Simeone
Where could he go?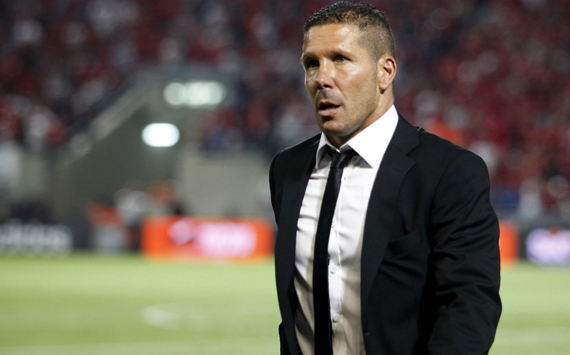 Looking at the Premier League, you can immediately rule out most clubs in terms of possible destinations for Simeone.

After guiding Atletico Madrid to, at least, a comfortable third-place finish in La Liga and a subsequent Champions League place, it would take only an elite club in England's top flight to lure the Argentine. This leaves five teams; both Manchester clubs, Chelsea, Arsenal and possibly Liverpool.

Tottenham and Liverpool both have young, promising managers in charge and they look to be there for the long haul.

And as tempting as Manchester United would no doubt be for any manager, they can be ruled out due to, among other reasons, Sir Alex Ferguson's seemingly never-ending tenure.

So only Manchester City, Chelsea and Arsenal remain. All three teams could realistically afford the compensation Atletico would demand, and all three current managers - Roberto Mancini, Rafael Benitez and Arsene Wenger - have question marks over their futures.

Benitez is set to leave Stamford Bridge at the end of the season when his interim period expires, and Roman Abramovich has a track record of paying large sums of money for a manager. Simeone - along with the majority of the world's coaches, no doubt - could well be put off by the Russian's trigger finger and short patience, though the possibility of linking up with Falcao is attractive and not entirely inconceivable.

Mancini is under pressure at the Etihad Stadium with United having all but secured the Premier League title this term and, with talks planned for the end of the season, his future could hinge on any potential FA Cup success. However, Manuel Pellegrini and Frank de Boer are the two men most closely linked.

Wenger is the most likely to keep his job out of the three. Despite now going eight years without bringing a trophy to the Emirates Stadium, another late-season surge looks likely to clinch Champions League football for a 16th consecutive campaign and the Gunners' hierarchy will be reluctant to unseat a man who has made the club his own during that time.

Simeone, of course, also represented Inter during his playing days and Massimo Moratti will likely be looking to replace current coach Andrea Stramaccioni this summer. Should Jose Mourinho prove unattainable, Moratti may be tempted to try another Madrid-based Nerazzurri hero.
The Premier League managerial targets: Diego Simeone