Five to watch: Bundesliga scout report
The star name: Mario Gotze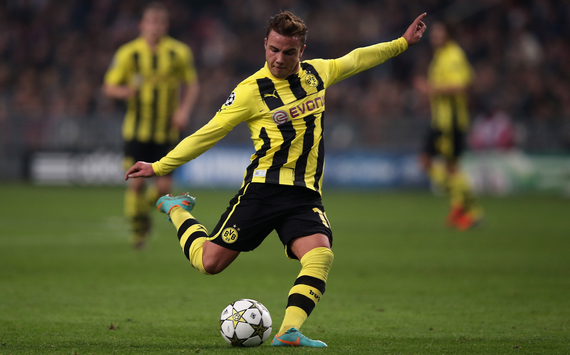 GOTZE'S SEASON SO FAR

GAMES PLAYED
GOALS
ASSISTS
37
14
16
LIKELY COST

£25m-30m
Gotze was one of the star performers when Borussia Dortmund stormed to their first league title in nine years back in 2010-11 - and he was only 17 years old.
A hip injury kept him out of the line-up between January and April last season and there was some concern that he would be unable to replicate his stellar form after so long on the sidelines.
But those worries were quickly dispelled on the very first day of the Bundesliga season. He dovetailed perfectly with new arrival Marco Reus and both men got on the scoresheet as the champions started the defence of their title with victory.
And, although results have not been as consistent this term, the performances of Gotze and Reus have been.
The 20-year-old has been in particularly sparkling form. Playing behind the striker but wandering across the forward line, he is brilliant on the ball and his quick feet and excellent control mean that he can dribble past defenders either on the run or from a standing position. He also boasts the ability to spot a pass and play it perfectly.
Most importantly, though, he scores a variety of goals, and most of them are spectacular. Whether well-hit screamers, delicate dinks or lobs, or just dribbling past the goalkeeper and slotting home, Gotze knows how to put the ball in the net.
But, as with many young German talents at top Bundesliga clubs, the Dortmund starlet will not come cheap - not least because his contract runs until 2016.
Still living at home with his parents, Gotze is adamant that he is happy where he is, though admits that the likes of Barcelona, Real Madrid and Manchester United are "attractive". The Red Devils, however, have been priced out of a move already, with Sir Alex Ferguson electing to strengthen his squad with a number of cheaper signings. That is a strategy which may also appeal to Arsene Wenger.
Chelsea are not short of attacking talents but, if the opportunity arose, they would surely be interested, such is his quality. Manchester City would also do well to lure him to the Etihad Stadium given their lack of quality out wide. Of course, they would all have to stump up a serious amount of cash.
Five to watch: Bundesliga scout report