5. Ronaldinho (Atletico Mineiro) - £63m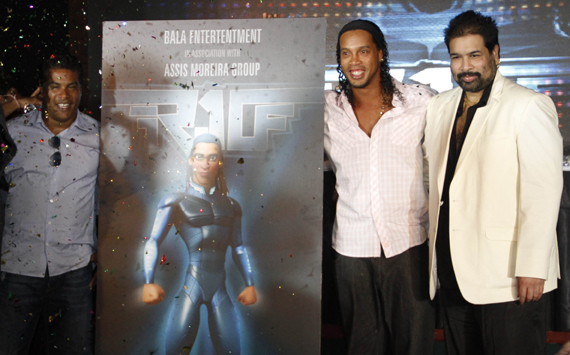 Ronaldinho is considered by many as one of the most talented players to have ever graced the game and his career highlights certainly make for impressive reading.
The Brazilian is a two-time Fifa World Player of the Year, the 2005 Ballon d'Or winner, a World Cup winner with Brazil and a Champions League winner with Barcelona. His former Barca team-mate Samuel Eto'o fondly refers to him as a genius.
He may have appeared higher up the Top 50 list, but 2012 proved a costly year for the 32-year-old as he was forced to cancel his contract with Flamengo after claiming lack of salary, bonus and image rights payments had left him millions of pounds out of pocket.
Coca Cola dropped his £415,000-a-year sponsorship deal that was due to run until 2014, after he sipped a can of rival drink Pepsi during his unveiling at Atletico Mineiro.
Ronaldinho's salary tumbled from £100,000-a-week at Flamengo to £24,000-a-week, albeit with the potential to earn a further £244,000-a-year in bonuses. Unusually for a top star in Brazil, Mineiro pays his salary without assistance from commercial partners. His profile remains high and he is in contention for a place in his country's World Cup squad. His income is topped up by sponsorships with Nike, Lloret del Mar, Danone, EA Sports, Lenovo and Kibon.
At the end of 2012 Blackburn Rovers owners Venky's persuaded Ronaldinho to sign with their film company to make 'Ronaldinho versus Aliens', an animation inspired by Space Jam, which also starred Michael Jordan and Bugs Bunny.
Ronaldinho has been earning big money on and off the pitch since winning the 2002 World Cup and his income increased substantially after he swapped PSG for Barcelona the following year following a £25 million transfer. He joined AC Milan in 2008 for £18m on a three-year contract worth £5.1m a year, plus £875,000 a year in bonuses.
He owns property in Brazil, Greece, Barcelona, Lake Como and Florida.