Wenger v Jol, Mourinho v Guardiola & top 10 managerial feuds
1. Mourinho and the 'voyeur'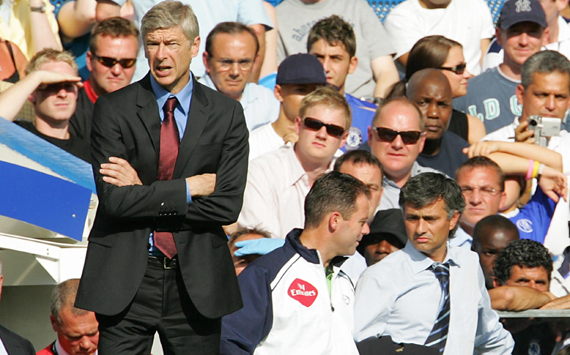 After winning their first nine Premier League games, Chelsea stumbled slightly during the 2005-06 season, drawing at Stamford Bridge against Everton before exiting the League Cup at the hands of Charlton.

Enter Arsene Wenger. When asked about Chelsea's minor struggle, the Arsenal boss said "a little bit of the belief" had gone from Stamford Bridge.

Needless to say, Jose Mourinho - the Chelsea boss at the time - was quick to respond in his own unique way.

"I think he is one of these people who is a voyeur," The Special One said. "He likes to watch other people. There are some guys who, when they are at home, they have a big telescope to see what happens in other families. He speaks and speaks and speaks about Chelsea.

"It bothers me because the guy is speaking all the time. We never speak about them. You can do it when you are the top and you have a big morale.

"When you are on game No.11 and you still can't win away from home and when you are without Thierry Henry and he can't win a game he should be worried about them. He's worried about us, he's always talking about us. It's Chelsea, Chelsea, Chelsea, Chelsea."
Wenger v Jol, Mourinho v Guardiola & top 10 managerial feuds