Who will replace Mario Balotelli as the Premier League's biggest rogue?
1. Mario Balotelli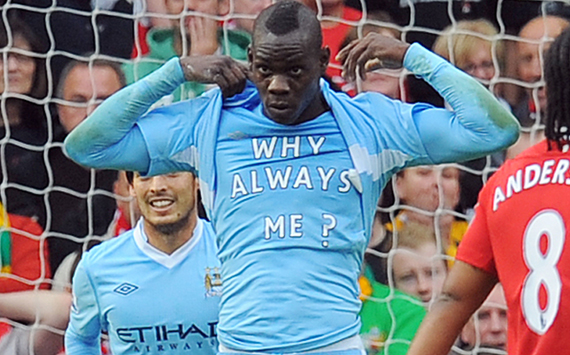 Mario Balotelli's departure to AC Milan leaves a great void in the Premier League where a loveable rogue used to be. It is hard to perfect the art of acting like a renegade while still being widely loved, but Super Mario had it down to a T.
His apparent compulsion not to act that bothered about football unless he had been personally wronged somehow gave him a vigilante vibe. Sometimes it took a few kicks to the shins to get him interested – and even then, it usually meant a red card. His tremendous goal to kick off the famous 6-1 win in the Manchester derby was apparently powered by a desire to retaliate against the media attention.
But, of course, he won that attention by having a firework go off in his bathroom the night before the game. He was sent by his mother to John Lewis to buy an iron and returned with a quad-bike, Scalextric and a trampoline. He wore a camouflage-print onesie. Balotelli's time at Manchester City saw him become totally unpredictable and mostly uninterested – what better roguish traits?
On-field antics -




Swung between the petulant (his storm of rage against Arsenal), the spectacular (scoring with his shoulder against Norwich City) and the actually-quite-nasty (stamping on Scott Parker). Four stars.
Off-field escapades -





There's a reason why every urban legend in Manchester of the last five years has involved Balotelli. Five stars.
Social networking shenanigans -



Never joined Twitter but inspired so many millions of fake and parody accounts that it feels like you can hardly get away from him. Two-and-a-half stars.
Lifted by the law -


No stranger to a parking fine here and there – and, of course, an investigation into the legendary firework – but mostly kept his antics innocent and childlike.
The sex factor -




Embarrassed by a newspaper scoop on his alleged 19-month affair but seems to have rekindled the seemingly ruined relationship with ex-ex-girlfriend Raffaele Fico, the mother of his child. Yes, there's a tiny Balotelli now to continue his legacy!
Who will replace Mario Balotelli as the Premier League's biggest rogue?