Essien, Lukaku and the loan stars who could help Chelsea
1. Michael Essien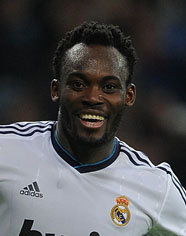 In perhaps the strangest of Chelsea's loan arrangements, Essien joined Real Madrid at the end of August, days before fellow central midfielder Raul Meireles was sold to Fenerbahce.

The Blues have looked light on options in the middle of the pitch ever since and Jon Obi Mikel's enforced absence while on Afcon duty with Nigeria, combined with Oriol Romeu's long-term injury, have only worsened the situation.

Having endured a tortuous couple of years in terms of injuries, Essien is no longer the force of nature he once was, but he has shown discipline and versatility in the 14 appearances he has made for Los Blancos this term.

With Benitez currently having to deploy David Luiz as an auxiliary midfielder, the logic of the Essien deal is hard to fathom. Unless, of course, it was to keep Jose Mourinho sweet...
Essien, Lukaku and the loan stars who could help Chelsea