Top 10 Manchester derby moments
2. Manchester City claim crucial win in 1967-68 title race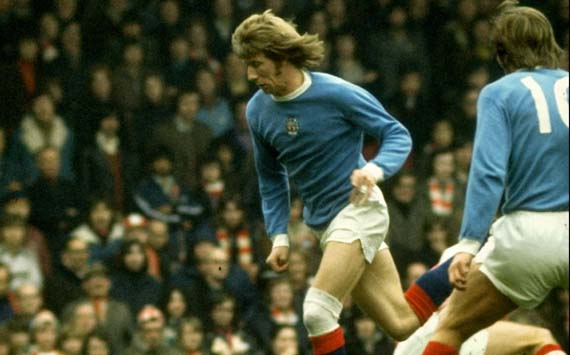 Date:
March 27, 1968
Venue:
Old Trafford
Result:
Manchester United 1-3 Manchester City
This momentous derby clash produced a crucial Manchester City victory on their way to the 1967-68 League title, which they contested to the death with neighbours Manchester United. It left delighted City manager Joe Mercer confessing: "I was in tears. What a great, great game."
At the time a win was still worth two points, not three, and City made the short trip to Old Trafford two points behind defending champions United - who had an imminent European Cup semi-final with Real Madrid, and would go on to become the first English club to win that competition two months later.
United went ahead through a George Best goal as quickly as the 35th second, but City rallied and hit back with goals from Colin Bell on 18 minutes, a George Heslop header just before the hour mark and a late Francis Lee penalty. The win left them level on 45 points with Matt Busby's team, second only to Leeds on goal difference.
Both teams had a revered 'trinity' on the pitch that night: United's Best, Denis Law and Bobby Charlton; City's Bell, Lee and Mike Summerbee. The latter recalled: "George Best scored early on and then we took Manchester United apart - we played really well and they realised what a good side we were. Every derby in those days was exciting because both sides attacked."
After that clash - watched by 63,004 people paying an average of five shillings (25p) a ticket - both teams had nine matches to play; City finished as champions - by two points from United.
Top 10 Manchester derby moments