Five things Manchester City can learn ahead of the Manchester derby
1. Lewandowski test a warm-up for Van Persie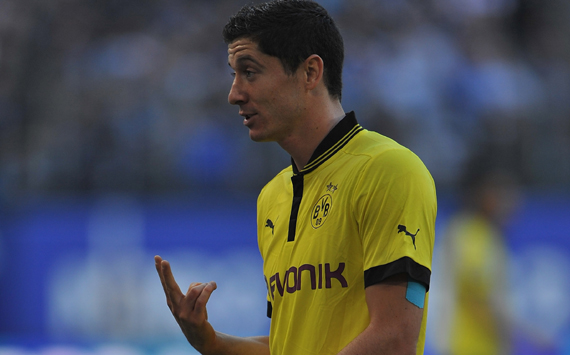 Manchester City will be facing two world-class strikers within the space of a week as Robert Lewandowski has the chance to test the Premier League champions in Germany before Robin van Persie heads to the Etihad Stadium on Sunday.

Roberto Mancini's men were outclassed and overwhelmed by the speed of the German champions' attack in October and required a stellar performance from Joe Hart to prevent their opponents from adding to Marco Reus' 61st-minute opener.

Lewandowski has struck 13 times for Dortmund this season and, while the Poland international remains a constant threat when spearheading his side's attack, his strength is also the ability to hold the ball up and link with the onrushing Reus and Mario Gotze.

The variety of Lewandowski's goals make him a similar threat to Van Persie. Both he and the Dutchman are as capable of placing an accurate finish beyond the goalkeeper from 20 yards out as they are inside the box, using quick feet to work into space and preying on the service from balls through the middle or from wide areas.

Dealing with both forwards will require intense concentration from Vincent Kompany and his centre-back partner, either Joleon Lescott or Matija Nastasic, as the movement from Lewandowski and Van Persie is sharp and incisive. The City defence must also refuse to get drawn too far out if both strikers opt to move deeper in order to link up with other attackers.

In October, focusing on Lewandowski was costly as it pulled the centre-backs out of position, which allowed Reus and Gotze to overlap. In that situation, a defensive midfielder is key to spot when attackers are straying and to prevent them from offloading the ball to their advancing team-mates.
Five things Manchester City can learn ahead of the Manchester derby