How to buy tickets to the 2018 World Cup in Russia
The 2017-18 season will be followed by the biggest event in football: the FIFA World Cup, which will be hosted by Russia this summer.
Qualification for the tournament is now complete, the groups have been drawn, and the training camps have been confirmed.
FIFA have now revealed that a total of 1,303,616 tickets have been allocated since the start of ticket sales in September 2017, with sales set to restart on Tuesday, March 13.
On top of the 735,168 allocated in the first draw, 568,448 tickets were allocated from the second selection, subject to payment, with most of them going to Russian fans (197,832) followed by supporters from Colombia (33,048), Brazil (24,656), Peru (21,946), Germany (21,639), USA (20,347), Mexico (18,155), Australia (15,906), Argentina (15.214), England (14,890) and Poland (13,686) – the top ten countries from abroad.
If you're hoping to head to Russia to see your country in action next June and July, Goal 's guide has everything you need to know.
---
HOW CAN I BUY WORLD CUP TICKETS?
---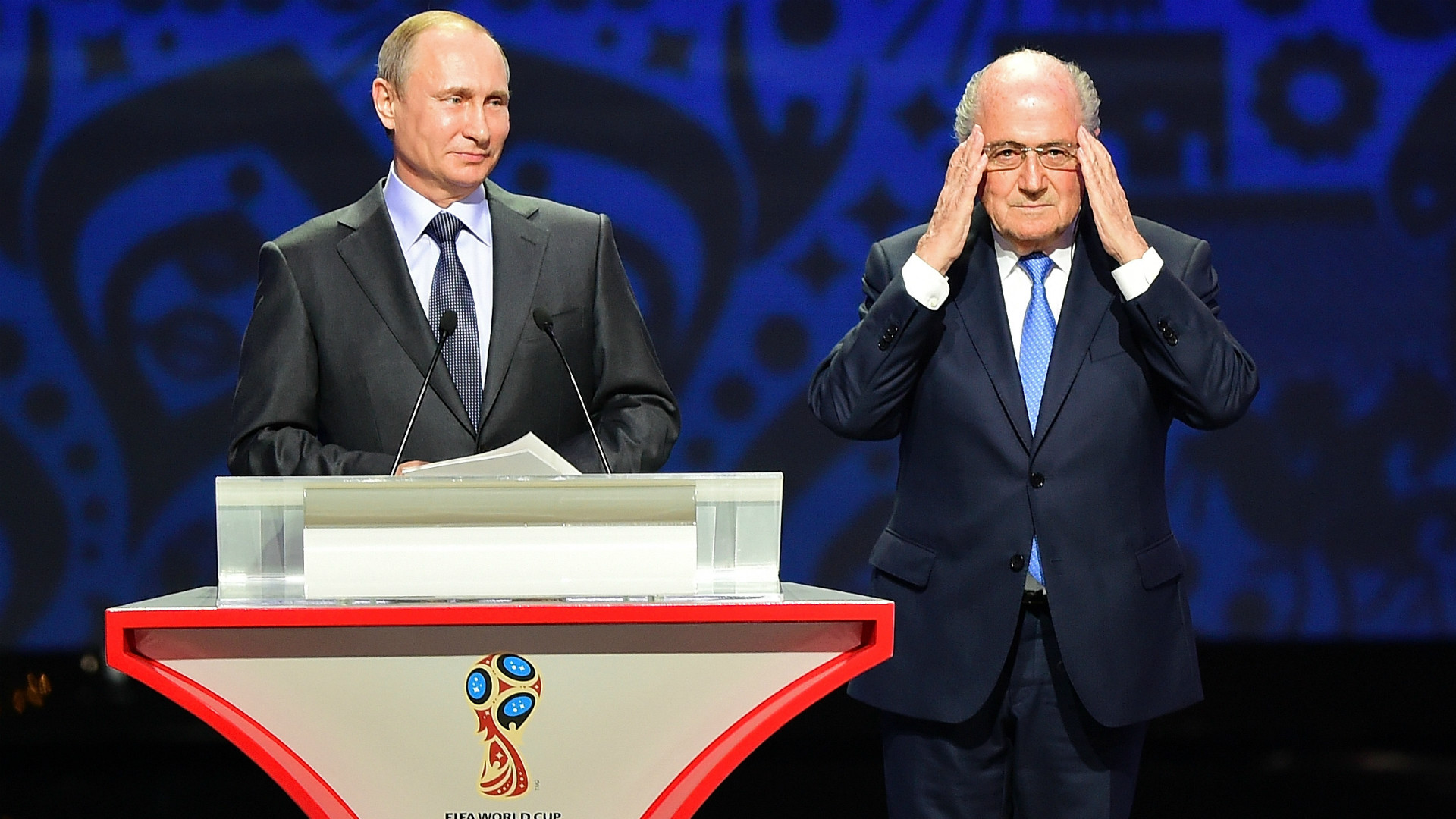 World Cup tickets are sold through FIFA.com's ticketing service and sales began on September 14, 2017 .
FIFA initially revealed that tickets would go on sale in two phases, which would then be divided into two stages.
The first stage of phase one ran from September 14 to October 12. During this stage, all applicants had the same chance of getting tickets through a random selection draw, with notification made by November 16.
At this point, of course, fans were applying to certain matches and venues without knowing which teams will be playing.
The second stage of phase one began on November 16 and concluded on November 28. During this period, a first-come, first-serve policy applies for the remaining allocation of tickets being sold in this window.
Phase two - which is now underway - will be split up the same way, but fans will know at this point which teams they are applying to see.
A random selection draw began on December 5, soon after the World Cup draw was made, and ran until January 31.
The second stage of phase two is open from March 13 and ends on April 3, with tickets, once again, being allocated on a first-come, first-serve basis.
There will also be a last-minute sales phase, which will run from April 18 to July 15 - the day of the World Cup final.
---
HOW MUCH DO WORLD CUP TICKETS COST?
---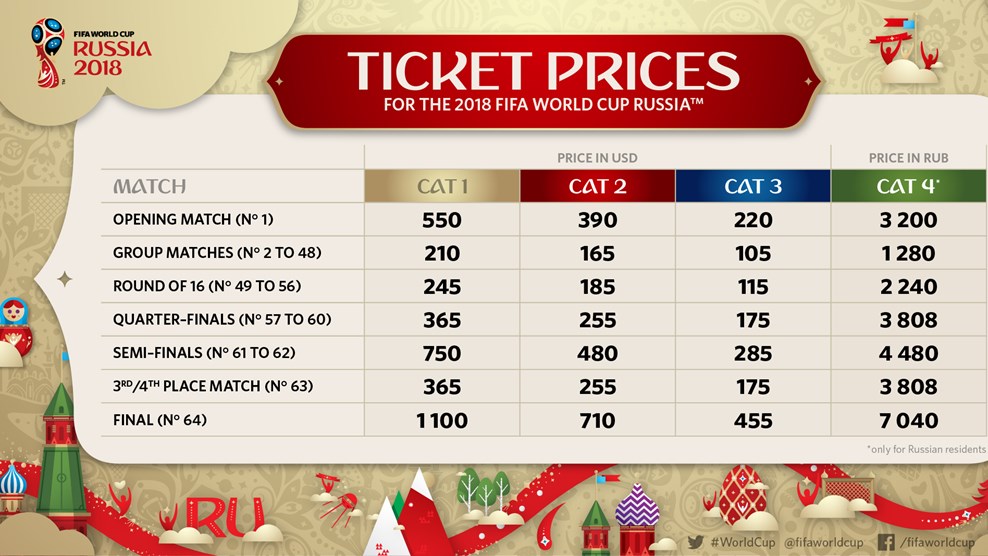 FIFA has split up ticket prices for the World Cup into four different categories.
Categories one, two and three will be available to fans across the world through the online ticket sales.
Category four is reserved for Russian residents and will consist of at least 350,000 tickets to be sold to local fans.
These tickets will cost less: for comparison, the cheapest category-four ticket is priced at approximately £17, compared to £80 for the cheapest from the other three categories.
Ticket prices in U.S. dollars (and Russian rubles for category four) are displayed in the graphic above. The table below shows the price conversion from U.S. dollars to British pounds as of December 2017.
| Match | Cat 1 | Cat 2 | Cat 3 |
| --- | --- | --- | --- |
| Opening match (1) | £412 | £292 | £165 |
| Group matches (2-48) | £157 | £124 | £79 |
| Round of 16 (49-56) | £183 | £139 | £86 |
| Quarter-finals (57-60) | £273 | £191 | £131 |
| Semi-finals (61-62) | £562 | £359 | £213 |
| Third-place match (63) | £273 | £191 | £131 |
| Final (64) | £824 | £532 | £341 |
---
WILL WORLD CUP TICKETS BE ON RE-SALE?
---
No - tickets will be available exclusively through FIFA.com.
The only way to transfer or resell tickets is with the written consent of FIFA, who will publish a Ticket Transfer and Resale Policy when sales begin.
In short, if you buy tickets anywhere other than FIFA.com you are risking those tickets either being counterfeit or cancelled by FIFA with no refund.