World Cup 2018 Panini release date: When you can buy stickers for Russia edition
It's a tradition which dates back to 1970. 
The ubiquitous chanting of 'got, got, need!' has reverberated through playgrounds and beyond for decades as fans of football hustle to complete their Panini sticker albums.
And those days are far from gone. 
Nearly 50 years after the release of the original Mexico 1970 World Cup album, Panini have unveiled their latest collection for the 2018 showpiece event in Russia.
The company kept lots of information regarding the new album a closely guarded secret, but Goal has pulled together everything we know about the latest edition.
---
World Cup 2018 Panini album: When can I buy stickers?
---
Those waiting to get their hands on a 2018 Panini album can do so right now, with the official date of release occurring on March 22.
The PANINI 2018 FIFA World Cup™ Official Sticker Collection is OUT NOW!! #GotGotNeed pic.twitter.com/rgXGhLUn4p — Panini UK & Ireland (@OfficialPanini) March 22, 2018
That leaves plenty of time to work on your deck ahead of the opening match's kick-off on June 14, with the tournament finishing up on July 15.
Before the March 22 release, Panini launched a digital sticker album on March 20, which allows fans to compile a virtual collection.
The digital Panini contest can be played online and there is an official app available on iOS and android. It runs until August 31, 2018 and there are prizes on offer to those who take part. 
---
How many stickers will be in the album?
---
There will be a total of 682 stickers to collect in total, with the original starter-pack edition containing a set of 26 to get you on your way.
Included in the overall total would be 50 special stickers - or 'shinies' to use the old vernacular – which historically include participating country badges, the official match ball, the World Cup trophy, the tournament mascot, official tournament logo and other visual hype surrounding the event.
The remaining stickers would be made up of standard cards such as players.
---
How big will the packs be?
---
Single packs will contain five cards, which is two fewer than in packs from the 2014 World Cup collection.
Further rumblings suggest there will be 50 packs per box and 24 boxes per case, with 'leaked' concept art for said boxes already rearing its head online.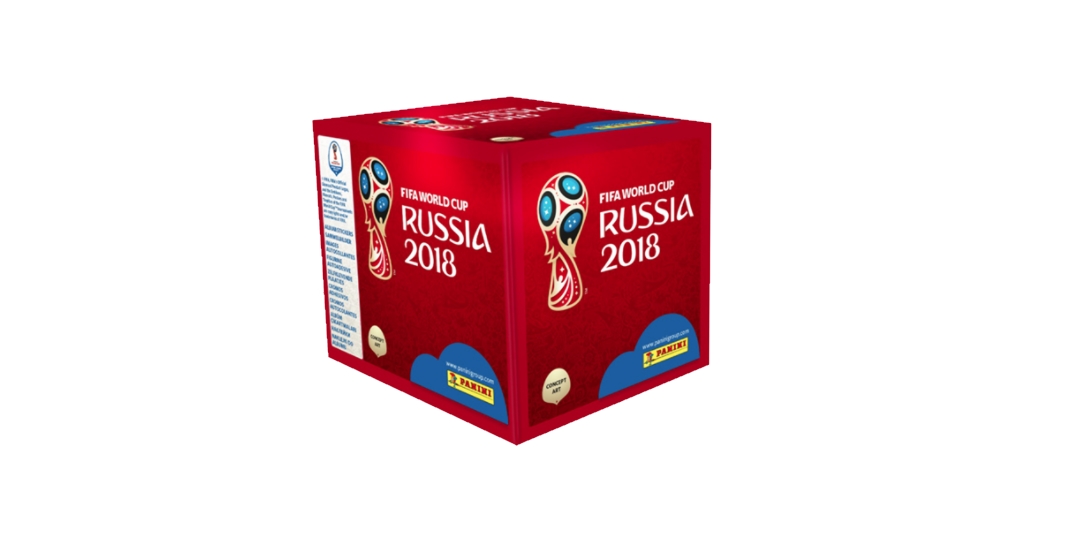 ---
How big is the album?
---
The album will consist of 80 full-colour pages, enough room for a two-page spread for each of the participating teams, which are listed below.
| Group A | Group B | Group C | Group D |
| --- | --- | --- | --- |
| Russia | Portugal | France | Argentina |
| Saudi Arabia | Spain | Australia | Iceland |
| Egypt | Morocco | Peru | Croatia |
| Uruguay | Iran | Denmark | Nigeria |
| Group E | Group F | Group G | Group H |
| --- | --- | --- | --- |
| Brazil | Germany | Belgium | Poland |
| Switzerland | Sweden | Panama | Senegal |
| Costa Rica | Mexico | Tunisia | Colombia |
| Serbia | South Korea | England | Japan |
---
What if I can't find the stickers I need?
---
Should you face a struggle to complete the 2018 World Cup album, Panini offer an online service through which you can ask for the stickers you require to finish the set.
The service remains available for up to two years after a collection has been withdrawn (subject to availability) and delivery takes at least 30 days.
You can also order full sets of old collections online - see the Panini website for full details and instructions.
---
A short history of Panini
---
Named after the brothers who founded the company in 1961, Panini's headquarters are based in Modena, Italy.
In the beginning, Benito and Giuseppe Panini, originally operators of a newspaper distribution office, bought a collection of cards that a Milanese company were struggling to sell.
The brothers' attempt to move on their new stock was hugely successful, selling three million packets containing two cards each at ten lire each.
The success was such that brothers Franco and Umberto Panini joined the company in 1963 and the family business continued to go from strength to strength.
Global success truly began in 1970 with the release of the Mexico World Cup album and continues to this day, with fans of the beautiful game still heeding the words of an early slogan: 'stick with Panini'.