MLS Spotlight: Christian Ramirez proving himself on new level
Take a look at the top 10 players on the MLS goal-scoring charts and you will see plenty of accomplished standouts, ranging from a World Cup winner (David Villa) to players who have been the subject of seven-figure transfers, and many who boast million-dollar designated player contracts.
Something else you might notice is that, among that 10, there is only one American. That American is Minnesota United's Christian Ramirez, whose 10 goals are the fifth most in the league. Most MLS observers outside of Minnesota wouldn't have pegged him to be the top American goal-scorer in the league, but then Ramirez's career has been built on blowing away expectations, and driven by his desire to prove he can play at the highest level in America. 
Villa headlines MLS midseason awards
Realistically speaking, we shouldn't be completely surprised by his success this season for the Loons. After all, Ramirez has spent the past four years destroying defenses in the USL and NASL, earning the nickname "Superman" for his seemingly unstoppable ability to find and finish chances. Now, halfway through his first season of first-division soccer, Ramirez has managed to keep scoring goals, with his current total of 10 non-penalty kick goals good for second best in MLS (behind Chicago Fire forward Nemanja Nikolic's 12).
"I've worked for this my whole life," Ramirez told Goal. "I've had dreams of putting on an MLS jersey and playing in front of MLS crowds, and playing on ESPN or Fox Sports 1. I've always felt I could compete at this level, and I know I'm a case study for the NASL comparisons to MLS, and have taken that under my wing and used it as more motivation to continue to get better.
"I don't want to let this opportunity slip and I think I go out there and I play with that chip on my shoulder each game that I'm out there."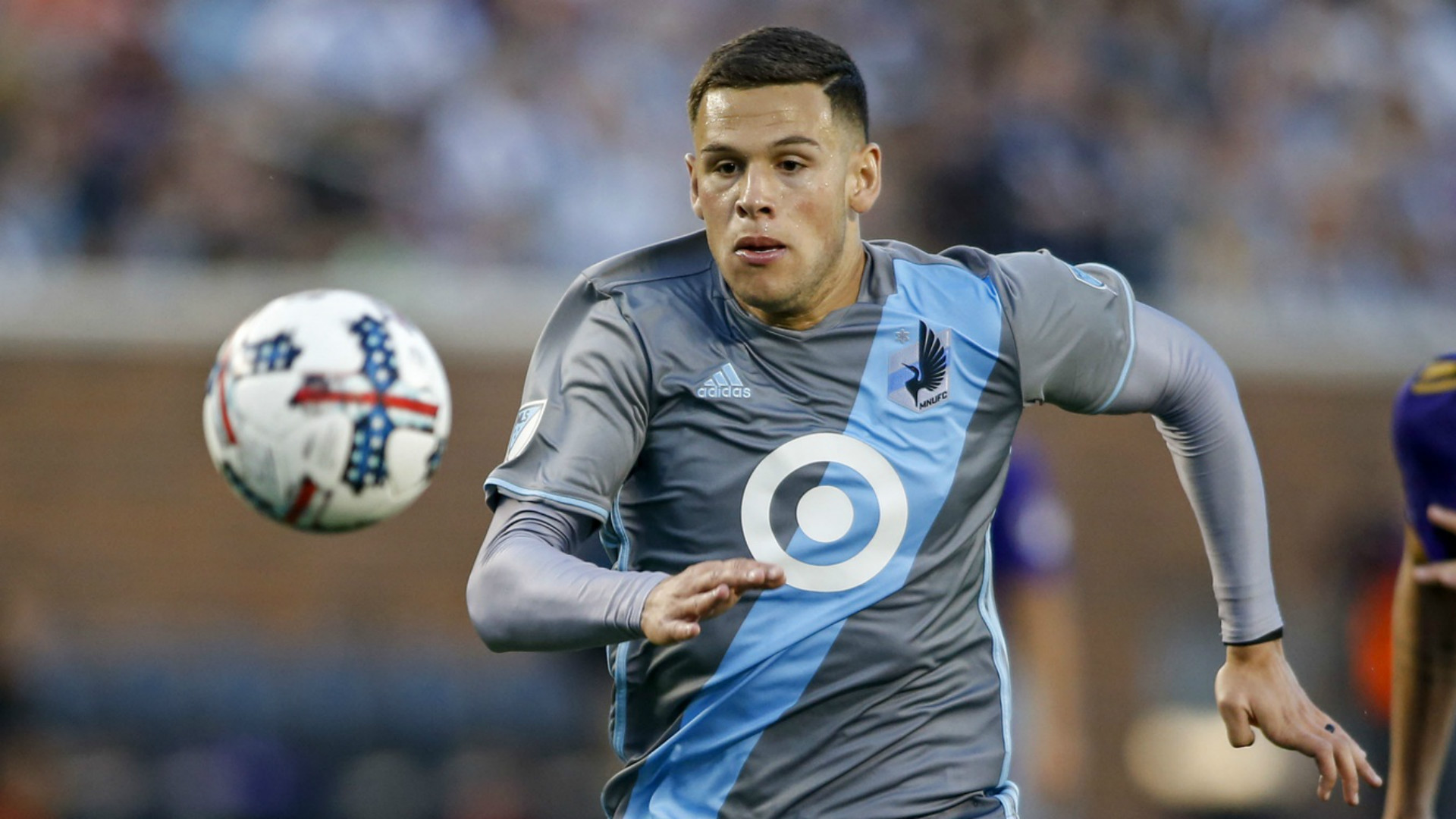 Ramirez's talk of MLS dreams may sound like the carefully-packaged sound byte of a media-trained pro, but the reality is Ramirez grew up a short drive from what is now the StubHub Center. The son of Colombian immigrants, Ramirez was born in California and moved to Colombia at the age of 1, returning to California six years later and settling close to the stadium the LA Galaxy and Chivas USA called home. He spent his formative years watching and rooting for the likes of Landon Donovan and Juan Pablo Angel, and it gave him something to aspire to. Years later, he is realizing that dream of scoring goals and starring in MLS.
Not too shabby for a player who spent his youth career as a central midfielder and his freshman year in college bouncing around positions ranging from defensive midfielder to center back. Ramirez's rise is even more improbable considering he spent his sophomore season stuck on the bench at UC-Santa Barbara, leaving him frustrated to the point of considering giving up the game to focus on earning a college degree.
"It was frustrating," Ramirez said of his time at UCSB. "I contemplated quitting and just going to Santa Barbara for school and riding out my scholarship. That's how miserable I was.
"I thought it would turn around because I had seen so many guys not play for two years and then find their way onto the field," Ramirez said. "Once I realized that it wasn't me doing something wrong, I just didn't fit into the culture and the system being played there, I had to move on."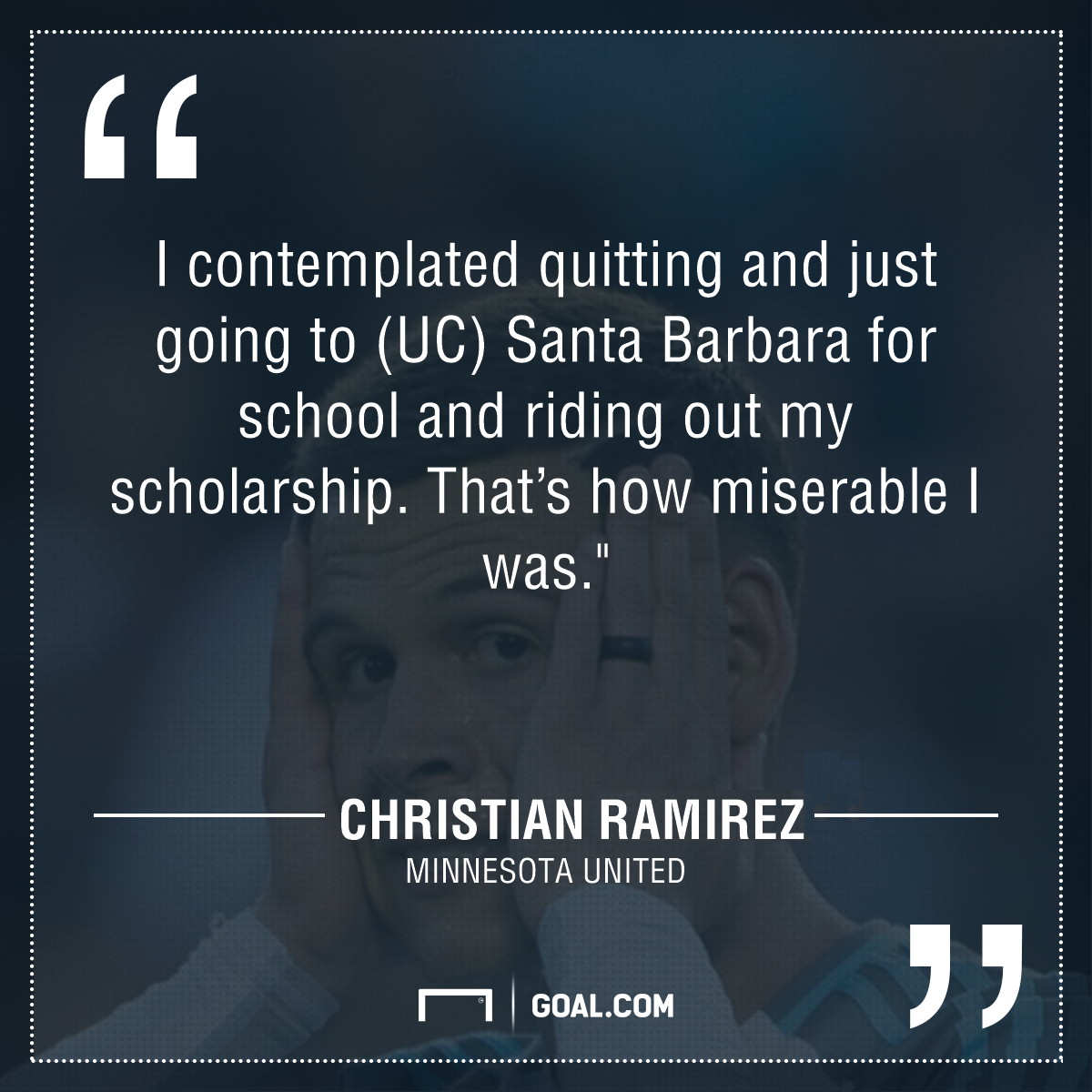 Though Ramirez's self-belief may have hit rock bottom that year, he never totally lost faith. What kept him going was his experiences playing under head coach Jon Spencer in the Premier Development League for Orange County Blue Star, a team filled with college standouts, and a team for which he was a regular starter.
"I would come back in the summer time and play in the PDL and play with guys that were at UCLA and UNC and I'd be starting over most of them, and starting consistently on the PDL team," Ramirez said. "I knew what I could bring, but I just wasn't given the opportunity [at UCSB]. I had to grow up and accept that things aren't given to you, so I had to go a different route."
As fate would have it, Orange County Blue Star played its matches on the campus of Concordia University, which boasted a strong NAIA soccer program, and coaches who not only believed in his ability, but who saw his future at the forward position.
Mike Grella out for the season
They were right. Ramirez compiled 41 goals and 18 assists in his two seasons at Concordia after transferring, impressive production that gave the young striker the confidence to believe he had a future in the pros.
"Concordia University deserves a lot of credit for giving him that second chance," Spencer told Goal. "It was a better environment for him. Growing up he was always one of the best players around, and it was humbling at Santa Barbara. Going to Concordia helped nurture him. He also matured as a person, but Concordia's coaches recognized what his gift was and nurtured him along the way."
When Ramirez arrived at Concordia, he actually wanted to play as a holding midfielder, where he had enjoyed success in PDL, but it was Concordia head coach Chris Gould who suggested that Ramirez make a permanent move to the forward position, where his top-notch finishing ability could be utilized to its fullest. Ramirez thrived there immediately, scoring 18 goals in his first year at Concordia before notching 23 as a senior.
"Few players have the natural goal-scoring instincts that he has," Gould told Goal. "He has a very good understanding of where to be, and when to be there. He's incredibly composed, and he has a plan in his head of how to execute in the box.
"You put players in the position where they can be successful, and that [position change] seemed very, very obvious very quickly."
Ramirez eventually embraced the move to the front and thrived.
"I'm sure he had some questions about it, but once he kind of realized what we were seeing, and how we wanted him to play, and how we were trying to use his best assets, he took off," Gould said. "It's a credit to him. He's a student, and his approach was second to none. He took complete ownership of the change."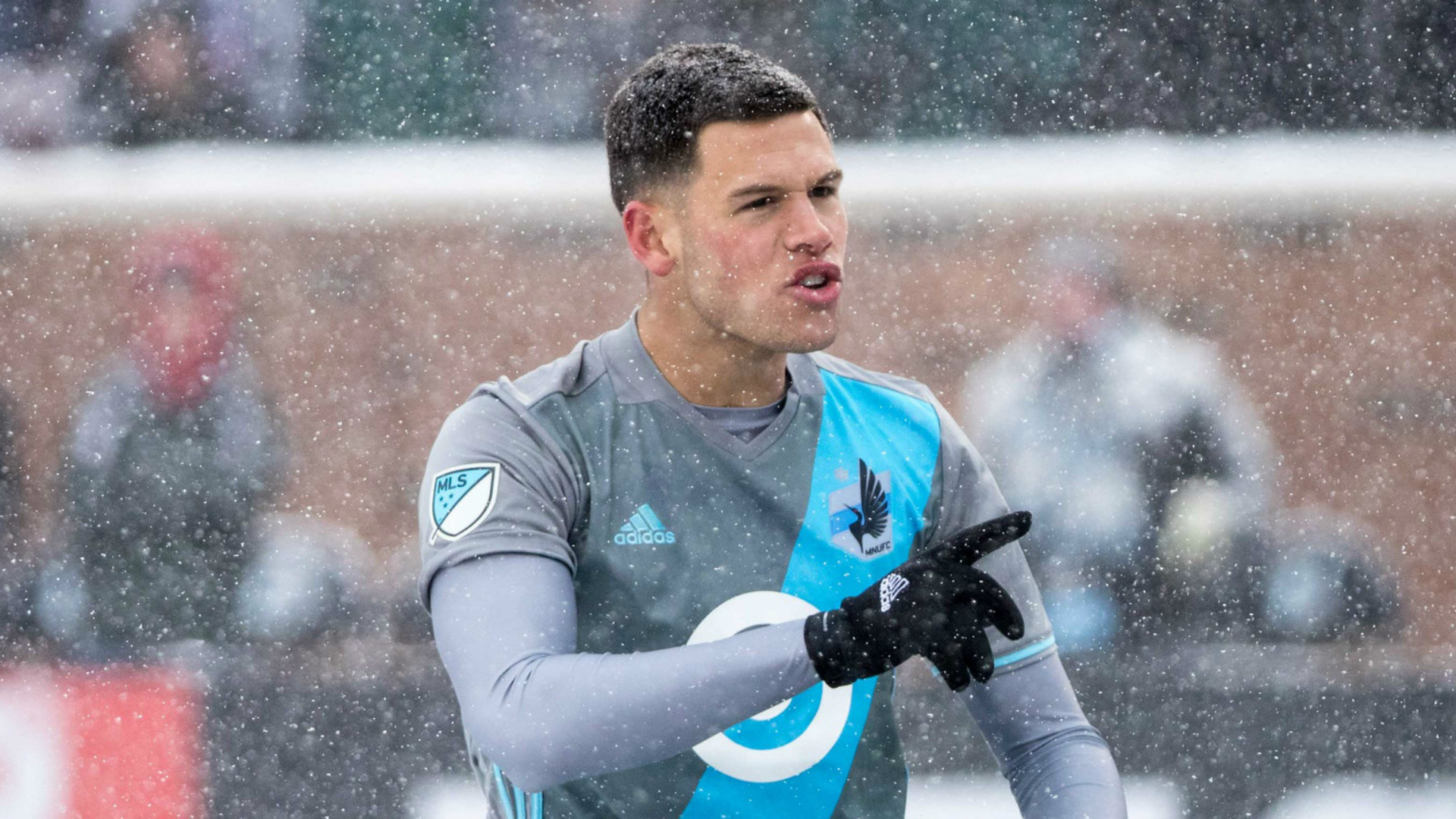 With his belief in his ability restored at Concordia, Ramirez set out to chase his dream of turning pro, though it wouldn't be easy. As a small-school player, he wasn't invited to the combine ahead of the 2013 MLS SuperDraft, but did earn invites to team combines held by the San Jose Earthquakes, and in Las Vegas by the Seattle Sounders. He had to pay his own way, driving to both combines.
When the Earthquakes and Sounders wound up showing no interest Ramirez made plans to attend more tryouts, including one on the other side of the country with the Charlotte Eagles of what was known then as USL Pro, the third division of American soccer. After impressing Charlotte, he received a contract offer, but he also had another trial looming with Minnesota United of the NASL. He wound up skipping that tryout after Charlotte paid him a $500 signing bonus not to go to Minnesota. With no agent to advise him, Ramirez took the money and joined the Eagles.
Ramirez was a hit in Charlotte, scoring 12 goals and helping the Eagles reach the USL Pro final, where they lost to Orlando City, coached then by Ramirez's current Minnesota United coach, Adrian Heath. His success that season led to interest from Sacramento Republic, but Ramirez wanted to sign with Minnesota United in order to play with Miguel Ibarra. After Ibarra recommended Ramirez to then Minnesota United coach Manny Lagos, an offer soon followed, setting him up for another fateful step in his career.
The promising young forward blossomed at Minnesota United, scoring 51 goals over the course of three seasons to become the top striker in NASL. He and Ibarra formed a near-unstoppable partnership, and when rumors began of Minnesota United potentially making a move to MLS as an expansion team, Ramirez figured to be a central figure for the expansion side.
VIDEO: Galaxy's Beckham replacement?
There was still a big decision to make though. Just as Minnesota United was preparing for its inaugural season in MLS, Ramirez was a free agent and he became a target for several Liga MX teams. He generated offers that would have paid him more than Minnesota United was offering him. 
"I was really close to going to Mexico," Ramirez said. "If things would have extended another couple of days it could have been a whole different thing because I had a couple of other offers on the table. I had always dreamed of playing abroad, and [there was] no better place that I could have transitioned to than down in Mexico. I grew up watching that league and I've seen players go down there and do well, and think the style there complemented my game well.
"After the NASL season last year I sold everything because in my mind there was only one way I could come back, and I had these other offers already there," Ramirez said. "You could say I had one foot out the door because I wanted to challenge myself in a different country and see how that would go, but at the same time I knew that if Minnesota could come with what I wanted, that I would really have to consider it because it became like a home to me."
Ramirez's decision to eventually re-sign with Minnesota United has paid off for him and the Loons. He has carried over his goal-scoring success to MLS, and has thrived under the tutelage of Heath, who has an excellent track record of developing forwards.
"He played forward his whole career and he knows the little nuances of the position to help you maximize that aspect of it," Ramirez said of Heath. "There's been plenty of times where he's walked me through certain scenarios 50 different times in a session so that I have that in my memory, and I've scored several goals this season based off those movements he's discussed with me."
Heath, for his part, believes Ramirez has the intangibles that all good forwards must possess. 
"The one thing about all goal scorers is they have an innate belief that they can always score and Christian's no different," Heath told Goal. "Cyle Larin has it, Dom Dwyer has it. They think that every game they play they're going to score goals, and Christian feels the same way.
"He's got a really good appreciation for the penalty area," Heath continued. "He knows where he is, and has a natural goal-scorer's instinct and he wants to put himself in there. When you miss a couple of chances it's really easy not to get in the right spots again, but that's what Christian does. He always puts himself right up there, puts himself in position to score."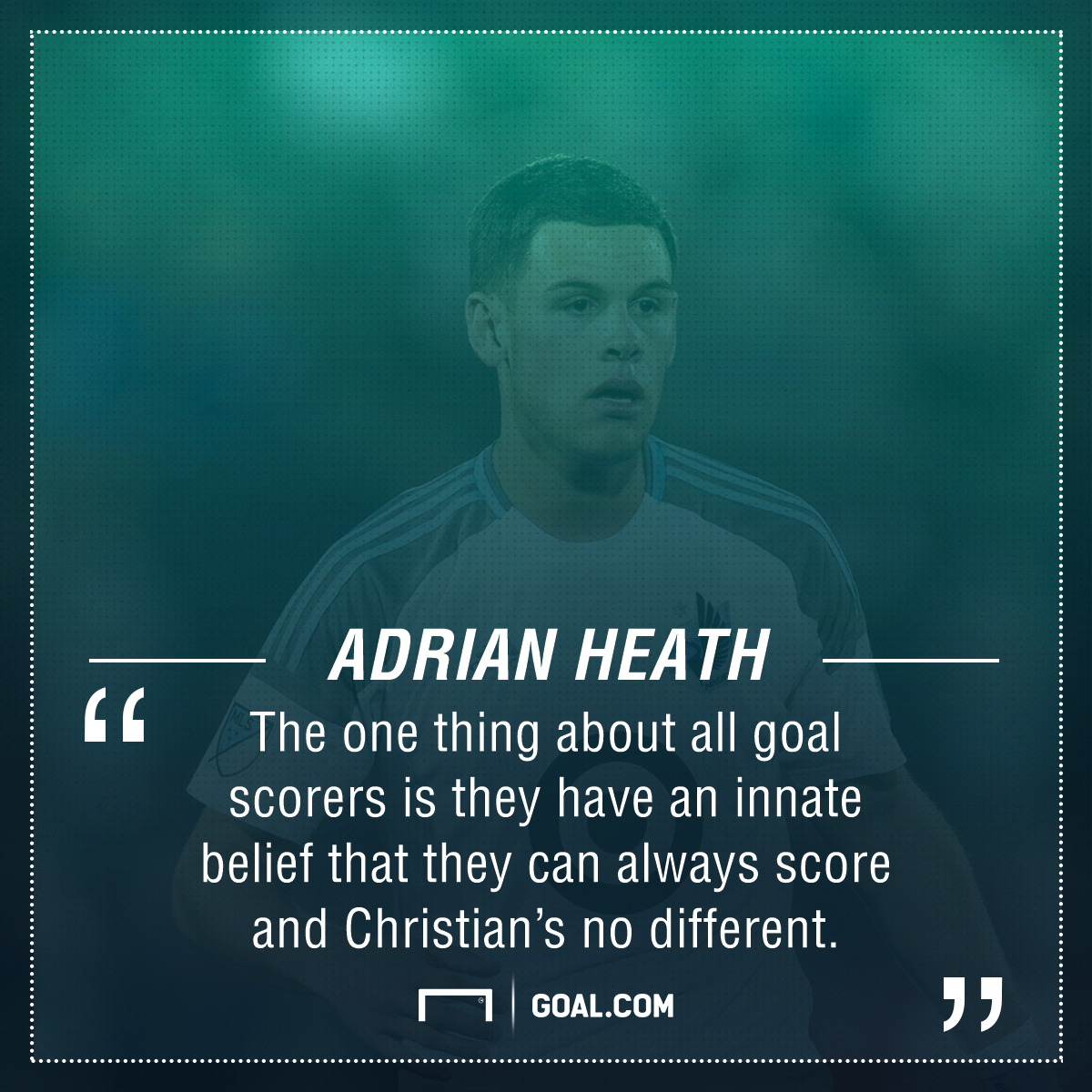 As is often the case with expansion teams, Heath needed some time to get to know his players, and he needed time to fully appreciate Ramirez's qualities, which explains why Ramirez was left out of the starting lineup for Minnesota United's MLS debut. Of course, he came off the bench in that opener and promptly scored a goal that sent a message to Heath and the rest of MLS that he was someone to take seriously.
"That first goal is a microcosm of what he's all about," Heath said. "That really convinced me, I put him into the [starting lineup] after that and he hasn't looked back since."
Ramirez has made a career of proving himself to doubters who weren't sure of his ability, and he has one more person to convince in U.S. national team coach Bruce Arena, who didn't include Ramirez on his 40-man preliminary Gold Cup roster despite the fact there were several new faces on the list and Loons' forward was already enjoying success in MLS.
"You could say I was a little upset [about not making the U.S. Gold Cup preliminary roster], but I knew that I had to really impress to even put myself on the [national team] radar," Ramirez said. "Those are just short-term goals I set for myself. I wanted to have the season I'm having because I knew I had to score goals to even be in the conversation. I know the likes of Dom (Dwyer), C.J. Sapong, (Juan) Agudelo have all been pushing. They've put up really good numbers the last couple of years. I was really happy for them because of the hard work they've put in, but at the same time as a competitor I want to put myself in that conversation."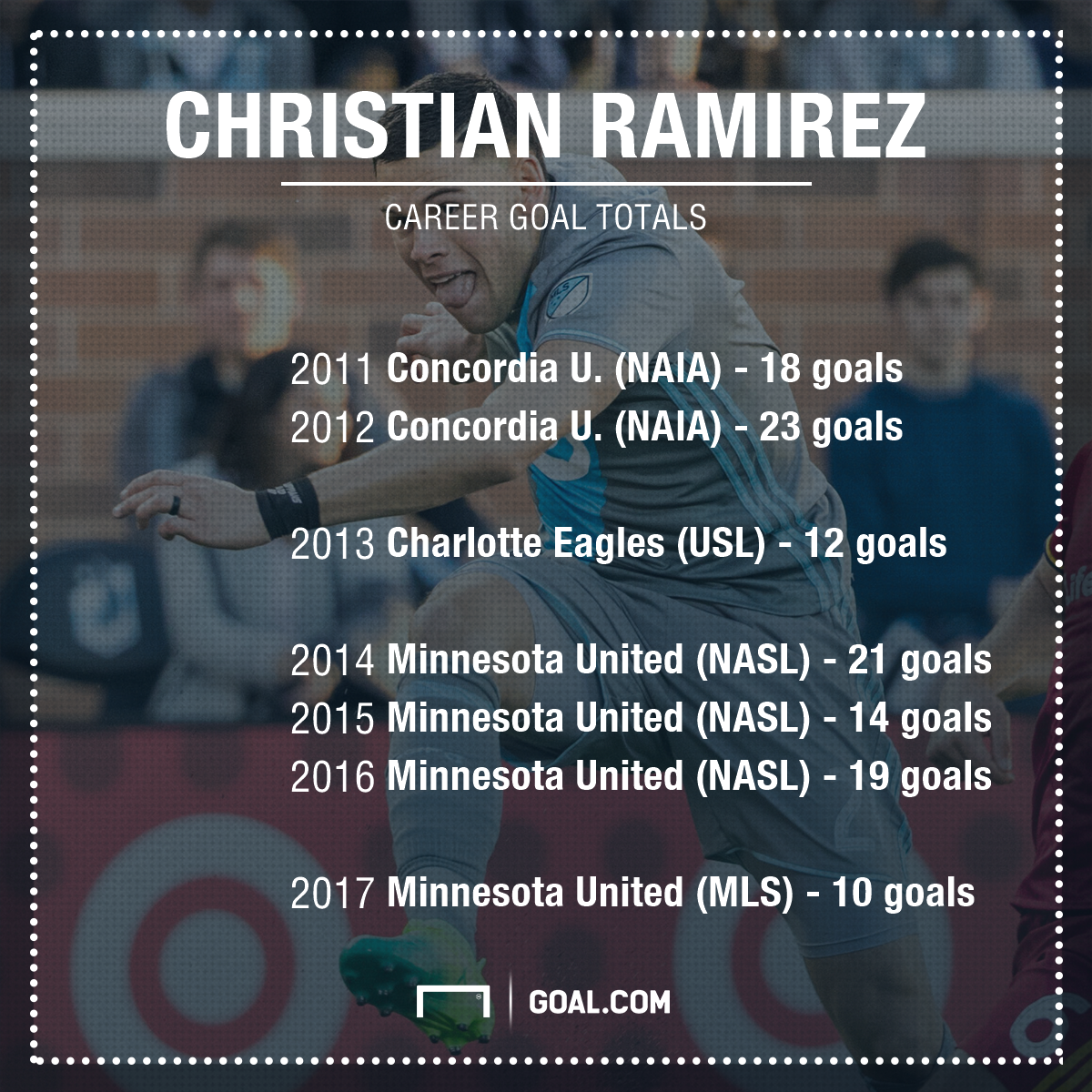 When asked by Goal about Ramirez a month ago, Arena's simple reply was that there are several players competing for consideration at forward. It probably isn't a stretch to believe that Arena wants to see more of Ramirez in MLS, and needs more than just a half season of first-division soccer to convince him that Ramirez is worthy of a national team look.
That's just fine for Ramirez, who has never lacked for motivation to prove himself. The memories of his time stuck on the bench at UCSB — and the hours he spent driving to MLS tryouts that never panned out — continue to fuel him, and the success he's enjoying now is a testament to how driven he is.
Sporting KC signs Barca product
To understand how far Ramirez has come, you need only consider one statistic. Ramirez was eligible for the 2013 MLS draft, but went undrafted even after attending multiple team combines. After the long and winding road through USL Pro and NASL to his current place in MLS, Ramirez has already reached rarified air after just half a season. His goal against New York City FC on Thursday helped him match the highest goal total ever posted in MLS by any player selected in the 2013 MLS SuperDraft (Deshorn Brown scored 10 goals during the 2013 and 2014 seasons).
"What Christian has done is a real reflection of his internal character," Gould said. "To overcome the obstacles he has overcome, and taken on the challenges he has faced, and continue to succeed shows the mental strength that he has."
Yes, Ramirez has achieved his dream of playing and thriving in MLS, but like any true competitor, he has already set new goals for himself, including helping Minnesota push for a playoff berth in its inaugural MLS season, as well as convincing Bruce Arena he is worthy of a national team call-up. Given Ramirez's track record of achieving goals few would have imagined he could reach, it's tough to bet against him.