FEATURE: Interview reactions on Stuart Baxter as Bafana coach
Former Bafana Bafana and Sundowns defender Matthew Booth
"Many people criticise the fact that he had his chance (Baxter coached Bafana between 2004 and 2005), but I think both Stuart and Pitso Mosimane have matured as coaches.
"I would have a lot of faith in Stuart, Pitso, or Gavin Hunt, those would be my top three."
Former Bafana striker, Phil Masinga
"Definitely, I think now he has a better background of the South African football and he has got more knowledge about the players," Masinga told Goal.
"In my personal opinion, I had Pitso and Gavin Hunt as the two favourites to take over the national team because I think they have proven themselves."
"He has coached at club level in this country at one of the biggest teams in the country, Kaizer Chiefs. He was successful with them. He came to SuperSport when they were struggling and he has given us a competitive SuperSport side that's hard to beat," Masinga said.
"I still believe with the experience that he has had in the country, there's a lot that he can offer the country."
Current Cape Town City keeper Shuaib Walters
"Still sticking with the national team, it would appear that Bafana Bafana has a new coach in the form of Stuart Baxter. I am not one that gets too fussed about the movement of coaches, but there has been a lot of hype on the subject and Baxter particularly," Walters wrote in his weekly column on Goal.
"I haven't worked with Baxter thus far but there's no doubt that he is very tactically adept. When playing against a Baxter lead Kaizer Chiefs and SuperSport United, I have always found his teams to be very well prepared.
"He is a superb tactician and also a good "man-manager". He seems to motivate his players well with his teams always playing until the final minute.
"We cannot ignore that there are always concerns around a coach returning to a team. Why was he not successful in the first place? What makes it different now? Has he improved?
"Personally, I think that these are all reasonable questions, but Baxter is a far more experienced coach now than when he left Bafana in 2005. I am not speaking only about his advanced age – he is a younger looking 65 now – but more in terms of the knowledge gained about South African football and our unique culture.
"When he began his maiden tenure with Bafana he arrived in South Africa straight from England. He had all the credentials to be successful but unfortunately it did not work out the first time.
"I think now that he's been part of the South African football system for a while, coaching in the PSL with tremendous success especially during his time with a big club like Chiefs, he's been able to understand the local game, the players and the structures at all levels much better."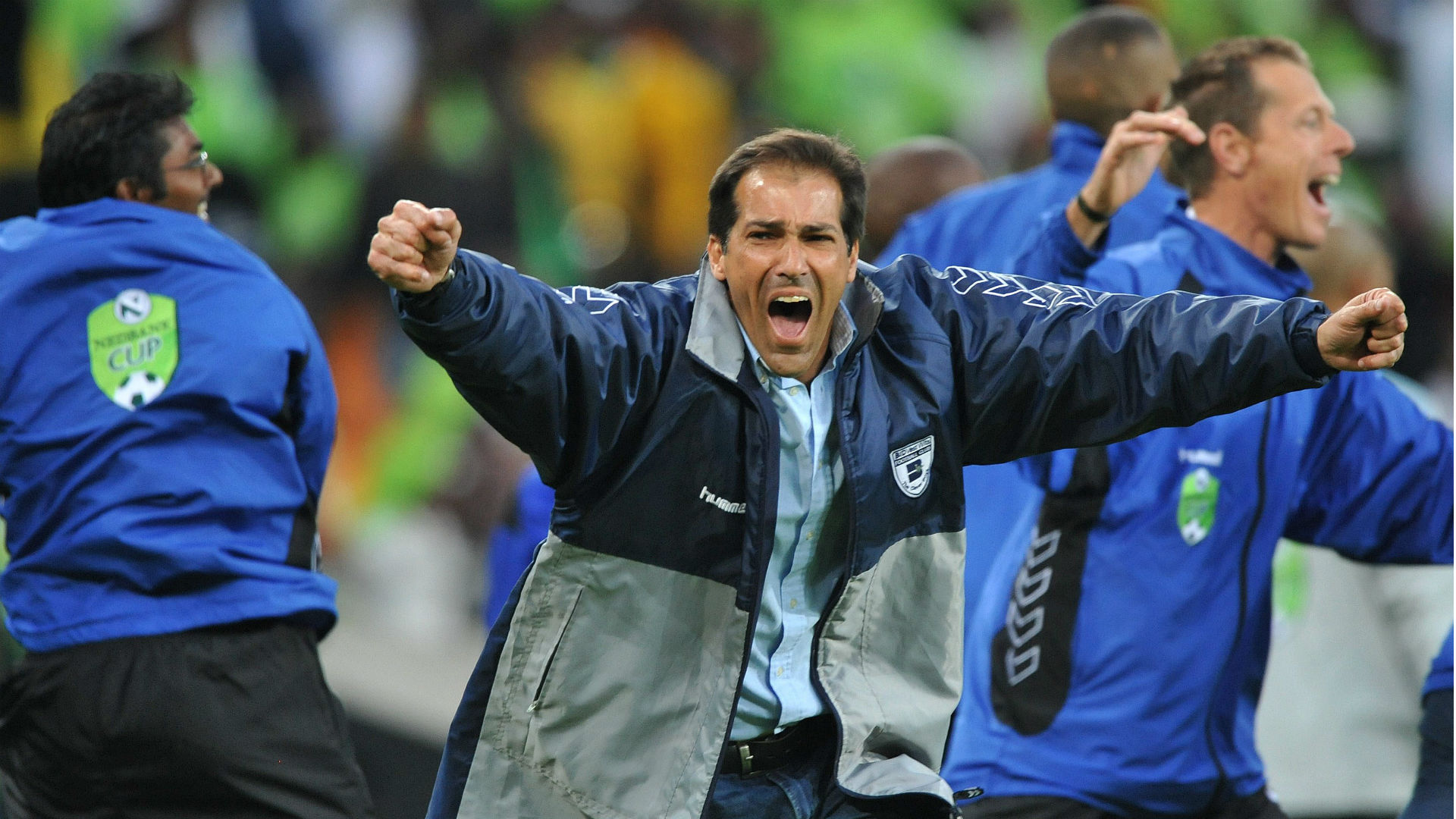 Former Orlando Pirates coach Roger de Sa
"I heard that Safa is talking to Baxter. His PSL record is very good. I would be very happy to work with someone like him because I believe he can help me grow as a coach," said De Sa. 
"We are not friends and we have never fought. So, our relationship is good."  
"Being an assistant coach won't be a step back. Working for a national team is not the same as working for an ordinary team. There are many coaches out there who left their jobs as head coaches to become assisant coaches," he said.
"Baxter is one of the coaches I respect, and that's why I won't mind working him. Yes, we are managed by the same agency. I've spoken to Steve (Kapeluschnik who manages both De Sa and Baxter), but he didn't say anything about what we are discussing now," he concluded.    
SuperSport United striker Jeremy Brockie
"Obviously the Bafana job is pretty exciting for him too, but personally, I hope we can keep him here at SuperSport and the club do all it can to keep him because he is a big influencer and man-manager off the field," Brockie said.
"He is always talking and looking to improve the team by bringing more confidence to the squad. Like I said, it would be devasting for us if the rumours are true, but we will have to wait on that one," Brockie added.
SuperSport goalkeeper Reyaad Pieterse
"At the end of the day we are all professionals and if the move will benefit Stuart (Baxter) and his family, I think he should go for it," Pieterse told Phakaaathi.
SuperSport defender Michael Boxall
"I don't think that affected us. I think if he goes at the end of the season it gives us more motivation to send him off with a bang," Boxall told Goal.
"I don't think that should distract us from our jobs. So, I don't think there is any reason for us to get distracted but focus on our upcoming games," Boxall said.
Bidvest Wits coach Gavin Hunt
''They (Safa) can't call me can they? They've got Baxter already haven't they?" Hunt said on The Sowetan.
''They have made their decision. They have tried to get three or four coaches and they didn't get them," he added.
''So they (Safa) are taking Stuart and I wish him well and good luck'" Hunt continued.
Finally, my own view - Goal South Africa editor Ignat Manjoo
"Baxter was not ready for Bafana Bafana in his first stint, but in recent years he's learned our local soccer so well, won the PSL title with Kaizer Chiefs and he knows how to get the best out of our players now. Like Pitso Mosimane, he's been burnt by that hot seat before but he'd know how to sit on it now. He can learn from his mistakes. Back then he was in the qualifying group with what was then, one of Africa's best teams, Ghana. This time he'd have a head start thanks to Shakes Mashaba already beating Senegal at home in SA (hopefully the result stands). I'd be happy with Baxter because of his recent PSL experience and for this reason I'd have him ahead of Hugo Broos and Roy Hodgson, but I believe the next two options (Carlos Queiroz and Herve Renard) are even better."