South American fans are a colourful and passionate bunch - and Colombia's yellow army of supporters are no exception. From a distance, they can sometimes be mistaken for Brazil followers, but get close enough and it is likely that two of the classic fan apparel will be spotted: the Vueltiao hat and the Valderrama wig.
Part of football fan culture has always been about embracing stereotypes and turning something which might be mocked by rivals into a badge of honour.
Carlos Valderrama, nicknamed El Pibe (The Kid), was the star for Colombia between 1985 and 1998 and appeared in three Word Cup finals. His enormous blonde afro made him one of the most recognisable players on the planet and national team fans were quick to celebrate their captain's unique hairstyle.
The midfielder might have hung up his boots over a decade ago, but it is now extremely common to spot his spirit living on in the uniform of thousands of travelling supporters.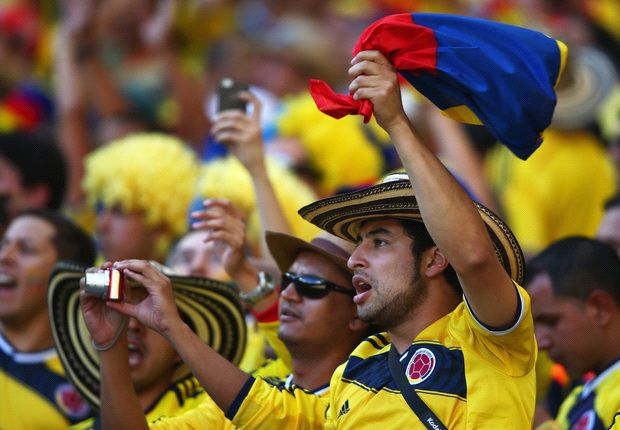 Viva la Vueltiao | The Colombian sombreros are filling Brazil stadia all summer
Colombia fans who fancy wearing something more traditional stick to the tried and tested Vueltiao hat. The type of sombrero was synonymous with the country's poorest workers, but nowadays it is worn with pride by people of all backgrounds.
Many of the versions sported around Brazil at the World Cup this summer will be cheap souvenirs, but there are some die-hard supporters who have brought their authentic crafted hats from across the border.
This is how Colombia supporters share their football experience. Now it's your turn to show your passion for 2014 FIFA World Cup Brazil™ with Hyundai's Pin Your Fan Park. Create your own Fan Park by sharing live footage of you enjoying the 2014 FIFA World Cup Brazil™. Post your supporting message, upload photos and videos and make football playlists at worldcup.hyundai.com