Unlike in 2014, when their campaign ended in an early exit, it all came together for
Spain
in 2010 and their
FIFA World Cup™
was partly thanks to a song.
Manolo Escobar's 'Y Viva Espana' became the unofficial anthem of a team that conquered the world - more than 35 years after the record itself was released.
Much like the roots of Spain's passing style of football, the track's origins can be found in the Netherlands. Recorded in Dutch by Belgian singer Samantha back in 1972, 'Y Viva Espana' became a big hit in countless countries and in many languages - including Swedish, Norwegian, German, French and Arabic.
In 1973, it was recorded in Spanish by popular Andalusian singer Escobar and, a year later, was adopted by Fenerbahce in a Turkish version, 'Yasa Fenerbahce', which went on to become an official song for the Istanbul club.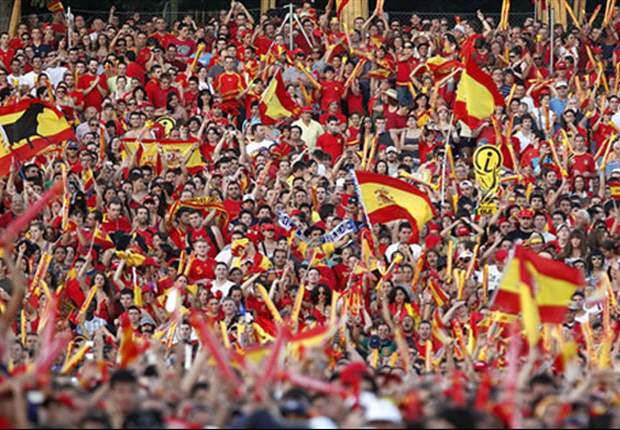 Viva Espana | Spain's success on the football field brought a wave of patriotism
Originally recorded towards the end of Francisco Franco's regime, many Spaniards at that time didn't feel proud enough to sing eulogies to their nation, but the tune (the title track of Escobar's best-selling album, which sold some six million copies between 1973 and 1992) was later adopted by football fans. Consequently, it grew in popularity on
La Roja
's run to Euro 2008 glory and was embraced as an unofficial anthem for the national team in 2010.
Sang by thousands of Spain supporters from the stands in South Africa, 'Y Viva Espana' became the heartbeat of the Spanish side and was given ample airplay by radio and television during and after the World Cup win, before playing a prominent part in the side's celebrations back in Madrid.
Escobar, then aged almost 80 and recovering from an operation, serenaded the Spain squad with a live rendition of his famous song as the players joined in and captain Iker Casillas jumped down to take a 'selfie' with the Almeria-born singer - who was wearing his country's colours in a fetching red suit and tie.
The Spain players, led by Sergio Ramos, then raised the singer on their shoulders like a winning coach as part of the celebrations. Escobar, who died last year after losing his battle with cancer, had inspired a generation and helped to unite a nation. His song summed up the mood perfectly: y viva Espana!
This is how Spain supporters share their musical football experience. Now it's your turn to show your passion and share your music for 2014 FIFA World Cup Brazil™ with Hyundai's Pin Your Fan Park. Create your own Fan Park by sharing live footage of you enjoying the 2014 FIFA World Cup Brazil™. Post your supporting message, upload photos and videos and make football playlists at worldcup.hyundai.com.