COMMENT
By Tom Webber
| Brazil Expert
It is the final that everyone was hoping for. Brazil, the five-time World Cup winners, versus Spain, the reigning champions, in Rio de Janeiro's iconic Maracana. To get there, the
Selecao
have leaped a number of hurdles and now, one game away from their fourth Confederations Cup title Brazil face their biggest test yet - one which will determine whether they can be considered serious contenders for the main event next year.
Brazil were often disappointing in the games leading up to the tournament as Luiz Felipe Scolari's prolonged search for his favoured structure came at the expense of fluidity and cohesion.
The coach has now settled on a starting XI and has since transformed perceived tactical indecision into an interchangeable, flexible system.
'BRAZILIANS ARE MORE CONFIDENT NOW'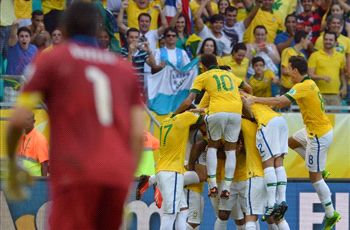 THE VIEW FROM BRAZIL

"People finally appear to be buying in to what Felipao and the players have been saying about their gradual growth. Some think he is clever, others say he is lucky, but very few seem to believe Brazil will struggle to at least contend next year.

Some I have spoken to lament the lack of an experienced playmaker, with the over-reliance on Neymar concerning many. They admit that this is not the greatest Brazilian side playing the best football ever to grace the shirt, but they are much more confident now than they were two weeks ago."

Goal correspondent in Brasilia - Kris Voakes

In the group stage the
Canarinha
breezed past Japan and Mexico before dismantling an Italy side who pushed reigning world champions Spain all the way to penalties at the semi-final stage. The next task, and without doubt the biggest so far, is to go a step further than the
Azzurri
and end Spain's record 29-game undefeated run in competitive fixtures.
This is a Brazil side that is not recognised as one of the more talented groups to have had the privilege of putting on the fabled yellow jersey, something Scolari is well aware of: "The 2002 [Brazil] team was much more prepared, they had six players who played in the 1998 World Cup. We have two or three [who played in South Africa in 2010]." Nevertheless, confidence is high from some solid group stage displays. Their guts and determination has won over the previously apprehensive supporters.
Felipao
has spoken frequently of the growth and maturity that his team will need to undergo in the coming year, and the public are now buying into it. The jeers and boos from the crowd have subsided and now many believe they can have a serious shot at lifting the World Cup next summer.
Of course the outstanding star in the squad is new Barcelona signing Neymar. Expectation weighs heavy on his shoulders as despite a brilliant first three games, he failed to influence the semi-final against Uruguay. As well as wanting to impress his new team-mates, the 21-year-old will hope to push memories of a lacklustre performance against the Catalan giants in the 2011 Club World Cup final with a starring role. If he can prove decisive against
La Roja
, it will be difficult for others to contain him next summer.
Yet with two World Cup winners on the bench in
Felipao
and Carlos Alberto Parreira this
Selecao
outfit are guided by very experienced hands who have developed an ability to grind out a result with a more robust style of football. There is no doubting that these gentlemen know how to win football matches.
However, creative input has been limited. Indeed, the responsibility for ingenuity should belong primarily to Oscar, but he has looked fatigued and unable to match his usually brilliant standards after a grueling season at club level. Hulk, too, has offered very little in terms of craft in the final third. The Zenit St Petersburg forward must repay Scolari's faith with an improved performance against Spain or risk having his place come under threat ahead of the World Cup.
"We are going to have to mature a little and there is nothing like a match like this to help you mature"





- Luiz Felipe Scolari

The pair will need to make the most of any brief time they get on the ball. If they contribute to the addition of a clinical, cutting edge against the best in the business then there will be few who would fancy stopping them.
They will not be found wanting for support from the passionate home crowd, but the coach must strike the right tactical balance to have any chance of defeating
La Roja
. Paulinho and Luiz Gustavo will be required to work in tandem rather than as two separate entities, while Marcelo and Dani Alves must not leave space to be exploited, as cover from midfield could leave them short in the middle.
No matter what the result, though, Scolari believes this will only serve to greater prepare his team for next summer: "We achieved our goal of getting past the first stage, progressing to the final and giving the players a sense of unity and the fans an idea that we have a good team that can get to the final of the World Cup. We are going to have to mature a little, but there is nothing like a match like this to help you mature."
Brazil still look like they are a team who are yet to reach their best, but Spain coach Vicente Del Bosque told the press after the semi-final win over Italy that the hosts are the favourites.
If they can achieve a positive result against a team who are without doubt one of the greatest in the history of the game, then World Cup glory could truly be a possibility. Confederations Cup glory will stand an inexperienced
Selecao
in good stead for when the big showpiece comes around next year. If Spain can be navigated past, then there is every chance that the sting from the memory of the Maracanazo could finally be blunted 64 years on.
Follow Tom Webber on