Chelsea
goalkeeper
Petr Cech
has praised Fifa for their decision to introduce goal-line technology during the
Club World Cup
this month.
GoalRef, which uses a microchip in the ball, and Hawk-Eye, which is used in other sports such as tennis and cricket, are the two types of technology being trialled during the competition.
Fifa will assess the success of the new systems with a view to using them during the Africa Cup of Nations in the new year and Cech believes the move is a positive one.
He told reporters: "I'm delighted at Fifa's decision. In 2010 it became clear that football needs this sort of technology.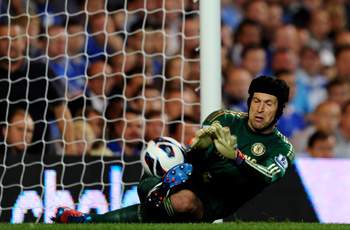 "With goal-line technology there are plenty of results that could be changed"
"With goal-line technology there are plenty of results that could be changed. As a player, it's better to wait a moment for the correct call than be let down by an incorrect call.
"It's always good to have the right call in the end. I'm happy goal-line technology is being used in this tournament, and I hope it proves its value for us."
Chelsea will join the competition at the semi-final stages with a game against Monterrey on Thursday, and Cech says he is looking forward to the test.
"I'm very happy to participate in the Club World Cup," he continued. "First we had to win the Champions League, and that's no easy task.
"It's taken eight years for me to appear in the Club World Cup. We're in good form so I hope we can take advantage of this chance and as our manager says, we want to win.
"We're going to focus on the match right in front of us. Monterrey have the advantage as they've adjusted to Japan and had a good match yesterday. We're going to do the best we can to be fit and ready for Thursday's match."
Chelsea head into the game on the back of a morale-boosting win at Sunderland, the club's first in the league under interim boss Rafael Benitez and despite recent fan unrest Cech is backing the former Liverpool manager.
"All managers have a different playing style and football philosophy." The 30-year-old added. "What's important for players is being able adapt to those different styles.
"It's important to get the manager to choose you as a starter every week, and it's the same for every manager you play under. I'm happy that I can do that right now, and I hope that continues at this tournament and in the future.
"[Benitez] has just started at Chelsea and the league is in the opening stages, so it's too early to say anything about him. The team's moving in a good direction, so if we keep winning and keep our confidence up, that's the best message we can send to our manager."