COMMENT
By Rupert Fryer
There's something infectious about the atmosphere in this
Brazil
squad. Spend more than a couple of hours with them and your facial muscles begin to ache from the perennial smile that spreads throughout the congregation like wildfire. You quickly get the feeling you are among a family on the verge of something very special.
David Luiz recently described the intimacy of the group as the best he has experienced in his professional life
; Hulk says the same, as does Maxwell – and so too will everyone else in the squad.
So Brazil coach Luiz Felipe Scolari faced a relatively simple task when he sat down with technical director Carlos Alberto Parreira and assistant Murtosa to finalise
the Brazil squad which was announced on Wednesday
.
Felipao
had already confirmed that Julio Cesar, Thiago Silva, David Luiz, Paulinho, Ramires, Willian, Oscar and Neymar were assured of their places.
"Those who have been following our work know as many as 21 or 22 of the players who will be called," said Scolari on Tuesday. "I can say that a list will be made with the consistency that has marked all our previous call-ups."
Outside of Brazil there may be question marks over Fred, but the Fluminense man claimed his place as Scolari's undisputed no.9 with five goals at the Confederations Cup. He then returned from a long injury lay-off to link brilliantly with Neymar as the Barca man notched a hat-trick in in the recent 5-0 friendly victory over South Africa. Jo, too, has rediscovered his form since joining Atletico Mineiro in 2012 and is yet to let Scolari down.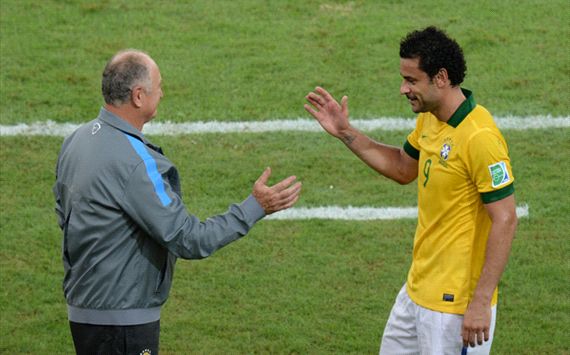 Right said Fred | Scolari selected the Fluminense man despite injury this season
Of the 23 who will go in search of the
Selecao
's sixth world title at home this June, 'Big Phil' and his team needed only ask themselves a few questions: Who should be their fourth central defender? Should they forgo a reserve left-back in favour of another midfielder after Dani Alves proved he can switch flanks in the win over South Africa? And who should they select third striker?
Napoli's Henrique was chosen as the other defender, likely thanks to his versatility. Maicon beat Rafinha to the reserve right-back slot and will bring invaluable experience. PSG's Maxwell provides
Felipao
with cover for both full-backs while Hernanes will offer the option of a more attack-minded, creative central midfiedler.
From Philippe Coutinho and Kaka to Atletico Madrid duo Filipe Luis and Miranda, outsiders looked on and suggested that those enjoying fine club seasons should get the nod ahead of
Felipao
's tried and trusted - with the likes of Paulinho, Ramires, Oscar and David Luiz perhaps enduring less favourable domestic campaigns.
But Scolari had long since decided on his first 15-16 players. There have been some late arrivals, however. Willian returned to the squad for November's clashes against Honduras and Chile and immediately impressed – as did Fernandinho, who marked his comeback with a fine display and wonderful long-range strike in Johannesburg in March.
Both players shone off the pitch, too, which was just as important to Scolari. Any World Cup-winning coach will be quick to point out that those who don't play are every bit as important as those who do. There may well be a few inclusions that some will argue don't deserve a slot on talent alone, but
Felipao
was never going to risk the harmony of his Scolari Family 2.0 for the sake of reserves.
These are the 23 who have been asked to banish the demons of 1950's
Maracanazo
. The men asked to claim Brazil's first World Cup on home soil. Some may not have the overwhelming star quality of previous squads, but what they do have in spirit and togetherness is just as important.
"There is a simple answer to it all," wrote former Brazil coach Vicente Feola after leading them to their first world title in 1958. "We were indivisible." So is the class of 2014.
Follow Rupert Fryer on